Constellations wins Olivier Award for Best Revival
16 April 2022 02:20
Congratulations to Zoë and everyone else involved in Constellations! Having wowed theatregoers last summer, Nick Payne's 'multiverse' play has won Best Revival at the Olivier Awards 2022.
The prestigious ceremony, which celebrates London's theatre industry, was held at the city's Royal Albert Hall on 10 April. Highlights were broadcast to UK viewers on ITV1, while viewers outside the UK could watch the proceedings on the Official London Theatre YouTube channel.
On stage and streamed worldwide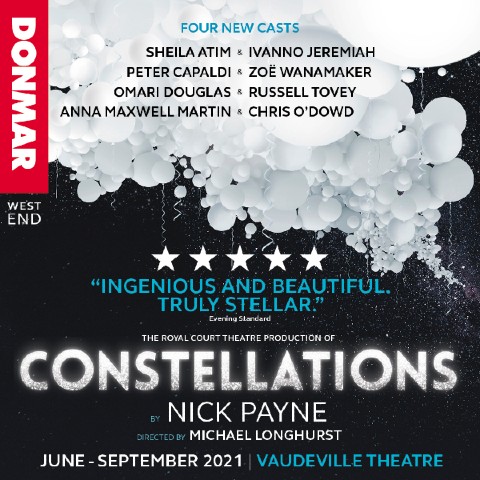 A dazzling yet intimate show, Constellations explored different versions of a couple's relationship. It starred Zoë alongside Peter Capaldi and three other casts (Sheila Atim & Ivanno Jeremiah, Omari Douglas & Russell Tovey, and Anna Maxwell Martin & Chris O'Dowd). Produced by the Donmar Warehouse, staged at the Vaudeville Theatre and subsequently streamed around the world, Constellations helped to bring theatre back to eager audiences after months of pandemic-related closures.
'Theatre is an experience and a shared event, and I think people are really starved of that,' Zoë told London's Evening Standard at the time.
Critical acclaim for this 'stellar revival'
Check out the Constellations rehearsal photos and production photos if you'd like to refresh your memory of the show. BroadwayWorld UK's five-star review described Zoe's portrayal of quirky quantum physicist Marianne as 'brilliant'. In the Guardian's words, the production was 'a stellar revival' – and the Olivier Awards judges clearly agreed with the newspaper.
Zoe wasn't able to attend the Oliviers ceremony, but Constellations' director, Michael Longhurst, was there to collect the award on behalf of the actors and production team. During his acceptance speech, he pointed out that the play had originally been performed (with a different cast) ten years ago, and its 2021 revival was 'dreamt up in the middle of lockdown'. A beautiful piece of theatre emerged from terrible times.
Director praises Zoë and the other actors
The director praised the playwright and actors. 'I am so grateful to Nick Payne for his beautiful words that allowed us to bring four different casts [to the stage], who trusted that their own unique brilliance would make us celebrate our shared humanity'.
Longhurst's words will, I'm sure, strike a chord with many people who watched Constellations live and/or online. It's one of the most witty, playful, moving plays I've ever had the privilege to see and is all the more remarkable for being staged during an incredibly challenging time for the theatre industry when so many restrictions were in place. Constellations' Olivier award success is richly deserved.
Site design and original text © 2002 - 2023 www.zoewanamaker.com, unless specified otherwise.
Most images used on this site are the copyright of their photographer, Ms. Wanamaker, and/or the production company of the show. Use of these images is covered under the fair use limitation in the USA, and the fair dealing limitaton in the UK.
This site is a non-commercial endeavour.