Welcome to the official website for Zoë Wanamaker!
---
ZoŽ backs Sightsavers Million Miracles campaign
7 October 2014 17:08
ZoŽ is helping to raise awareness of A Million Miracles, the biggest ever campaign by charity Sightsavers. You can see ZoŽ's message of support about this ambitious campaign on her Twitter profile.
A Million Miracles aims to change the lives of people who are losing their vision due to cataracts, by providing a million sight-saving operations in some of the poorest areas of the world. Moreover, on 8 and 9 October, at 1:30pm GMT, you can watch live one such patient, Winesi, receiving his surgery in Malawi, thanks to Sightsavers.
To make a donation to the campaign in order to help fund sight-saving surgery, please visit Sightsavers's website.
Kristin Scott Thomas on how Electra changed her life: 'Seeing ZoŽ, I thought, ''Aha, that's how I do it.'''
27 September 2014 17:08
The Telegraph has today published an interview with actress Kristin Scott Thomas, in which she discusses the profound effect that ZoŽ's performance as Electra (1997 in UK; 1998-9 in US) has had on her.
Watching the Ancient Greek tragedy unfold on Broadway, with Zoe in the title role, inspired Scott Thomas to shift the focus of her career away from film and towards acting for the stage. As she comments, 'Seeing ZoŽ, I thought, ''Aha, that's how I do it.'''
Scott Thomas, who is currently playing Electra at London's Old Vic, points to the play's power as she recalls Zoe's production: 'the play was just so meaningful to me about life Ė my life and others. I started to weep and everyone around me, men and women, was doing the same thing.'
Sam Wanamaker would be 'thrilled and delighted' with the Playhouse, says ZoŽ in BBC interview
5 September 2014 21:06
The Sam Wanamaker Playhouse is the focus of the 'Friday feature' in today's edition of World Update, a current affairs radio programme broadcast by the BBC World Service.
Interviewed about the Playhouse, ZoŽ explains that this recreation of an indoor Jacobean theatre, which complements the outdoor Globe Theatre, was 'always in the plans' that her father had for the Globe site on London's South Bank.
ZoŽ emphasises that her father would have been 'thrilled and delighted' with the Playhouse, which opened earlier this year.
You can listen to the full interview on the BBC's website any time during the next seven days; it begins about 20 minutes into the programme.
Updated: The interview is now available as a standalone clip on the BBC's website and a podcast to download.
Sam Wanamaker Playhouse on BBC World Service, 5 September
4 September 2014 17:59
Tomorrow morning the BBC World Service will broadcast a feature, to which ZoŽ has been invited to contribute, about Shakespeare's Globe's Sam Wanamaker Playhouse.
The radio feature, part of the World Update current affairs programme, will be broadcast internationally at 9:20am GMT (for example, that is 10:20am for those of us in the UK, as we are still on British Summer Time).
It will be made available on the BBC's website too, which also has details of how you can access the BBC World Service.
With thanks to Nigel for the broadcast details.
ZoŽ is 'a brilliant actress', says Mr Selfridge co-star
25 August 2014 18:17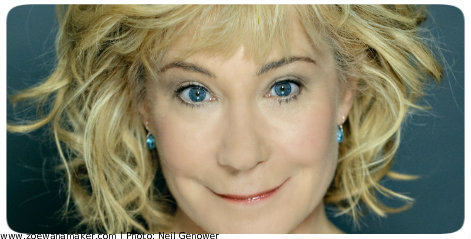 Actor Leon Ockenden, who plays the son of ZoŽ's character, Marie de Bolotoff, in the forthcoming third series of ITV's Mr Selfridge, has spoken about how much he enjoys working with Zoe.
Interviewed by the Cornish Guardian, Ockenden commented: 'We have a real laugh but she's a brilliant actress. It's great working with her; the relationship between our two characters is so real.'
Filming is underway for Mr Selfridge, the period drama inspired by the founder of Selfridges department store in London. Broadcast dates for series three have not yet been announced.
With thanks to Janet for the link.
Site design and original text © 2002 - 2014 www.zoewanamaker.com, unless specified otherwise.
Most images used on this site are the copyright of their photographer, Ms. Wanamaker, and/or the production company of the show. Use of these images is covered under the fair use limitation in the USA, and the fair dealing limitaton in the UK.
This site is a non-commercial endeavour.