Welcome to the official website for Zoë Wanamaker!
---
Celebrating this website's 12th anniversary with the launch of 'From the Archive'!
30 July 2014 00:10
Today, 30 July 2014, is this website's 12th anniversary! Thank you to everyone who visits the site for your continued support. Hopefully you find it useful and enjoyable. I am always open to comments and ideas about what you would like to see here.
It's hard to believe that so much time has passed since I launched the first version of the site, during summer 2002. The first Harry Potter film, in which ZoŽ stars as Madam Hooch, had only recently been released; the third series of popular sitcom My Family was soon to be broadcast on BBC1; and Boston Marriage had completed its run at London's New Ambassadors Theatre a matter of months ago.
The site's 12th anniversary has inspired me to look back at some of Zoe's earliest roles, as well as dig out some rare pieces of memorabilia. The result is a new series of articles, called 'From the Archive', which I am launching to coincide with the anniversary. The aim is to show you things that you might not have seen or heard of before, or that might bring back some wonderful memories for you.
Please read on for the first article in the series...
'From the Archive' part one: portraits of ZoŽ by Gemma Levine
For this first instalment of 'From the archive', I have chosen two books of beautiful black-and-white photographs, featuring ZoŽ and her peers, by the very talented photographer Gemma Levine. Levine has photographed Zoe several times over the years, always producing very striking, memorable images.
The first book, Faces of British Theatre (1990), showcases (in Levine's words) 'some of the most eminent exponents of British theatre today'. It includes a preface by legendary actor John Gielgud, who emphasises that Levine's 'friendly and perceptive attitude' helped him to relax in front of the camera.
In her portrait (below) ZoŽ also looks relaxed, and is dressed informally. The accompanying text notes that she has established herself as a great theatre actress through her work with the RSC on productions such as Once in a Lifetime (1979).
Other actors photographed for the book include many of ZoŽ's friends and colleagues: Judi Dench, Alex Jennings, Ian McKellen, Imogen Stubbs, David Suchet and many more. The book is truly a 'who's who' of UK theatre in the early 1990s.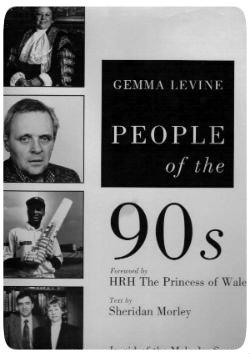 The scope of the second book is wider: People of the 90s (1995) aims to 'reflect the people who are synonymous with or are shaping Britain in the 1990s, either in the public eye or behind the scenes', as noted on the dust jacket. The book was published in aid of the Malcolm Sargent Cancer Fund for Children (now known as CLIC Sargent, following a merger with Cancer and Leukaemia in Childhood) and accompanied by a major photographic exhibition.
The book emphasises that the individuals featured in it 'have been photographed with disarming honesty'. The bold images are accompanied by descriptions by author Sheridan Morley. He comments that ZoŽ 'is now fulfilling the dream of her father Sam to recreate Shakespeare's Globe', which would open on London's South Bank a couple of years after the book's publication. In her portrait (below) ZoŽ looks fixedly at the camera with a cigarette in one hand, as if waiting for you to speak.
The diverse range of individuals photographed by Levine for the book also include politician Paddy Ashdown, ballerina Darcey Bussell, actor Nigel Hawthorne, broadcaster Jenni Murray and many others from numerous walks of life.
This book and Faces of British Theatre are now both out-of-print, but you can find them second-hand quite easily. Incidentally, Gemma Levine recently published her memoir, Just One More....
Further articles in the 'From the Archive' series will be published here from time to time. If there is a topic that you would like to write about Ė for example, perhaps you saw Zoe on stage in the 1970s or have a rare or unusual item connected to her career that you would like to discuss Ė please feel free to contact me about writing a guest article.
BFI to screen ZoŽ's Countess Alice
24 July 2014 18:37
On 29 August there will be a rare opportunity to watch The Countess Alice, the marvellous drama in which ZoŽ stars alongside Wendy Hiller, at the BFI on London's South Bank.
Originally broadcast in 1992, The Countess Alice, which focuses on family secrets in the aftermath of the Second World War, will be screened as part of a season of programmes celebrating the director Moira Armstrong. Zoe plays Connie (pictured above), who returns to her ancestral home in Germany against her mother's wishes.
To buy tickets for the screening, please visit the BFI's website. As only a relatively small number are available, I recommend booking early.
ZoŽ joins David Suchet, Lesley Manville and others at press night for Shakespeare in Love
24 July 2014 16:23
With Shakespeare's Globe and the Sam Wanamaker Playhouse delighting theatregoers on London's South Bank, ZoŽ and her family's connection with the work of Shakespeare is well known.
Yesterday, ZoŽ attended the press night of Shakespeare in Love and has today tweeted that it was 'delightful, magical & passionate'. The show imagines how falling in love with a noblewoman, Viola De Lesseps, might affect the writing of young Will Shakespeare. The show's website describes Shakespeare in Love as a 'sweeping romantic comedy' that 'will transport you back to Shakespeare's London, teeming with vibrant colours, characters, music and life'.
ZoŽ was photographed, looking smart and summery at the NoŽl Coward Theatre in London, for the play's Facebook page, Official London Theatre's Facebook page, Getty Images, Demotix, Newzulu and Photoshelter. Other well-known faces on the red carpet included Zoe's Poirot co-stars David Suchet and Lesley Manville, as well as Hattie Morahan, and Tom Stoppard (who co-wrote the 1998 film version of Shakespeare in Love).
ZoŽ joins Alan Rickman, Joanna Lumley, Bill Nighy and more for special church audio guide
23 July 2014 16:36
ZoŽ and a host of other well-known actors, including Alan Rickman, Joanna Lumley, Bill Nighy, Mark Rylance, Tim Piggott-Smith and Celia Imrie, have recorded a special audio guide to St Mary's Church in Fairford, Gloucestershire, which features the most complete set of late medieval stained glass windows in England.
As Broadway World reports, Zoe and her fellow contributors gave their time and voice talents free-of-charge to the guide. It was written by director and producer Nicolas Kent, Geoff Hawkes, who is Chairman of the Fairford History Society, and the late Denys Hodson, the former Vice-Chairman of the Arts Council, who helped to raise more than £1 million to restore the stained glass windows.
For visitor information, please see St Mary's Church's website.
Updated 31 July: BBC News reports that the audio guide is so successful that visitor numbers to St Mary's Church have doubled.
Photo of ZoŽ at Brasil Brasileiro's press night
20 July 2014 16:08
Sadler's Wells has added a nice photo of Zoe, from Brasil Brasileiro's press night on 10 July, to its Facebook page.
Don't forget to watch Zoe's interview at the event, if you haven't seen it already, in which she discussed her role in ITV drama Mr Selfridge!
Updated 24 July: Zoe has today tweeted how much she enjoyed Brasil Brasileiro, commenting that 'It's a great celebration, not only of dance but of a culture.'
Site design and original text © 2002 - 2014 www.zoewanamaker.com, unless specified otherwise.
Most images used on this site are the copyright of their photographer, Ms. Wanamaker, and/or the production company of the show. Use of these images is covered under the fair use limitation in the USA, and the fair dealing limitaton in the UK.
This site is a non-commercial endeavour.