Welcome to the official website for Zoë Wanamaker!
---
ZoŽ interviewed about bringing characters to life: 'I have to envelop myself in that world'
26 June 2015 23:22
ZoŽ is the special guest interviewed during the latest episode of Benjamin Maio Mackay's Talk 2 Me, an entertainment industry podcast from Australia. During this hugely enjoyable interview, fellow actor Benjamin Maio Mackay chats to Zoe about her career milestones, spanning everything from leaving drama school to starring in Zorba! on Broadway last month.
Particularly fascinating is the discussion about how ZoŽ prepares for a role. As she explains, 'I have to envelop myself in that world' of the character. When preparing to appear on-stage as the 'incredible poet' Stevie Smith Ė which she describes as her most challenging role to date Ė Zoe researched Smith's life and times extensively.
ZoŽ's research for a role can be wide-ranging, typically consisting of reading, listening to music and looking at paintings and photos; her aim is 'to collect as much information as I can' that is relevant to the character, the period in which the production is set, etc. Her research helps her to bring her characters to life.
For more insights into ZoŽ's career, you can listen to the interview online or download it free from iTunes.
ZoŽ in the top ten of modern Doctor Who guest stars; voting underway to choose the best overall!
23 June 2015 20:36
RadioTimes.com readers have chosen ZoŽ as one of the top ten guest stars from Doctor Who's modern era, which spans 2005 to the present day. You can vote online for your overall favourite guest star from the top ten, as many times as you like.
ZoŽ plays the witty but naughty last human, Lady Cassandra, in two episodes of the hit sci-fi show, starting with 'The End of the World'.
Cassandra encounters the Ninth Doctor and his companion Rose (played by Christopher Eccleston and Billie Piper) billions of years in the future. Cassandra's hundreds of plastic surgery procedures have left her as little more than a piece of skin that is stretched across a frame and always at risk of drying out. Her catchphrase Ė 'Moisturise me! Moisturise me!' Ė is well-remembered among Doctor Who fans.
Rose and Cassandra meet again, with the Tenth Doctor (David Tennant), in 'New Earth'. Cassandra takes over their minds and bodies, but is also seen, poignantly, in her glamorous, original physical state, before the onset of her plastic surgery obsession.
ZoŽ supports Fishlove campaign for sustainable fishing with photoshoot celebrating World Oceans Day
8 June 2015 23:25
ZoŽ has taken part in perhaps the most unusual photoshoot of her career, in order to support the Fishlove campaign, which raises awareness of unsustainable fishing practices. Alongside Judi Dench, Fiona Shaw, Julie Christie and others, she poses nude with marine life in photos celebrating World Oceans Day (which is today, 8 June).
The photos were taken by talented photographer John Swannell, who also photographed ZoŽ for black comedy Passion Play in 2013. They first appeared in The Sunday Times at the end of May and have since captured the attention of the international media, with articles being published by Australia's Daily Telegraph, among others.
Zoe, who is pictured with a blonde ray fish, commented in The Sunday Times: 'I was very happy to do the shoot, as saving the planet and trying to prevent more pollution have long been major concerns of mine'.
She and the other stars pictured have outlined what needs to happen in order to protect our oceans (such as over-fishing ceasing) in a press release available to download from Fishlove's website.
Fishlove is the brainchild of Greta Scacchi (who appeared alongside ZoŽ in Poirot episode 'Elephants Can Remember') and Nicholas RŲhl, who is co-owner of Brighton-based restaurant MOSHIMO. To find out more about the campaign, visit Fishlove.co.uk.
Gay City News hails ZoŽ as 'One of the greatest, most versatile actresses alive'
19 May 2015 04:11
News and arts publication Gay City News has published a fascinating new interview with ZoŽ, hailing her as 'One of the greatest, most versatile actresses alive'. ZoŽ talks to David Noh, who remarks he has long been an admirer of hers, about her recent theatre work, her father's project to rebuild Shakespeare's Globe, and much more.
The interview took place shortly after ZoŽ arrived in New York to rehearse the musical Zorba!, which delighted theatregoers earlier this month as part of City Center's famous, hugely popular Encores! season. ZoŽ sheds light on the appeal of her character, mysterious innkeeper Hortense, describing her as 'a very delicate, extraordinary creature, passionate with no limit to her emotional availability'.
She describes Zorba! as 'a dark musical' with 'brilliant lyrics and some wonderful, delightful characterful songs, very clever'. Filled with enthusiasm for City Center's Zorba! revival, ZoŽ emphasises that she is 'working with the most wonderful people, glorious singers and actors'.
ZoŽ joined rehearsals for Zorba! just days after completing the run of another theatrical gem, Stevie Ė in which she starred as highly individual poet Stevie Smith Ė across the Atlantic, at London's Hampstead Theatre. She is very happy that this successful production has led to a resurgence of interest in Smith, commenting that 'because of the revival of this play, Smith's collected works are coming back again, as well as her first novel'.
Also in London, Shakespeare's Globe and the indoor Sam Wanamaker Playhouse are thriving. ZoŽ points out that her late father, Sam Wanamaker, who brought the theatre of Shakespeare's day back to the South Bank, felt certain the area would be reinvigorated as a result. She says that 'the whole area has exploded with new people moving in, as he predicted'.
Birthday wishes for ZoŽ!
13 May 2015 01:42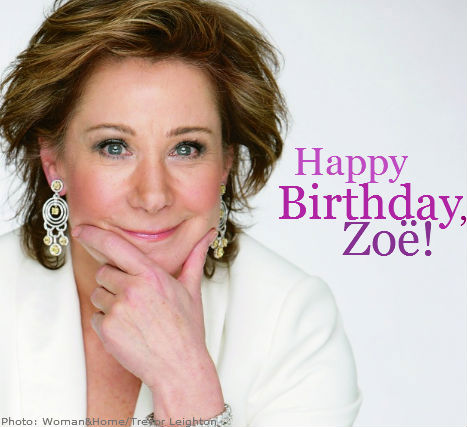 It's 13 May Ė ZoŽ's birthday!
Let's all wish her Happy Birthday and Many Happy Returns!
ZoŽ's certainly had a very busy, exciting few months, with stage productions Ė Stevie and Zorba! Ė on both sides of the Atlantic. Having done so much fantastic work on these shows, hopefully she will have the chance to sit back and relax today.
Site design and original text © 2002 - 2015 www.zoewanamaker.com, unless specified otherwise.
Most images used on this site are the copyright of their photographer, Ms. Wanamaker, and/or the production company of the show. Use of these images is covered under the fair use limitation in the USA, and the fair dealing limitaton in the UK.
This site is a non-commercial endeavour.