Welcome to the official website for Zoë Wanamaker!
---
Official opening of the Sam Wanamaker Playhouse
19 November 2013 22:09
ZoŽ was present at Shakespeare's Globe's new indoor theatre, the Sam Wanamaker Playhouse, today to see the venue officially opened by the Duke of Edinburgh.
As Shakespeare's Globe tweeted about the event, the near-complete Playhouse, a recreation of a Jacobean theatre, 'looked gorgeous in the candlelight'.
Booking is open for the first season at the Sam Wanamaker Playhouse, which begins in January.
Photos: ZoŽ at Mojo and Evening Standard Awards
19 November 2013 21:44
ZoŽ was photographed enjoying two high-profile events last week.
On Wednesday she and her husband, Gawn Grainger, attended the press night of Mojo, a rock 'n' roll comedy set in 1950s Soho, at London's Harold Pinter Theatre. The play, which stars her Harry Potter co-star Rupert Grint, had its after party at Cafe de Paris. Zoe was pictured at the event by Getty Images and Whatsonstage.com.
This was followed by the Evening Standard Awards on Sunday, held at the Savoy Hotel in London. ZoŽ wore an eye-catching blue dress for the occasion and was accompanied by her husband. She was photographed by Contact Music, Zimbio and Getty Images.
With thanks to Janet.
Producer praises 'brilliant' ZoŽ in 'The Story of Pantomime'
11 November 2013 13:29
As you might have seen already, the producer of Omnibus episode 'The Story of Pantomime', Tony Staveacre, has kindly provided the website with a picture of ZoŽ from this 1976 documentary.
Tony has also kindly agreed to share with us his memories of making the programme. In particular, he recalls that ZoŽ was becoming well known in the theatre industry at the time and 'slotted into the company [taking part in 'The Story of Pantomime'] like a duck to water'. He emphasises that her performance 'was brilliant'.
You can read Tony's memories in full on 'The Story of Pantomime' page. Sincere thanks to him for sharing his fascinating insights into the making of the programme.
As Poirot bows out, ZoŽ discusses her fond memories of the series
10 November 2013 16:13
We said a fond farewell to ZoŽ's very popular character, Ariadne Oliver, in 'Dead Man's Folly', an intriguing episode of Agatha Christie's Poirot that aired a couple of weeks ago. This week the very last episode of the long-running detective series, which stars ZoŽ's friend and colleague, David Suchet, will be broadcast by ITV.
To mark this television milestone, the Observer has interviewed Zoe about what Poirot means to her. In ZoŽ's words, eccentric crime novelist Ariadne is 'the yin to Poirot's yang: he's very careful, she's all over the place', and yet they are great friends.
As Zoe explains, the contrasts between the two characters meant that making episodes of Poirot was a highly enjoyable experience: 'She's a very funny character, I loved playing her and I'll miss her really. David and I enjoy the relationship [between Ariadne and Poirot] - we laugh so much when we're filming.'
'Curtain: Poirot's Final Case' will be broadcast this Wednesday, 13 November, on ITV1 at 8pm.
ZoŽ tells 'The Story of Pantomime'
10 November 2013 16:13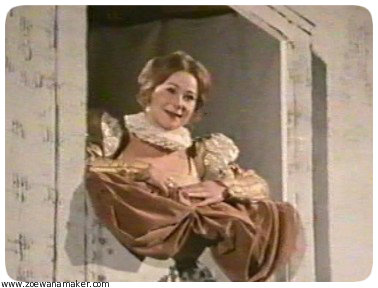 In the mid-1970s ZoŽ took part in an arts documentary, 'The Story of Pantomime'. The producer, Tony Staveacre, has kindly shared this rare image from the programme. It shows Zoe as Columbine, a comic servant, in an extract from a Commedia dell'Arte performance.
Site design and original text © 2002 - 2013 www.zoewanamaker.com, unless specified otherwise.
Most images used on this site are the copyright of their photographer, Ms. Wanamaker, and/or the production company of the show. Use of these images is covered under the fair use limitation in the USA, and the fair dealing limitaton in the UK.
This site is a non-commercial endeavour.