Welcome to the official website for Zoë Wanamaker!
---
News round-up: Sam Wanamaker Playhouseís first anniversary, The Stage Awards and new interview
10 January 2015 22:08
The Sam Wanamaker Playhouse, built in the style of an indoor Jacobean theatre and named in honour of ZoŽ's father, celebrated its first anniversary yesterday. To celebrate the occasion, the Playhouse's sister theatre, Shakespeare's Globe, published a series of blog articles about the Playhouse's development and success.
The articles include a concise biography of Sam Wanamaker, who not only worked tirelessly to build The Globe on London's South Bank but also made plans for it to be joined by another venue, the indoor theatre; as the article emphasises, ZoŽ's father was truly a 'visionary man'. Another article presents a series of videos, providing insight into the building of the Playhouse, while the impressive list of awards, nominations and plaudits highlights just how much this 'exquisite little jewel box' (in the words of the Independent) has achieved in the twelve months since its first season began.
The Playhouse's nomination for The Stage's Theatre Building of the Year 2015 award is particularly timely, the news of it having been announced just days before the anniversary. The Globe has also received a nomination in The Stage Awards Ė in the International category. The Globe truly has gone global in recent times, with its mission to perform Hamlet in every country in the world.
What's more, as its Twitter profile points out, The Globe has successfully raised £7.5 million, match-funded by an anonymous donor, in order to create the Playhouse, which was officially opened by HRH The Duke of Edinburgh at a special event attended by ZoŽ. So far, more than 92,000 people have visited this candlelit theatre.
Meanwhile, The Manor Academy has published an exclusive interview with ZoŽ in its school newspaper, The Manor Gazette. Zoe recalls particularly enjoying Art, English and History when she was at school, and she has excellent advice for anyone currently studying: 'Get as much out of it as you can and donít ever stop learning.'
ZoŽ is the cover star for Woman and Home magazine's latest issue!
3 January 2015 00:21
ZoŽ appears on the cover of the current issue of Woman & Home magazine (February 2015), which also features a lovely interview with her. The cover photo and those accompanying ZoŽ's interview are by acclaimed photographer Trevor Leighton (who also photographed ZoŽ for her 2008 W&H cover and interview); you can see a preview of a couple of the new images on the magazine's website.
Zoe discusses a wide range of topics including marriage, family, fitness, her career Ė and of course Mr Selfridge, the ITV drama in which she will soon be seen playing a Russian princess. The series was filmed last summer and, the magazine comments, 'marks another step in ZoŽ's transition from spiky character actress into national treasure'.
On the subject of working, I'm sure that many people will be able to relate to what Zoe has to say about the importance of believing in yourself: 'When you're working, you're confident. You have to keep that self-belief going all the time, even through rejection.'
Woman & Home is available now in print and as a digital edition.
ZoŽ joins dozens of other public figures calling for UK politicians to legalise assisted dying
1 January 2015 18:44
ZoŽ is among dozens of public figures who have signed a letter to the Daily Telegraph, calling on the next UK government to change the law on assisted dying in 2015. News of the letter, which has also been signed by Sir Patrick Stewart, Hugh Grant and Jo Brand, made the front page of the Telegraph on 29 December, as well as being reported elsewhere (e.g. by the Daily Mail and Daily Express).
In the letter the signatories Ė who include actors, writers, doctors, politicians and clerics Ė emphasise that 'The overwhelming majority of the public supports law change on assisted dying, and no one believes that someone should face a prison sentence of 14 years for compassionately assisting a loved one to die.'
'We are closer than ever to allowing dying people to have safeguarded choice in how they approach their deaths. Whoever forms the next Government must allow time for Parliament to reach consensus on a safeguarded law,' they add.
Zoe is a patron of Dignity in Dying, the national campaign and membership organisation that is campaigning to legalise assisted dying. Its chief executive, Sarah Wootton, has commented that 'We are fast approaching tipping point on the issue of assisted dying. It is now a question of how, not if, we change the law.'
ZoŽ's Stevie among Lyn Gardner's theatrical highlights of 2014
26 December 2014 16:45
Lyn Gardner, a theatre critic at the Guardian, has chosen ZoŽ's performance as quirky poet Stevie Smith as one of her theatrical highlights of the year. 'I enjoyed ZoŽ Wanamaker, so perfectly cast in Stevie at Chichester', Gardner writes. She also praises Zoe's co-star in the production, commenting that she 'equally adored Lynda Baron's performance as the ''lion'' aunt' who looks after Stevie for many years.
The comments echo the glowing review of Stevie that Gardner published when the play opened at the Minerva Theatre in May. She emphasised that 'ZoŽ Wanamaker is so perfectly cast in Hugh Whitemore's play about the life and work of the poet Stevie Smith that you don't feel so much that she's acting as simply channelling the mid-20th century poet and novelist. She transforms an evening that could be reticent, maybe even a little coy, into something more ferocious and dangerous,' with 'superb' support from Baron.
As recently reported on this website, Stevie will make a highly anticipated transfer to London's Hampstead Theatre in March 2015. Tickets are available; some dates are already almost sold out.
ZoŽ praises the 'warmth and gentleness' of RSC's renowned voice director, Cicely Berry
24 December 2014 03:09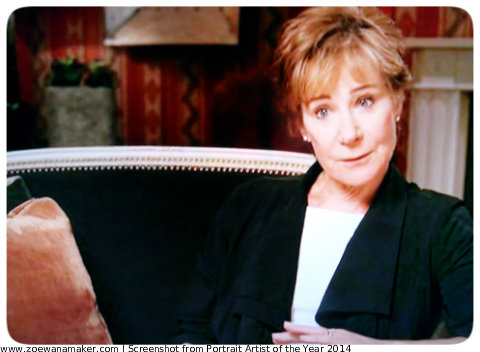 ZoŽ appears briefly in the penultimate episode of Portrait Artist of the Year 2014, broadcast yesterday on Sky Arts 1 and currently available on Sky Go. She praises the work of Cicely Berry, the Royal Shakespeare Company's renowned voice director, whose portrait was painted by one of the competition's finalists, the talented Aine Divine.
'She made language, for me, rich and fluid and sexy,' ZoŽ remarks about Berry, who has worked with the RSC for forty-five years and in 2000 was awarded The Sam Wanamaker Prize for pioneering work in theatre. 'Her eyes are full of warmth and gentleness. There is a wonderful gentleness, and there's a wit,' she adds.
While performing a variety of Shakespearean and other roles for the RSC, during the late 1970s and 80s, ZoŽ worked extensively with the voice director on such notable stage productions as Piaf (1978), Twelfth Night and The Comedy of Errors (both 1983).
Zoe has previously spoken about Berry's voice coaching work as part of a 2011 feature about the voice director on the BBC's regional current affairs series, Inside Out (as shown in the video below). In the feature Berry is seen leading a workshop about Shakespeare's use of language in order to inspire Wolverhampton teenagers.
Berry's methods encourage actors to feel language physically. As a result, a play's 'language becomes part of you,' Zoe explains in the programme. She fondly recalls 'the joy of that [experience]'.
Site design and original text © 2002 - 2015 www.zoewanamaker.com, unless specified otherwise.
Most images used on this site are the copyright of their photographer, Ms. Wanamaker, and/or the production company of the show. Use of these images is covered under the fair use limitation in the USA, and the fair dealing limitaton in the UK.
This site is a non-commercial endeavour.