Welcome to the official website for Zoë Wanamaker!
---
A very happy birthday to you, ZoŽ!
13 May 2016 10:03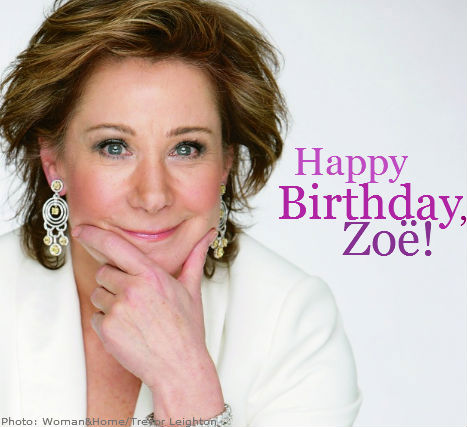 I'm sure that all of ZoŽ's other fans from around the world will join me in wishing her a very happy birthday and many happy returns!
Elegy inspires thought-provoking discussions, including a feature on Radio 4's Woman's Hour tomorrow
5 May 2016 18:15
Elegy, the powerful new play in which ZoŽ is starring at London's Donmar Warehouse, will be discussed during BBC Radio 4's Woman's Hour tomorrow, 6 May (10am). As the programme is well-known for its sensitive handling of a wide range of subjects, the feature about Elegy is highly likely to be both informative and compelling.
The play's fascinating exploration of medicine, memory, love and loss has also prompted thought-provoking articles by people within and beyond the theatre industry. For example, arts writer Terri Paddock explores Elegy's dilemma with real couples: what if saving your lover's life meant erasing his/her memory? What would you do?
Neuroscience expert Dr Catherine Loveday examines the play in the light of her clinical experience, for The British Psychological Society's The Psychologist. Loveday remarks that 'the effects of amnesia rang true in many ways and were very movingly portrayed by Wanamaker', while the dialogue displays clear evidence of '[the playwright Nick] Payne's close collaboration with neuroscientists'.
Loveday also reflects on the ways in which Elegy 'raises such important issues' about science and the workings of the human brain as part of the 3 May edition of BBC Radio 4's All in the Mind (the feature begins about 13 minutes into the programme).
In addition, Carole Woddis praises the 'tenderness, wit and spontaneity' of this 'terrific' play in her thoughtful review.
If all that has whetted your appetite for intellectual debate, you'll be pleased to hear that the Donmar is planning to host two pre-show discussions about Elegy's themes, for which tickets are available.
The first Q&A will take place on 17 May (6pm) and feature the play's director, Josie Rourke, and bioethics expert Prof. Deborah Bowman talking about selfhood. For the second Q&A, on 14 June (also at 6pm), Nick Payne will discuss the relationship between neuroscience and morality with Dr Rowan Williams, the 104th Archbishop of Canterbury, and Prof. Murray Shanahan, a cognitive robotics expert.
More praise for ZoŽ's 'heartbreakingly good' performance in Elegy, plus set design insights
1 May 2016 01:05
Following Elegy's opening night at London's Donmar Warehouse, on 27 April, ZoŽ's performance in this compelling play about love, loss and identity has continued to win praise from reviewers.
'Zoe Wanamaker is fantastic as the woman faced with dying or living without her memory' (Ann Treneman, The Times)
'Captivating ZoŽ Wanamaker, going from wild to comical in her inside-out dressing gown, shows glimmers of what she was as she looks towards a blanker, healthy future.' (Susannah Clap, Observer)
'Wanamaker superbly suggests the element of fear in [Lorna's] guardedness', and Elegy is a 'superlatively acted and immaculately well-judged production' (Paul Taylor, Independent)
'ZoŽ Wanamaker is stunning: degenerating and struggling before our eyes without ever descending into clichť or sentimentality, her fidgeting body language and dogged grip on life utterly heart-breaking' (Rebecca Coates, Plays to See)
'Zoe Wanamaker is especially superb, expressing the sadness, mania and confusion of a woman losing her mind, while still presenting a funny and loveable character beneath the condition' (Steve Hogarty, City A.M.)
'ZoŽ Wanamaker is wonderful [as Lorna]', and 'Elegy poses intelligent questions and rewards the audience with great performances' (Mersa Auda, The Upcoming)
'ZoŽ Wanamaker convincingly conveys Lorna's confusion, fear and anger as she battles to retain her sense of self, while Barbara Flynn also impresses as the caring but conflicted Carrie' (Neil Dowden, Londonist)
'Director Josie OíRourke's unfussy production Ė she's careful not to overwhelm Payne's text Ė is blessed with super performances. Zoe Wanamaker and Barbara Flynn are heartbreakingly good, and there's a nice turn from Nina Sosanya as Miriam' (Tony Peters, Radio Times)
'[Elegy] is a mournful, minor-key delight: rich, still and ruminative' (Matt Trueman, Variety)
Elegy has 'an all-female cast which is enhancing the material it is performing no end' (Neil Durham, monstagigz)
In a fascinating article published by Whatsonstage.com, Tom Scutt (who co-designed the production with Rosie ElNile) reveals how Elegy's set was inspired by 'the tension between togetherness and separation' at the heart of Lorna and Carrie's relationship.
The set, with its rows of chairs, recalls hospitals, churches and schools (all institutions that assume importance in the characters' lives). The set overall is 'a transitional ''non-place''', Scutt adds, reflecting Lorna and Carrie's feelings of insecurity and uncertainty.
In addition, Whatsonstage.com's most recent 'week in pictures' feature includes a photo of ZoŽ with her Elegy co-stars Barbara Flynn and Nina Sosanya at the opening night after-party.
Performances of Elegy are scheduled until 18 June. The Donmar is releasing £10 tickets for front row seats on Monday mornings, with a very, very small number of other tickets also available.
News round-up: ZoŽ celebrates Shakespeare; Art for Cure auction; Love Hurts DVD and more
1 May 2016 00:39
Marking 400 years since Shakespeare's death
ZoŽ offers insights into Shakespeare's enduring appeal in the above video from the National Theatre, which has been produced to mark the 400th anniversary of the playwright's death on 23 April.
'Shakespeare touches the human heart in all his plays, and that's why he is relevant now and will always be,' she emphasises.
On 23 April, ZoŽ took part in a special service at Southwark Cathedral, in London, also marking the anniversary. The location is significant, as Southwark is an area in which Shakespeare worked extensively.
The service was organised jointly by Southwark Cathedral and the nearby Shakespeare's Globe. Described on the cathedral's website as 'blending liturgical worship, music and performance', the service featured extracts from Shakespeare's late plays.
ZoŽ joined local schoolchildren in laying flowers at the memorials to her father Sam Wanamaker, as well as Shakespeare and his brother Edmund Shakespeare. Also in attendance at the service were Prince Philip (who is Patron of The Globe) and Timothy West. ZoŽ and Prince Philip can be seen in a photo on the Royal Family's Instagram profile.
Supporting Art for Cure and Child Rescue Nepal
As previously reported on this website, ZoŽ has created an artwork for the Art for Cure 2016 exhibition's Make Your Mark campaign. Her quirky, jolly drawing of an elf-like figure is currently being auctioned alongside pictures by other well-known individuals.
If you'd like to place any bids, you have until the evening of 8 May (UK time) to do so. Money raised by the auctions will go towards finding a cure for breast cancer and caring for patients.
As highlighted on her Twitter profile, ZoŽ is also supporting Child Rescue Nepal (formerly known as The Esther Benjamins Trust), a charity working to rescue trafficked children in the country and reunite them with their families.
If you'd like to make a donation to Child Rescue Nepal, you can do so on the charity's website.
The complete Love Hurts coming to DVD
One of ZoŽís most successful TV dramas, Love Hurts, is due to be released on Region 2 DVD on 29 August. The nine-disc set will include every episode of Love Hurts ever made. The three series were released separately ten years ago; the forthcoming boxset will mark the first time that all of the episodes have been available together.
Elegy: after-party photos, Radio 4 discussion and first reviews of ZoŽ's 'electric' performance
28 April 2016 12:19
Following yesterday's opening night performance of Elegy, ZoŽ was photographed at the after-party with her co-stars Barbara Flynn and Nina Sosanya, the play's writer Nick Payne, director Josie Rourke Ė and her trademark drink, the Wanamaker Martini!
'The wonderful thing about [Elegy] is it poses the question constantly Ė do we have control over ourselves and at what cost and why?' ZoŽ emphasised when speaking to the Evening Standard about the play's interest in medical advances and the mind's mysteries.
The first reviews of Elegy have now been published. The highlights below suggest that critics have been struck by the power of this play, in which ZoŽ's Lorna loses all memory of the love of her life, Carrie, as a result of neurosurgery to cure a degenerative disease.
'ZoŽ Wanamaker is superb as Lorna, in the way she captures the rage and frustration that are inevitable byproducts of her condition, but also the wit and mischief that made Carrie love her in the first place' (Michael Billington, Guardian)
'ZoŽ Wanamaker excels as the protagonist, both in the confusing period when Lorna knows that she is losing her mind and when dealing with the inevitable but truly terrifying outcome of the medical procedure' (Philip Fisher, British Theatre Guide)
'Wanamaker is especially good, with her sardonic, flamboyant rage against the dying of the light', in 'a beautiful production of a provocative play' (Andrzej Lukowski, Time Out)
Elegy is a 'brief, brilliant, alarming piece' of theatre, 'with Wanamaker Ė as ever a packet of electric energy Ė terrifying in bursts of anguished aggression' (Libby Purves, theatreCat)
'Elegy is a beautiful, terrifying, devastating and provocative triumph of the mind', in which ZoŽ and Barbara Flynn are 'incredible' as a troubled couple (Charlotte Marshall, Official London Theaatre)
'We are invited into a bond that's warm, playful and endlessly human, radiantly brought to life by Wanamaker and Flynn' (Lucy Brooks, Culture Whisper)
This 'intricate three-hander' offers 'a moving, tender' portrayal of the impact that illness and treatment have on the relationship between Lorna and her wife Carrie (Natasha Tripney, The Stage)
Elegy is 'most beautifully acted'; Lorna is 'convincingly confused, movingly resolute' (Sarah Crompton, Whatsonstage.com)
Clips from Elegy (including neurosurgeon Miriam baffling Lorna with thoughts on whether love exists or not) can be heard during the 26 April edition of BBC Radio 4's Front Row, in addition to a thought-provoking interview with Payne and Rourke.
In Rourke's words, Elegy is 'a new play that functions like a tragedy', suffused with tragic inevitability. Lorna and Carrie must decide whether or not to proceed with a major operation that is Lorna's only hope of survival, and so 'in a way the choice is no choice; it's really about consequence' and 'what the cost of love is'.
Elegy runs until 18 June at London's Donmar Warehouse. £10 tickets for front row seats are being released on Monday mornings, with a very, very small number of other tickets also available.
Site design and original text © 2002 - 2016 www.zoewanamaker.com, unless specified otherwise.
Most images used on this site are the copyright of their photographer, Ms. Wanamaker, and/or the production company of the show. Use of these images is covered under the fair use limitation in the USA, and the fair dealing limitaton in the UK.
This site is a non-commercial endeavour.