Welcome to the official website for Zoë Wanamaker!
---
Rare chance to hear ZoŽ's episode of In the Psychiatrist's Chair
9 April 2014 23:10
The Radio Times has announced that several episodes of In the Psychiatrist's Chair, including the episode featuring Zoe, will be broadcast on BBC Radio 4 Extra over the coming months.
This series of in-depth interviews from the BBC's archives, conducted by the late Prof Anthony Clare, begins this month. Zoe's episode, first heard in 1998, is due to be broadcast on 9 August at 1:15pm.
Caroline Raphael, Commissioning Editor for Radio 4 Extra, commented that In the Psychiatrist's Chair 'remains a ground-breaking series that gives an insight like no other into its subjects'.
The broadcast of Zoe's episode is sure to be a treat for fans.
Stevie, Electra, the Sam Wanamaker Festival and more
8 April 2014 00:10
ZoŽ's return to the stage this summer in Hugh Whitemore's biographical play, Stevie, is the focus of BroadwayWorld's recent article about the Chichester Festival 2014.
Chichester Festival Theatre's heritage arts project, Pass It On, has tweeted a great photo from its archive of ZoŽ's earlier appearance at the Festival, in the title role of 1997's Electra. This production of Frank McGuinness' version of Sophocles' Greek tragedy subsequently played to audiences in London and on Broadway.
Similarly, in the run-up to this year's prestigious Olivier Awards, Official London Theatre has been looking through its archives in order to highlight some of the best dresses from previous ceremonies. The gallery of photos includes the 'show-stopping red sequinned gown' that ZoŽ wore to the Oliviers in 2012.
The importance of another notable event in the theatrical calendar, Shakespeare's Globe's Sam Wanamaker Festival, which concluded on Sunday, is the subject of an article in The Stage. As the article emphasises, the Festival 'is a very valuable event', not least because it offers aspiring actors the opportunity to enhance their ability to speak Shakespearean verse.
First look at Stevie in rehearsal
4 April 2014 00:40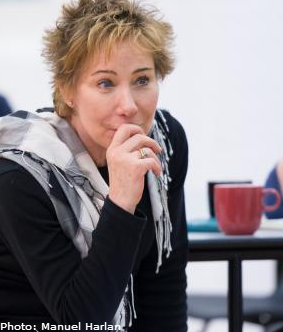 Photos of ZoŽ rehearsing Stevie, the biographical play in which she will star as poet Stevie Smith, have been published on Chichester Festival Theatre's website.
The photos, taken by Manuel Harlan, show ZoŽ alongside the other cast members, Lynda Baron and Chris Larkin, as well as in discussion with the production's director, Christopher Morahan.
Tickets for Stevie, which will be performed at the theatre's Minerva venue from 24 April to 24 May, are available now.
With thanks to Janet
New photos of ZoŽ
23 March 2014 18:04
We are very fortunate to be able to see these two lovely new photos of ZoŽ, which have been taken by the very talented photographer Jillian Edelstein.
Please click on each image to see the full-size version.
Jillian Edelstein has taken photos of ZoŽ several times before. Her previous works featuring Zoe include a photo that is now held by London's National Portrait Gallery.
Please remember that the photos are for your own personal use, and should not be sold online or elsewhere, as that is in breach of the photographer's copyright.
ZoŽ's husband to appear in Alan Ayckbourn play at the National Theatre
23 March 2014 17:31
ZoŽ's husband, Gawn Grainger, is preparing to return to the stage in London. He will play Ken Ayres in the National Theatre's revival of 1987 play A Small Family Business.
The play, written by Alan Ayckbourn, is described by the National as 'a riotous exposure of entrepreneurial greed'. It will be performed in the Olivier from 1 April.
When Gawn was interviewed alongside ZoŽ last year, as part of the National's 50th anniversary celebrations, they both agreed that the Olivier is a 'wonderful' place to work.
You can see rehearsal photos from A Small Family Business and buy tickets on the National's website.
In addition, the show will be broadcast live in cinemas around the world on 12 June by National Theatre Live. You may remember that when Zoe starred in The Cherry Orchard, in 2011, it was also shown internationally, thanks to NT Live.
Site design and original text © 2002 - 2014 www.zoewanamaker.com, unless specified otherwise.
Most images used on this site are the copyright of their photographer, Ms. Wanamaker, and/or the production company of the show. Use of these images is covered under the fair use limitation in the USA, and the fair dealing limitaton in the UK.
This site is a non-commercial endeavour.