Welcome to the official website for Zoë Wanamaker!
---
News round-up: Mr Selfridge, Death of a Salesman, Your Dog and your chance to tweet a question for ZoŽ
6 February 2015 23:51
ZoŽ's on-screen son in Mr Selfridge, Leon Ockenden, has praised the 'passion and intensity' in her approach to acting. Interviewed by the Sunday People, Ockenden emphasises that 'She did such a brilliant accent that everyone mimicked her on set and she kept it going all day. It's only at the end of the day when you get in the car with her that she changes. That's when you see the real ZoŽ.'
And in an interview on daytime chatshow Loose Women today, Ockenden revealed that Zoe makes the best vodka martinis!
Zoe's role in Mr Selfridge has captured the attention of the Independent.ie, which remarks that 'the wonderful Zoe Wanamaker [...] will doubtless bring an injection of energy and wit' to the series. Similarly, Metro finds Princess Marie a compelling character, 'thanks to Zoe Wanamaker's incredible and complex talent'.
You can catch up with episodes one and two of Mr Selfridge's third series on the ITV Player. Episode three will be broadcast on Sunday, at 9pm on ITV1/STV. The whole of series three is available to pre-order on Region 2 DVD; it is due to be released on 20 April.
ZoŽ has recently been rehearsing a new radio production of Arthur Miller's masterpiece, Death of a Salesman, in which she will star alongside David Suchet. As many of you will know, they have worked wonderfully well together on previous productions such as All My Sons (2010) and, of course, several episodes of Agatha Christie's Poirot; and so the radio play is sure to be a real treat for fans.
The rehearsals took place at the premises of Mousetrap Theatre Project, the theatre education charity of which both Zoe and her co-star are patrons. You can see a photo of the cast on Mousetrap's Twitter profile. The broadcast date for the play has not yet been announced, but Suchet has tweeted that it is due to air in the autumn, in which case it will coincide with the centenary of Miller's birth.
The March issue of Your Dog magazine features a lovely interview with ZoŽ about her support for the Bark and Read project, which is funded by the Kennel Club Charitable Trust. The project supports efforts to encourage schoolchildren to read to specially trained support dogs. By reading to a calm, non-judgmental canine audience, pupils can increase their confidence and literacy levels.
As well as discussing the 'wonderful' Bark and Read, ZoŽ recalls her parents' pet dogs. 'I've grown up with dogs all my life,' she emphasises. She has particularly fond memories of Pasha, an Afghan Hound. 'He was a stunning dog, with a flowing beard and a real sense of humour Ė he actually laughed. But he was uncontrollable with a mind of his own and would run off Ė Afghan Hounds run like the wind!'
Pasha, as ZoŽ points out, was the inspiration for her 1996 performance as a dog, Sylvia, in A.R. Gurney's play of the same name. 'I had a collar Ė a necklace with a chain Ė made specially' for the production, she says. Playing a dog was 'great fun'.
Your Dog is available to purchase in print and as a digital edition.
What would you like to ask Zoe? To celebrate its twentieth anniversary, the Dyslexia Research Trust, an Oxford University-based charity that tackles reading problems, is giving people the chance to tweet questions for ZoŽ, who will answer the top three in due course.
Full cast announced for ZoŽ's Stevie at Hampstead Theatre
27 January 2015 13:34
Hampstead Theatre has today announced the full cast for Stevie, in which ZoŽ will reprise her role as quirky poet Stevie Smith from 6 March, following her success at Chichester's Minerva Theatre.
Zoe will be joined by Lynda Baron (who will play Stevie's down-to-earth, kindly aunt) and Chris Larkin (The Man, a mysterious figure who helps to tell Stevie's story). They too are reprising their roles from last year's production at Chichester, which was highly acclaimed.
Please see Hampstead Theatre's website for Stevie performance details and tickets.
ZoŽ and her Mr Selfridge co-stars chat to the Radio Times in more behind-the-scenes videos
25 January 2015 15:34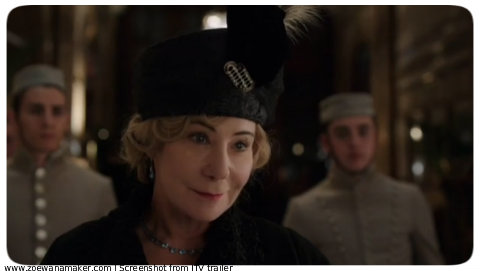 It's almost here! Mr Selfridge series three begins its ten-part run in the UK tonight, and the Radio Times is celebrating the occasion with several behind-the-scenes videos, filmed last year, featuring ZoŽ and other members of the hit costume drama's cast.
The RT was on-set during the filming of what it describes as 'the ultimate society wedding' Ė between wealthy entrepreneur Harry Selfridge's daughter, Rosalie, and Eton-educated Russian aristocrat Serge de Bolotoff. Zoe's character, Princess Marie Wiasemsky, keeps a watchful eye on proceedings as the groom's mother.
Princess Marie looks set to shake things up for the Selfridges during series three. ZoŽ, interviewed alongside Leon Ockenden (who plays Serge), explained that 'She's a very lively character' who 'loves life'. Those qualities make Marie great fun to play.
As Ockenden points out, he and ZoŽ 'got to build relationships with some of the supporting artists' who also took part in the wedding day filming. This approach helped to ensure that the atmosphere of the wedding scenes is as authentic as possible, as the connections between the main characters and other wedding guests feel real.
Amanda Abbington, who plays trusted Selfridges employee Miss Mardle, is delighted that ZoŽ appears in the new series. 'She's a joy to have on the show. We're lucky to have her.' Abbington emphasises that Zoe 'absolutely brings the glamour' to Mr Selfridge in her role as the extravagant, opulently-dressed princess. (You can see some of Princess Marie's beautiful outfits in MSN's Mr Selfridge gallery.)
To catch up on the events of the first two series and find out what to expect from the third, head over to The Mirror's guide to the show.
The third series airs on ITV1/STV on Sundays, 9pm.
See ZoŽ and her Mr Selfridge co-stars in behind-the-scenes videos
23 January 2015 22:08
What a treat for fans of ZoŽ and Mr Selfridge! Breakfast show Good Morning Britain and lifestyle programme Lorraine have both gone behind-the-scenes of the drama's eagerly anticipated third series, filmed last year. If you missed these short features on TV today, you'll be pleased to know that they are available to watch online.
Good Morning Britain's entertainment editor, Richard Arnold, was on-set to watch the filming of Rosalie Selfridge's and Serge de Bolotoff's lavish wedding day. During breaks between the filming, he chatted to ZoŽ and several other cast members. As he pointed out, Zoe's character Ė Serge's headstrong mother, Princess Marie Wiasemsky Ė has raised a very handsome son. 'Isn't he pretty!' ZoŽ laughed.
On Lorraine showbiz reporter Dan Wootton was also on-set with the Mr Selfridge series three cast. ZoŽ is 'a legend', he emphasised. 'How do you think viewers are going to react to you when you hit the screens?' he asked her. 'With love and awe!' she joked.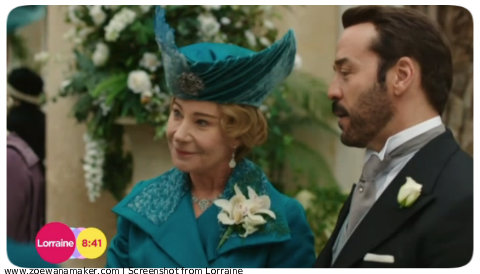 Both behind-the-scenes features include a clip of Princess Marie enjoying her son's wedding reception, dressed in a characteristically extravagant, turquoise outfit Ė complete with a show-stopping hat. As described by Zoe in a recent interview, the hat looks 'like a crown', emphasising Marie's imperious nature. Marie is clearly no wallflower, and she suggests to journalist Frank Edwards that he should write a book about her colourful life. 'A very big book!' smiles the princess.
Mr Selfridge series three begins on 25 January, at 9pm on ITV1/STV.
Watch out Mr Selfridge! Princess Marie's 'a force to be reckoned with,' says ZoŽ in new interview
23 January 2015 01:26
ZoŽ has spoken in fascinating detail, in production notes released by the ITV Press Centre, about filming the eagerly anticipated third series of drama Mr Selfridge, which begins on 25 January in the UK. She sheds light on her approach to playing a headstrong Russian aristocrat, Princess Marie Wiasemsky, whose son, aviation enthusiast Serge de Bolotoff, marries Rosalie, eldest daughter of entrepreneur Harry Selfridge, during the aftermath of the First World War.
ZoŽ's childhood memories of Selfridges department store
'When I was a kid, my mum used to go to Selfridges all the time and I used to go with her,' says ZoŽ. 'I remember it really well. My mum is American so going into department stores was the norm. Selfridges was fairly close to where we lived so it was a place to go.
'Selfridges was a real experience for me. It was massive! It's changed so much now but it was a very glamorous place, and still is. The architecture is so beautiful. I love the clock and the doors and it still had the wooden floors. It is a beautiful shop.'
Immersing herself in early twentieth-century history
Many of the characters Ė including Zoe's Ė are based on real people.
'I didn't know anything about Harry Selfridge, but for me that was the fun of doing this job. I enjoy the research. Reading about Harry is quite a revelation. He was a genius. The whole idea of placing items on shop counters was his idea Ė but then he was surprised when people nicked things!
'I took a lot of the background research about my character from Lindy Woodhead, who wrote the book Shopping, Seduction & Mr Selfridge. Iíve also been reading a lot about Russian history, particularly during that period in which my character lived.'
Princess Marie's flight from Russia after the Bolshevik revolution
'The fact the aristocracy had to get out of Russia very quickly and take as much wealth as they could carry without being searched was very important to me. You can see the desperation of having to survive and get by in a foreign land.
'To have to run must have been terrifying. Imagine horses chasing you across snow and ice and trying to get on a train and out of there. Apparently the mentality of the aristocracy was extraordinary. In Moscow, before they had to get out, the manicurists were run off their feet because the women had to have their nails done!'
Princess Marie makes a big impression on the Selfridges
'The first time you see her is at the wedding of her son Serge who has married into the Selfridge family. His bride is the beautiful Rosalie Selfridge.
'At the reception afterwards she seems to know everybody! She's quite a character. In history she's described as a bombshell.'
Serge's marriage to Harry Selfridge's daughter has plenty of benefits
'One thing that stands out is that she adores her son. She thinks he's the best thing since the invention of the telephone. She loves that he's married into money. That makes her very happy. And the excitement of marrying a Selfridge is great.
'Harry Selfridge moves in the same society which she moves in. Princess Marie goes higher because she knows lots of royalty and lots of rich and powerful people in England. She is a great society mover.
'Although Harry Selfridge is American, it's clear he's done well for himself. He's powerful, rich and charismatic and interesting. That suits her fine. For her son that is fantastic. Also, as family there's a possibility Harry might invest in Serge's aeroplane if Serge plays his cards right.
'I think the match has mutual benefits as the marriage elevates the Selfridge family too. It must have been a huge thing for his daughter to marry Prince Bolotoff.'
Deciding on the right look for glamorous Princess Marie
'At the wedding the hat Princess Marie wears is fantastic. We decided it had to look like a crown. We went on the premise that the hat would be completely eccentric and the look regal and powerful to accentuate her character, particularly as it's the first time we meet her.
'She had been in Paris before arriving in London so she would have spent a lot of money on clothes of the couture at the time. She would have had the very best clothes and it was very important she looked moneyed.
'The detail is wonderful. The costume designer [James Keast] has been great and very supportive. We talked a lot about what she would wear, the colours, jewellery and make-up. We looked at a lot of pictures and talked about different styles, and that she always had to look up to date.
'The era wasn't one I was unused to. When I was doing The Cherry Orchard at The National Theatre, the set designer, Bunny Christie found a fantastic book on Coco Chanel. It was a wonderful pictorial book on what Coco was wearing at this period and we based a lot of those costumes on them. Corsets had just started to go, so the shape was different. I now love the style, as I think James and the team on Mr Selfridge have done the most beautiful job.'
Imperious Princess Marie is accustomed to a life of luxury
'She's a force to be reckoned with,' laughs ZoŽ. 'I love her one-liners. She's arrogantly funny. But she's got to be witty and sharp Ė to go through all she has and keep your sense of humour, you have to be funny.
'Princess Marie is a complete aristocrat. It's not unusual for her to be waited on hand and foot. She never closes doors because someone else is meant to do that. She never picks things up and she expects someone else to clear up. Itís always been that way.
'There is one scene when she gives Serge and Rosalie a samovar as a wedding present. Samovars were considered the most beautiful, expensive piece. In the old days, to give something like that was a big thing as they cost a fortune. When she's asked how to use it sheís got no idea at all, but that is because it's always been done by someone else!'
Princess Marie loves to spend, spend, spend!
'When it comes to money she doesn't think anything of charging everything to Harry Selfridge's account. As far as she's concerned it's totally normal. She's the mother of his son-in-law and that's just how things are.
'She was known as a serial spend thrift and that's how she lived all her life.'
Learning to speak in a convincing Russian accent
'[Voice coach] Liam [Robinson] was a godsend. He did a lot of research for me. He has a Russian model as a friend who speaks English in a certain kind of way. He recorded her voice and I spent time listening to her. I didnít want to make the accent too ''meerkat'' because that's going slightly too far. Instead I wanted to give her an aristocratic tone so it wasn't incomprehensible or laughable.
'During the filming of the wedding reception there were a couple of Russian speakers. I started speaking to them and asked them if my accent was OK. It was good housekeeping, and I got a seal of approval so that was good!'
Comments from other Mr Selfridge cast members
Also in Mr Selfridge's production notes, Leon Ockenden (Serge), speaks very highly of his co-star. He says, 'ZoŽ's character does have an accent in the show so we often practiced Russian dialect work together. We also use some words when our characters are together, exchanged between mother and son. The way we use Russian is at moments of heightened emotion. There's a really good word in Russian that basically means ''little brat''. In one scene Serge is being disrespectful to Harry and she uses it to call him into line.'
'I'd happily work with Zoe every day for the rest of my life until I die. She's amazing, wonderfully detailed and very precise. She's also really fun, and always has such a naughty gleam in her eye!'
Ockenden has also spoken to STV, which broadcasts Mr Selfridge in Scotland, about how much he admires her. In the video interview he emphasises that acting alongside Zoe is very enjoyable and praises her as 'an incredibly detailed, specific actress'.
In another video interview from STV Kara Tointon (Rosalie) makes clear that she too is delighted to be working with Zoe. 'She's wonderful, and I'm such a massive fan'. Tointon adds that Zoe is 'great fun to be around, and what she's doing with this character is fantastic!'
You can watch ZoŽ and her co-stars in the new, ten-part series of Mr Selfridge on Sundays, from 25 January, at 9pm on ITV1/STV.
Site design and original text © 2002 - 2015 www.zoewanamaker.com, unless specified otherwise.
Most images used on this site are the copyright of their photographer, Ms. Wanamaker, and/or the production company of the show. Use of these images is covered under the fair use limitation in the USA, and the fair dealing limitaton in the UK.
This site is a non-commercial endeavour.