Welcome to the official website for Zoë Wanamaker!
---
News round-up: Cheltenham Festival interview, rare photo and Ruby Wax praises ZoŽ's 'magnificent' performance
29 December 2015 23:06
ZoŽ is among the special guests interviewed for Best of the Cheltenham Literature Festival, a BBC Radio Gloucestershire programme that was broadcast early this morning.
As you may remember, ZoŽ attended the event, held in October, in order to recreate Stevie Smith's memorable poetry reading from the 1965 Festival. During her interview with presenter Jo Durrant, ZoŽ explains why Smith's work appeals to her. She remarks, 'I really connected with the way she writes, and her voice is very strong.'
Smith's witty, engaging poetry lends itself to being read aloud or sung; and 'once you hear the way she reads, it all makes sense,' ZoŽ points out. 'I think she's a forgotten woman writer, very strong and very quirky and very individual, and I think she should be celebrated.'
Best of the Cheltenham Literature Festival will be repeated by BBC Radio Gloucestershire on New Year's Day at 1pm. Alternatively, you can listen to the programme online now, for a limited period. (The interview with ZoŽ begins after about ten minutes.)
The interview's broadcast is timely, given the news, recently reported on this website, that ZoŽ will bring Stevie Smith's poetry to life once again, this time at Poet in the City and Faber & Faber's Stevie Smith event. It'll be held in London on 15 February; tickets are available.
Edinburgh's Royal Lyceum Theatre has included a lovely, rare photo of ZoŽ on stage there, playing orphan Teresa in a 1971 production of The Hostage, in its Advent calendar. The show, directed by Richard Eyre, was one of ZoŽ's earliest professional stage appearances.
On the subject of theatre, Ruby Wax has chosen ZoŽ's 'magnificent' performance in All On Her Own/Harlequinade, currently at London's Garrick Theatre, as one of her cultural highlights in the Guardian. ZoŽ's performance 'tears your heart apart,' Wax emphasises.
If you'd like to see the double bill for yourself, you'll be pleased to know that tickets are available. The show will run until 13 January.
ZoŽ discusses Christmas presents, seasonal songs and what the festivities mean to her
26 December 2015 17:27
ZoŽ is a special guest on Hospital Radio Reading's Christmas Day edition of The Matthew Rolland Show, which you can hear online (the interview begins about eight-and-a-half minutes into the recording).
During her brief but lively chat with the show's host, ZoŽ explains that the best Christmas present she has ever received was a blessing with her husband, Gawn Grainger. She picks 'The Christmas Song', the new single by male vocal group Blake and Shirley Bassey (which is played directly after the interview), as one of her favourite seasonal tunes.
For ZoŽ, Christmas means 'peace on Earth and goodwill to all men'. I hope that all of her fans have a restful, enjoyable festive period.
It was on Christmas Day, 1999, that I first became a fan of ZoŽ, when watching her play the frightening Miss Murdstone in the BBC's brilliant adaptation of Dickens's David Copperfield. I can't quite believe that was sixteen Christmases ago - doesn't time fly!
News round-up: ZoŽ's Christmas tweet, All On Her Own/Harlequinade competition and Stevie Smith event
24 December 2015 21:46
ZoŽ's spreading Christmas cheer on Twitter with this lovely tweet!
If you're looking for a festive treat, there's still time to catch All On Her Own/Harlequinade, the Rattigan double bill starring ZoŽ, at London's Garrick Theatre. Performances resume on 28 December and continue until 13 January. Guardian members have the chance to make the experience even more special by entering a competition to win VIP tickets to the show plus five-star hotel accommodation.
Following her successful appearances in Stevie (at Chichester and Hampstead) and at Cheltenham Literature Festival, early next year ZoŽ will bring Stevie Smith's poetry to life once again. She's set to take part in Poet in the City and Faber & Faber's Stevie Smith event, which will be held at Kings Place, London, on 15 February (7-8:30pm). As Poet in the City explains, 'Smith's unique line drawings will be screened alongside live poetry readings and discussion' during the event, which will also feature Smith experts Will May, Frances Spalding and Rachel Cooke. You can buy tickets from the venue.
Finally, I wish every visitor to this website a Merry Christmas and Happy New Year! I intend to watch ZoŽ's 1977 version of Dickens's A Christmas Carol, in which she plays Belle, on Christmas Day. If you do too, it'd be lovely to know your thoughts about the programme.
ZoŽ featured in new BBC partwork, Doctor Who: The Complete History
6 December 2015 17:06
ZoŽ's second appearance as villainous plastic surgery addict Lady Cassandra is featured in issue seven of Doctor Who: The Complete History, which explores episodes including 'New Earth' (2006).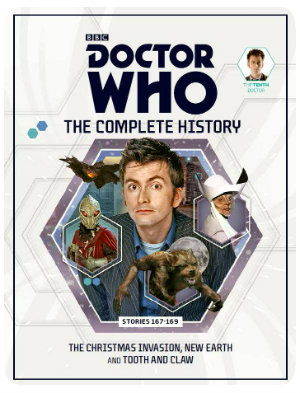 This full colour book, edited by John Ainsworth, is volume 51 in the partwork, published by the BBC. It discusses in detail the pre-production, production, post-production and broadcast history of 'New Earth', in which Cassandra memorably possesses David Tennant's Tenth Doctor and his companion, Rose (Billie Piper). The book also looks at the episode's publicity material and merchandise.
But the biggest treat for fans is undoubtedly an excellent profile of ZoŽ, whose busy work schedule meant that she had only one day on-set with the other actors to film her on-screen portrayal of Cassandra. (Her voiceovers for the character were recorded separately.)
The issue was released on 2 December and is likely to be available from UK newsagents for another week or so. ZoŽ's first episode of Doctor Who, 'The End of the World', will be examined in a forthcoming issue of the partwork (release date TBA).
'It's a magical place, the theatre,' says ZoŽ in new radio interview
5 December 2015 01:51
On Wednesday afternoon, Hospital Radio Reading broadcast a brand new interview with ZoŽ, as part of The Matthew Rolland Show.
Discussing her love of theatre at the beginning of the interview, ZoŽ recalled that she was fortunate enough to be introduced to live performances at a young age and was captivated by watching stories unfold on stage. 'It's a magical place, the theatre,' she emphasised.
ZoŽ spoke enthusiastically about her current project, performing All On Her Own and Harlequinade at London's Garrick Theatre. In this Rattigan double bill, she stars as haunted widow Rosemary and formidable actress Dame Maud. She described them as 'two contrasting characters which are really fascinating to play'.
ZoŽ clearly enjoys being part of the acting profession, not least because of the number of 'extraordinary' people with whom she has the opportunity to work. She remarked that 'so many people are so talented', and 'each person brings something wonderful to their work'. 'I've remained starstruck all of my life!' she laughed.
On a personal note, I'm extremely grateful for ZoŽ's kind words about this website, when she was asked about her fanbase. The site's been online for more than ten years, and I enjoy managing it as much now as when it was first launched during summer 2002.
You can listen to the full interview online (it begins about half an hour into the radio programme).
Site design and original text © 2002 - 2016 www.zoewanamaker.com, unless specified otherwise.
Most images used on this site are the copyright of their photographer, Ms. Wanamaker, and/or the production company of the show. Use of these images is covered under the fair use limitation in the USA, and the fair dealing limitaton in the UK.
This site is a non-commercial endeavour.