Welcome to the official website for Zoë Wanamaker!
---
ZoŽ joins dozens of other public figures calling for UK politicians to legalise assisted dying
1 January 2015 18:44
ZoŽ is among dozens of public figures who have signed a letter to the Daily Telegraph, calling on the next UK government to change the law on assisted dying in 2015. News of the letter, which has also been signed by Sir Patrick Stewart, Hugh Grant and Jo Brand, made the front page of the Telegraph on 29 December, as well as being reported elsewhere (e.g. by the Daily Mail and Daily Express).
In the letter the signatories Ė who include actors, writers, doctors, politicians and clerics Ė emphasise that 'The overwhelming majority of the public supports law change on assisted dying, and no one believes that someone should face a prison sentence of 14 years for compassionately assisting a loved one to die.'
'We are closer than ever to allowing dying people to have safeguarded choice in how they approach their deaths. Whoever forms the next Government must allow time for Parliament to reach consensus on a safeguarded law,' they add.
Zoe is a patron of Dignity in Dying, the national campaign and membership organisation that is campaigning to legalise assisted dying. Its chief executive, Sarah Wootton, has commented that 'We are fast approaching tipping point on the issue of assisted dying. It is now a question of how, not if, we change the law.'
ZoŽ's Stevie among Lyn Gardner's theatrical highlights of 2014
26 December 2014 16:45
Lyn Gardner, a theatre critic at the Guardian, has chosen ZoŽ's performance as quirky poet Stevie Smith as one of her theatrical highlights of the year. 'I enjoyed ZoŽ Wanamaker, so perfectly cast in Stevie at Chichester', Gardner writes. She also praises Zoe's co-star in the production, commenting that she 'equally adored Lynda Baron's performance as the ''lion'' aunt' who looks after Stevie for many years.
The comments echo the glowing review of Stevie that Gardner published when the play opened at the Minerva Theatre in May. She emphasised that 'ZoŽ Wanamaker is so perfectly cast in Hugh Whitemore's play about the life and work of the poet Stevie Smith that you don't feel so much that she's acting as simply channelling the mid-20th century poet and novelist. She transforms an evening that could be reticent, maybe even a little coy, into something more ferocious and dangerous,' with 'superb' support from Baron.
As recently reported on this website, Stevie will make a highly anticipated transfer to London's Hampstead Theatre in March 2015. Tickets are available; some dates are already almost sold out.
ZoŽ praises the 'warmth and gentleness' of RSC's renowned voice director, Cicely Berry
24 December 2014 03:09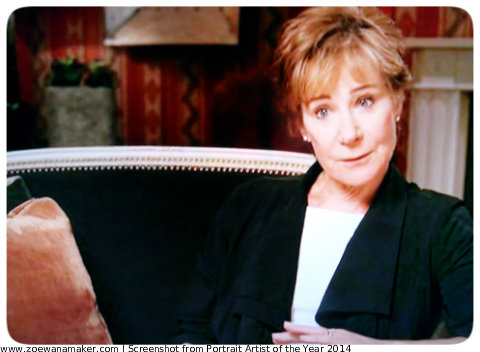 ZoŽ appears briefly in the penultimate episode of Portrait Artist of the Year 2014, broadcast yesterday on Sky Arts 1 and currently available on Sky Go. She praises the work of Cicely Berry, the Royal Shakespeare Company's renowned voice director, whose portrait was painted by one of the competition's finalists, the talented Aine Divine.
'She made language, for me, rich and fluid and sexy,' ZoŽ remarks about Berry, who has worked with the RSC for forty-five years and in 2000 was awarded The Sam Wanamaker Prize for pioneering work in theatre. 'Her eyes are full of warmth and gentleness. There is a wonderful gentleness, and there's a wit,' she adds.
While performing a variety of Shakespearean and other roles for the RSC, during the late 1970s and 80s, ZoŽ worked extensively with the voice director on such notable stage productions as Piaf (1978), Twelfth Night and The Comedy of Errors (both 1983).
Zoe has previously spoken about Berry's voice coaching work as part of a 2011 feature about the voice director on the BBC's regional current affairs series, Inside Out (as shown in the video below). In the feature Berry is seen leading a workshop about Shakespeare's use of language in order to inspire Wolverhampton teenagers.
Berry's methods encourage actors to feel language physically. As a result, a play's 'language becomes part of you,' Zoe explains in the programme. She fondly recalls 'the joy of that [experience]'.
Trailer released for Mr Selfridge series three, starring ZoŽ as a Russian princess
19 December 2014 23:10
ITV has today released this fantastic trailer for the third series of Mr Selfridge, the lavish costume drama inspired by the American founder of Selfridges department store in London, in which ZoŽ will play Russian princess Marie Wiasemsky.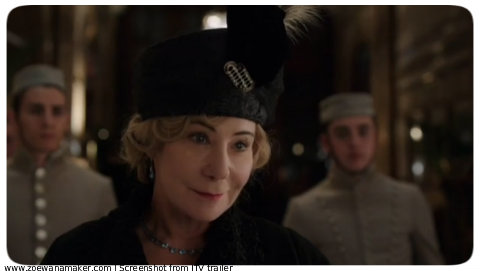 Marieís son, Serge, is set to marry retail magnate Harry Selfridgeís eldest daughter, Rosalie, but trouble is brewing for the young couple and their families. As the tense trailer shows, the recently widowed Harry is in danger of losing his grip on his hard-won retail empire, while an old enemy of the entrepreneur is looking for revenge.
Mr Selfridge will return to TV screens in the UK during January (broadcast dates to be announced) on ITV1, while US viewers can catch the series from 20 March on PBS.
ZoŽ chats about the new series of Mr Selfridge on Letís Do Christmas
17 December 2014 20:38
ZoŽ was the special guest on this lunchtime's episode of ITV's culinary-themed, festive chat show, Let's Do Christmas... With Gino & Mel. She joined the presenters, chef Gino D'Acampo and Melanie Sykes, in the kitchen to help prepare seasonal dishes.
ZoŽ chatted to the duo about the eagerly anticipated next series of Mr Selfridge, in which she plays a feisty princess, Marie, who, she remarked, is always 'living on the edge'. Excitingly, Let's Do Christmas included our first look at Zoe in-character, below.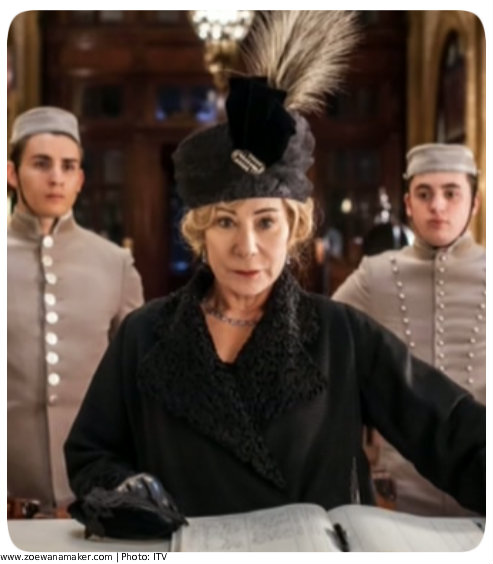 Gino and Mel presented Zoe with a lovely Christmas gift: an original theatre programme from Once in a Lifetime (1978), the RSC production for which she won her first Olivier award. In the play she starred alongside David Suchet and the late Richard Griffiths, who is pictured with Zoe on the programme's cover, below. (Coincidentally, the 1988 TV version of Once in a Lifetime, in which Zoe also appears, will be shown at the BFI at the end of January).
If you missed Zoe's appearance on Letís Do Christmas or would like to see it again, youíll be pleased to know that you can watch the programme on ITVís player any time for the next thirty days.
Site design and original text © 2002 - 2015 www.zoewanamaker.com, unless specified otherwise.
Most images used on this site are the copyright of their photographer, Ms. Wanamaker, and/or the production company of the show. Use of these images is covered under the fair use limitation in the USA, and the fair dealing limitaton in the UK.
This site is a non-commercial endeavour.