Welcome to the official website for Zoë Wanamaker!
---
ZoŽ is 'a brilliant actress', says Mr Selfridge co-star
25 August 2014 18:17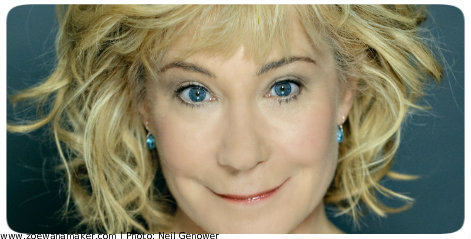 Actor Leon Ockenden, who plays the son of ZoŽ's character, Marie de Bolotoff, in the forthcoming third series of ITV's Mr Selfridge, has spoken about how much he enjoys working with Zoe.
Interviewed by the Cornish Guardian, Ockenden commented: 'We have a real laugh but she's a brilliant actress. It's great working with her; the relationship between our two characters is so real.'
Filming is underway for Mr Selfridge, the period drama inspired by the founder of Selfridges department store in London. Broadcast dates for series three have not yet been announced.
With thanks to Janet for the link.
ZoŽ's website named Celebrity Site of the Day
24 August 2014 18:45
Earlier this month, on 17 August, this website was chosen as Celebrity Site of the Day and given the award button below.
I'm very happy that the site has been recognised in this way, especially as the news comes so soon after its twelfth anniversary.
Thank you to all of Zoe's fans who visit here.
ZoŽ praises The Globe's Hamlet world tour: 'Politics and religion may divide us, but culture unites'
23 August 2014 21:37
ZoŽ has praised Shakespeare's Globe's hugely ambitious Globe to Globe Hamlet tour, which aims to perform arguably the greatest, most famous play ever written in every country in the world.
Speaking to the Telegraph, ZoŽ emphasised that her father, Sam Wanamaker, who founded The Globe, would certainly have approved of the two-year project. She commented that the arts are a powerful means of bringing people together through shared experiences: 'Politics and religion may divide us, but culture unites'.
The Hamlet world tour began in April and has already visited dozens of countries. The company of twelve actors performs more than twenty characters; the role of Hamlet is shared by Ladi Emeruwa and Naeem Hayat. You can find out more about this fascinating tour on its official website and blog.
'From the Archive' part two: ZoŽ's first ever TV role Ė a troubled teen called Sally
20 August 2014 22:13
This is the second article in 'From the Archive', a series launched last month to celebrate this website's twelfth anniversary. The series explores ZoŽ's earliest roles, rare interviews, memorabilia and more.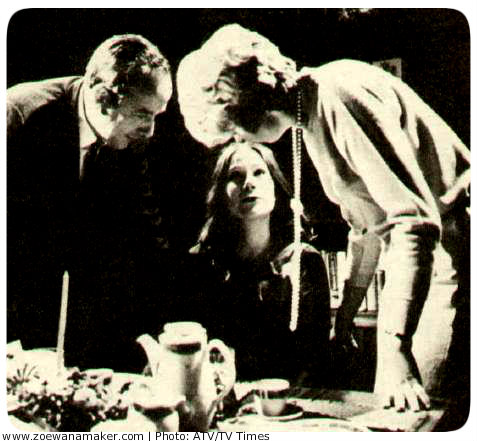 ZoŽ's television work encompasses many hugely popular programmes, which have brought her international acclaim. She is well known for starring in series such as Love Hurts, My Family and Agatha Christie's Poirot, to name just a few; but have you ever wondered when Zoe's TV career began?
New Year is traditionally a time of new beginnings, and this was certainly true for ZoŽ in 1971. She made her TV debut on 3 January, when ITV broadcast a 25-minute drama, 'Sally for Keeps', in which she plays the title character. It must have felt wonderful to secure a TV role so soon after drama school Ė Zoe had completed her studies at London's Central School of Speech & Drama just the previous year.
Shortly before 'Sally for Keeps' was shown, the TV Times introduced the young actress to its readers as the 'daughter of American actor-director Sam [Wanamaker]'. Although in her early twenties at the time, ZoŽ was cast as a teenage girl in the programme, which was scripted by well-known writer Ken Taylor.
ZoŽ's character, Sally, is a kind but troubled teenager, who has been living for some time in a children's home. When her kindly English teacher and his wife (played by James Grout and Barbara Leigh-Hunt) invite Sally to spend Christmas at their home, they are faced with an important question: should they invite her to stay 'for keeps'?
'Sally for Keeps' is part of the series Turn of the Year, which examines emotive subjects such as fostering and family life. In particular, the series looks at how the spirit of change associated with the Christmas and New Year period can bring such subjects to the fore.
I would love to be able to show you a clip of Zoe's performance as Sally. Unfortunately, 'Sally for Keeps', like many other programmes of its era, is missing from the TV archives. The black-and-white photo above, showing Sally, her English teacher and his wife, is the only image I have been able to find from the programme.
In 2012 ZoŽ discussed her TV debut when she was interviewed for BBC arts series Mark Lawson Talks To... 'There was a religious slot [in which 'Sally for Keeps' was broadcast], and I worked with Barbara Leigh-Hunt,' Zoe commented. 'And I was very "Method" at that time Ė in a way I still am, but [then] I was really Method,' she added, referring to the set of techniques that actors can use to draw on their emotions and memories when performing.
'Lost' TV shows do turn up from time to time (the discoveries of early Doctor Who episodes spring to mind), and so let's keep our fingers crossed that one day we find that a copy of 'Sally for Keeps' was kept by a TV company or 1970s viewer... Meanwhile, if you remember watching Zoe's TV debut, it would be great to hear from you.
There are more details about 'Sally for Keeps' in the guide to the programme in the TV section.
More articles in the 'From the Archive' series will be published here from time to time. If there is a topic that you would like to write about Ė for example, perhaps you saw Zoe on stage in the 1970s or have a rare or unusual item connected to her career that you would like to discuss Ė please feel free to contact me about writing a guest article.
'Joyous and very sweet': ZoŽ praises Celia Imrie's new show, Laughing Matters
13 August 2014 18:23
ZoŽ and her husband, Gawn Grainger, were among the special guests at yesterday's press night for Celia Imrie's one-woman cabaret show, Laughing Matters, held at London's St James Theatre.
Speaking to the Evening Standard, Zoe praised the show, in which Imrie performs songs, sketches and anecdotes. 'It felt like being in Celia's front room. It was joyous and very sweet.'
ZoŽ, her husband and Imrie were photographed at the show's after party, which was hosted by Fortnum & Mason, for Tatler, Wooller.com, Getty Images and Rex Features. Other special guests included Larry Lamb and Paul O'Grady.
Laughing Matters runs until 17 August.
With thanks to Janet for her help.
Updated 15 August: You can also see photos from the after party on Whatsonstage.com.
Site design and original text © 2002 - 2014 www.zoewanamaker.com, unless specified otherwise.
Most images used on this site are the copyright of their photographer, Ms. Wanamaker, and/or the production company of the show. Use of these images is covered under the fair use limitation in the USA, and the fair dealing limitaton in the UK.
This site is a non-commercial endeavour.