Welcome to the official website for Zoë Wanamaker!
---
Photos: first look at ZoŽ rehearsing for Elegy's world premiere!
18 April 2016 16:41
Excitingly, the world premiere of Elegy is now just days away Ė and to whet our appetites for the play, the Donmar Warehouse has released some fantastic rehearsal photos of cast and crew in action.
ZoŽ is pictured alongside her co-stars, Barbara Flynn and Nina Sosanya, in a series of intriguing images. Some of the photos suggest that Elegy, which explores the power of the human brain and the effects of augmenting life, may well be a tearjerker.
If you haven't booked tickets yet, you still have a chance to do so, though I'd recommend acting quickly. The Donmar is continuing to release £10 tickets for front row seats on Monday mornings, with a very, very small number of other tickets also still available.
ZoŽ discusses 'the conflict within Emilia' for BBC Radio 4's Shakespeare's People
18 April 2016 15:48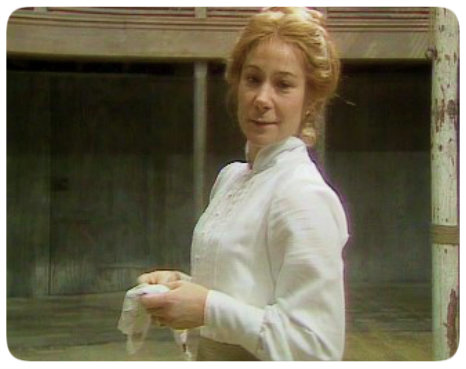 ZoŽ has discussed one of her favourite Shakespearean characters, Emilia from Othello, for Shakespeare's People, a series commissioned by BBC Radio 4 arts programme Front Row to mark the 400th anniversary of the playwright's death.
ZoŽ's reflections on Emilia, the character she played in the RSC's highly acclaimed 1989 staging of Othello, were broadcast during Front Row's 14 April edition. Her comments were interspersed with clips of her performance in the RSC production.
ZoŽ praised Emilia's 'beautiful, clever understanding of the frailty of men and women'. Iago's disenchanted wife believes that both sexes 'feel the same' and are deeply affected by jealousy and betrayal, two themes at the heart of Shakespeare's play.
When she played the role, ZoŽ decided that 'the conflict within Emilia' was caused by the fact that she's 'in denial' about her husband's true nature. It's not until the very end of the play, when tragedy has struck, that Emilia sees Iago for what he is.
You can listen to ZoŽ's comments about Emilia in full on the BBC's website.
Donmar releasing £10 Elegy tickets
11 April 2016 01:03
The Donmar Warehouse has exciting news for any fans who've not yet booked tickets for ZoŽ's next stage production, Elegy, by Nick Payne.
At 10am (UK time) today, 11 April, the London theatre will release £10 tickets, for performances scheduled to take place from 21-30 April, as part of its Front Row initiative. More £10 tickets, for performances later in the show's run, will be released on subsequent Mondays.
Fantastic theatre at a fantastic price - what could be better?
ZoŽ dazzles at the Olivier Awards, then wins Also Recognised Award!
11 April 2016 00:30
ZoŽ and her husband, Gawn Grainger, joined other special guests from the world of theatre on the red carpet for the Olivier Awards, held at London's Royal Opera House on 3 April. Wearing a beautiful Amanda Wakeley gown and Asprey jewellery, ZoŽ was photographed for ContactMusic.com, Zimbio, and Getty Images.
An amusing moment came during an interview ZoŽ gave on the red carpet, when her friend, Judi Dench, interrupted proceedings, joking 'Don't believe a word she says!' The moment was captured on camera and has been widely reported in the media.
ZoŽ provided the voiceover for the ceremony, now in its 40th year, and also appeared on stage. She and Rob Brydon presented the Best Actor and Actress in a Supporting Role in a Musical Awards (won by David Bedella for In The Heights and Lara Pulver for Gypsy). ZoŽ, who has herself won two Oliviers (for Once in a Lifetime and Electra), was pictured with Brydon and the winners after the ceremony.
In a moving speech, Mark Gatiss, who won the Best Actor in a Supporting Role Olivier for Three Days in the Country, thanked 'the great Gawn Grainger', who appeared alongside him in the play.
After the ceremony, ZoŽ and her All My Sons co-star, Jemima Rooper, were pictured looking very glamorous.
You can catch-up with highlights from the Oliviers on the ITV Hub.
Last week also saw ZoŽ win a theatre award. On 7 April, she won Best Solo Performance in My Theatre Mates' Also Recognised Awards, having received an impressive 30% of the public vote.
The award celebrates ZoŽ's powerful portrayal of a grief-stricken and guilt-ridden widow, Rosemary, in All On Her Own. The Terence Rattigan monologue wowed audiences alongside comedy Harlequinade at London's Garrick Theatre late last year.
Congratulations to ZoŽ on her very well deserved award!
ZoŽ pictured laying Shakespeare's Globe's foundations in 1995
2 April 2016 17:57
In celebration of Museum Week (28 March Ė 3 April), an international cultural event, Shakespeare's Globe has delved into its archives and shared some very special photos with readers of its blog.
Two of the photos, which illustrate a blog article about the theatre's beginnings, show both ZoŽ and Judi Dench helping to lay the foundations almost exactly twenty-one years ago, on 29 April 1995. The other, earlier images feature ZoŽ's father, Sam Wanamaker, who spearheaded the construction of The Globe on London's South Bank.
The photos provide a fascinating glimpse into the history of what has become a world-renowned institution.
Thanks to Karoline for making me aware of the photos.
Site design and original text © 2002 - 2016 www.zoewanamaker.com, unless specified otherwise.
Most images used on this site are the copyright of their photographer, Ms. Wanamaker, and/or the production company of the show. Use of these images is covered under the fair use limitation in the USA, and the fair dealing limitaton in the UK.
This site is a non-commercial endeavour.