Welcome to the official website for Zoë Wanamaker!
---
ZoŽ describes the 'joy' of performing Much Ado About Nothing in Glyndebourne interview
29 July 2016 17:50
ZoŽ offers insight into playing Much Ado About Nothing's Beatrice in a Glyndebourne Festival podcast that compares Shakespeare's play with the opera it inspired, Bťatrice et Bťnťdict, by Berlioz. The latter is being performed at the East Sussex festival until late August.
In the podcast, presenter Katie Derham points out that 'Beatrice's independent spirit appeals to ZoŽ', who starred alongside Simon Russell Beale in the National Theatre's acclaimed 2007 production (the video below includes clips of their performances).
'She wants a sophisticated relationship rather than a ''pretty'' one,' remarks ZoŽ, suggesting that Beatrice needs to be able to demonstrate her intellect and wit in her personal life.
Beatrice's witty war of words with her old sparring partner, Benedick, enables actors Ė and audience members Ė to revel in what ZoŽ calls 'the enjoyment of two opposites or seeming opposites'.
She adds that everyone she's spoken to about performing Much Ado About Nothing has said the play, which ends happily for its two central characters, gave them 'a feeling of joy'.
ZoŽ celebrates Stevie Smith's 'extraordinary individuality' in Poet in the City's podcast and interview
29 July 2016 15:56
You may remember that ZoŽ gave poetry readings at Poet in the City and Faber & Faber's Stevie Smith celebration, held on 15 February at King's Place, London. Excitingly, several clips from her readings are included in Poet in the City's latest podcast, 'Poetry and Comedy'.
Whether you'd like to relive moments from the event or didn't get the opportunity to attend it, the podcast is well worth hearing. In addition to ZoŽ's beautiful readings of Smith's poems (including 'Do Take Muriel Out', 'The Galloping Cat' (a real crowd-pleaser!), an extract from 'Souvenir de Monsieur Poop' and 'Not Waving but Drowning'), there's thought-provoking discussion from academics and writers about how Smith broke the rules and the power of humorous verse.
For more inspiring discussion, you can also listen to a short interview ZoŽ gave to Poet in the City on the day of the event, in which she celebrates Smith's 'extraordinary individuality'. ZoŽ emphasises that 'her sense of irony, which I enjoy very much, and black humour, which I love,' are two qualities that stand out in Smith's writing, 'and that's what drew me to her'.
The Shakespeareans exhibition to feature specially-commissioned portraits of ZoŽ
28 July 2016 22:55
ZoŽ will feature in a new exhibition, The Shakespeareans: Portraits in Paint and Words, alongside other actors and actresses well known for playing Shakespearean roles. The exhibition will run from 12-19 August at The Club at The Ivy in London's West End.
The Shakespeareans is the result of the collaboration between Dr Laura-Jane Foley, a writer and art historian, and Janet Lance Hughes, an artist and designer. They've produced portraits in both words and images in order to offer visitors a more well-rounded view of the featured performers than would be the case if the exhibition was reliant on just one of these creative mediums.
As you can see from the tweet below, Dr Foley recently interviewed ZoŽ in preparation for the exhibition. ZoŽ has played some of Shakespeare's most fascinating characters Ė Richard III's Lady Anne (pictured above), Othello's Emilia, Much Ado About Nothing's Beatrice and more Ė and so their conversation must've been fascinating!
Although The Club at The Ivy is a private members' club, the organisers of The Shakespeareans have advised me that non-members are welcome to contact the club nearer the time, if they'd like to book an appointment to view the portraits.
Catch up with ZoŽ's documentaries on the iPlayer or BBC Store
3 July 2016 17:01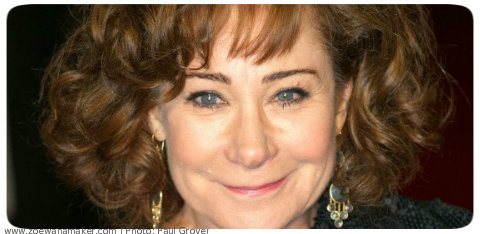 Here's a quick update about two BBC documentary series that have been narrated by ZoŽ and broadcast during the past few weeks.
Handmade: By Royal Appointment, the final episode of which was shown on BBC Four last Monday, is available to watch for a limited time on the BBC iPlayer. Alternatively, you can buy and keep either the whole series or individual episodes from the BBC Store.
Broadcast details for the last episode of Mr v Mrs: Call the Mediator have now been announced. It'll be shown on 5 July, at 9:30pm on BBC Two. The series is also available for a limited period on the iPlayer.
If you've missed any of the episodes from these fascinating series, I'd highly recommend catching up with them.
News round-up: ZoŽ narrates Mr v Mrs; catch up with Handmade; important charity work
23 June 2016 17:39
We may have said a fond farewell to Elegy, which completed its run at London's Donmar Warehouse on 18 June, but there's still plenty for ZoŽ's fans to enjoy, plus news of charity work you may like to support.
Two fascinating BBC documentaries
Three episodes of Handmade: By Royal Appointment, the craftsmanship-focused documentary series narrated by ZoŽ, have so far been broadcast. You can catch up on the BBC's website. The final programme will be shown on 27 June (BBC Four, 8:30pm).
ZoŽ is also the narrator of Mr v Mrs: Call the Mediator, BBC2's three-part documentary series about the emotionally-charged world of family mediation services. Episode one, shown earlier this week, is available online; look out for episode two on 28 June at 9:30pm. (Broadcast details for the last episode have yet to be announced.)
Fundraising for Breast Cancer Care with Linzi shoes
ZoŽ has been photographed showing her support for women's shoes retailer Linzi's fundraising campaign for Breast Cancer Care. If you buy a pair of Linzi's limited edition Breast Cancer Care pumps, available in various styles, £2 from the sale will benefit the charity.
Step out in style while helping a very good cause!
Supporting Child Rescue Nepal's vital work
ZoŽ's clearly been busy with charity work, as she's also been photographed raising awareness of Child Rescue Nepal (formerly called The Esther Benjamins Trust). As the sign ZoŽ holds in the photo emphasises, Child Rescue Nepal rescues trafficked Nepali children.
You can donate to the charity via its website, which features a message from ZoŽ alongside comments from other well-known supporters. 'I commend the work of Child Rescue Nepal in trying to keep Nepali children safe in school,' she writes.
Site design and original text © 2002 - 2017 www.zoewanamaker.com, unless specified otherwise.
Most images used on this site are the copyright of their photographer, Ms. Wanamaker, and/or the production company of the show. Use of these images is covered under the fair use limitation in the USA, and the fair dealing limitaton in the UK.
This site is a non-commercial endeavour.