Welcome to the official website for Zoë Wanamaker!
---
Happy Birthday to ZoŽ for 13 May!
12 May 2014 21:38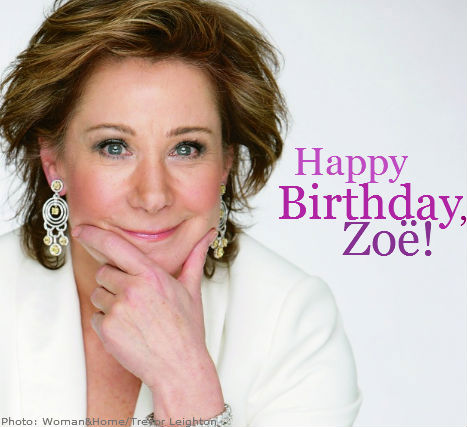 It's ZoŽ's birthday tomorrow, 13 May.
Let's wish her a very, very Happy Birthday and Many Happy Returns!
ZoŽ interviewed by Kate Mosse about capturing 'the essence' of Stevie Smith
12 May 2014 21:07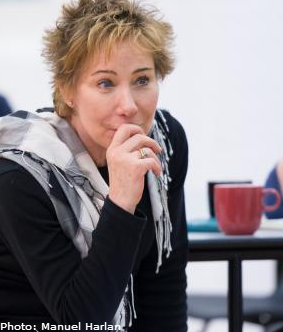 After the performance of Stevie on 6 May, audience members at Chichester's Minerva Theatre were invited to stay in their seats for a short Q&A event with ZoŽ and bestselling, Chichester-born author Kate Mosse. This 'Post-Show Late with Kate' was held in the same cosy living room set, intended to represent poet Stevie Smith's London home, where the play's action takes place.
As Zoe took her seat for the Q&A, having divested herself for the time being of Stevie Smith's poker-straight bob and bold, quirky dresses, she received a particularly long, rapturous round of applause. Mosse joked that if the applause lasted much longer, everyone at the Q&A would be there all night! The author then began the discussion and was an excellent choice of interviewer: a writer interviewing an actor about playing a writer.
Stevie is impressing critics as well as ordinary theatregoers, as the reviews highlighted on this website indicate. Mosse noted that she had first watched the production during its press night performance on 2 May. She had enjoyed the experience so much that she had decided to watch Stevie again on the evening of the Q&A.
Both Zoe and the author recalled an audience member's mishap during the press night. As ZoŽ explained, 'I knew something was wrong' when a clattering noise was heard coming from the back of the audience, but it was not immediately obvious to the cast what had happened. It had then become apparent that the source of the noise was an audience member's walking stick, which had toppled down the stairs in the auditorium.
ZoŽ had clearly taken the event in her stride. She explained that she had turned to the audience, still in-character as Stevie, and exclaimed: 'Marvellous!' This had enabled her to acknowledge the mishap without compromising her performance. Later in the show, she had cheerily acknowledged it again, by turning to the audience and asking, 'More sherry?' (Incidentally, ZoŽ's approach to ensuring that Stevie continued smoothly won the praise of the Telegraph's theatre critic, Charles Spencer, who commented that 'the actress responded in character with great panache').
Stevie marks the second time that ZoŽ has appeared at the Minerva Theatre: in 1997, she played the title role in Frank McGuinness' adaptation of Sophocles' Electra there. Like Stevie, the production received great acclaim. Bringing Ancient Greek tragedy to modern audiences at the Minerva was, Zoe remarked enthusiastically, 'the best time ever!' She finds this small, intimate theatre a 'wonderful space' in which to work.
If Greek tragedy is a relatively unfamiliar subject to some modern theatregoers, then so is the work of Stevie Smith. The poet is perhaps best remembered for her haunting poem, 'Not Waving but Drowning'; her other works and the main events of her life are more obscure (although Stevie's popularity is likely to go some way towards addressing that issue). Mosse asked ZoŽ how much she had known about Smith's life and writings before deciding to portray the poet on-stage. ZoŽ explained that she 'knew of' Smith before the production, without having a detailed knowledge of the poet and her work.
To help her create the character of Smith, ZoŽ has been reading a great deal about the poet - Smith's biography by Frances Spalding is among the resources she has consulted - and also studying photos of her. Through this research, ZoŽ explained, she has endeavoured 'to assimilate' as much information about Smith's life and career as she can. ZoŽ's aim is for her performance to capture 'the essence' of the poet - and the reviews make clear that she does this admirably. In Mosse's words, ZoŽ's performance is truly 'a tour-de-force'.
ZoŽ lamented that neither she nor anyone else involved with the production has been able to unearth any footage of Smith, despite the fact that the poet was well-known for giving very memorable public readings of her poems. Another challenge besides the lack of footage has been deciding how to present Smith's voice on-stage. As anyone who has heard Smith talking will know, the poet's voice was strong, clipped and very different to the way in which most people speak today. (In a discussion about the poet broadcast today as part of Woman's Hour on BBC Radio 4, Smith is described as 'off the scale of Britishness').
ZoŽ's approach to speaking in-character as Smith has involved a great deal of experimentation, in order to discover what kind of voice and accent works best in the context of a modern production. During rehearsals, ZoŽ explained, she experimented initially with speaking in a way that very closely resembles Smith's voice; she then brought more of her own natural voice and accent to the part. The latter approach has proved to be the most effective.
Experimenting with a performance is one of the joys of rehearsing, ZoŽ explained. When you prepare to stage a play, you 'delve into it', and the process of rehearsal becomes a 'journey of discovery'. She finds that Stevie is the kind of play that 'creeps up on you'; it begins quietly, gradually the tension builds, and then it becomes extremely powerful. 'Stevie's right up my street,' ZoŽ concluded.
When Mosse asked her what draws her to particular scripts, ZoŽ explained that she chooses to take part in a play or other work when it 'smells good'. In particular, she is fascinated by 'the complexities' of characters. For example, in Stevie, we gain an insight into the relationship between Smith's outer and inner selves, as well as the contrast between the poet's quiet suburban homelife and powerful imagination.
Hugh Whitemore's play includes many examples of Smith's poetry and prose, which are woven seamlessly into the work. As Mosse suggested, Stevie is therefore a kind of 'hybrid' play, in which Smith's writings become part of the narrative. She also pointed out that so many of the lines are spoken by the character of Smith, with the remainder shared between Smith's Aunt and the enigmatic figure of 'The Man', that the play could be described as 'a punctuated monologue'.
For ZoŽ, the audience constitutes another character. Each performance of Stevie brings a different group of audience members - and ZoŽ and the other cast members, Lynda Baron and Chris Larkin, learn how to respond to what ZoŽ calls theatregoers' 'third-person energy'. The performance that preceded the Q&A provided 'a good house', Zoe remarked, as the audience members were particularly engaged with the play.
She compared performing in a play to a swan beating its wings and preparing to soar into the air - plenty of positive energy and interest from the audience makes it easier for an actor's performance to take flight. ZoŽ uses the term 'hovercrafting' to describe the feeling she always hopes to achieve of being fully engaged with the character, play and audience; 'you are the target, and the target is you'.
As the Q&A drew to a close, ZoŽ emphasised that she finds Stevie an 'extraordinary' and 'riveting' play - and those are surely words that anyone who has seen the production would also use to describe her unforgettable performance.
ZoŽ is 'a marvel' - and other excellent reviews of Stevie
11 May 2014 19:38
This weekend, further excellent reviews of Stevie, which is currently playing at Chichester's Minerva Theatre, have been published by the national press. Highlights are below.
'Wanamaker's poet, looking deceptively prim decked out in little-girl sandals, makes life seem like a place to linger in hopefully, even as she's flagging up the prevalence of pain.'
- Maxie Szalwinska, The Sunday Times
'[T]he evening belongs to ZoŽ Wanamaker as Stevie. She shares with Eileen Atkins the ability to convey an intelligence constantly at work beneath a mask of self-deprecation. By turns, wry, raw and passionate, Wanamaker makes the poet as fascinatingly unclassifiable as her work.'
- Michael Arditti, Sunday Express
'Wonderful Wanamaker captures her quirky, larky individuality to a tee and sends you racing back to her poetry for her wisdom and wit.'
- Georgina Brown, Mail on Sunday
In addition, two critics who have already reviewed Stevie include the play in their weekly review round-ups:
'ZoŽ Wanamaker is a marvel as the poet Stevie Smith in this fine bioplay'
- Dominic Maxwell, The Sunday Times
'ZoŽ Wanamaker gives a superbly witty and touching performance'
- Charles Spencer, Sunday Telegraph
Tickets to Stevie are currently available, although they are now in very limited numbers, and so it is a good idea to book soon, if you would like to see the show.
More praise for ZoŽ's 'stunning performance' as Stevie Smith
7 May 2014 22:27
In the past couple of days, more excellent reviews have been published about Stevie, with The Times declaring that ZoŽ gives 'a stunning performance' in the title role. Highlights are below.
'It gets richer, funnier and more emotional the longer it continues [...] So this warm, inspiring revival is a quiet triumph.'
- Dominic Maxwell, The Times
'Its trump card is a humdinger of a performance by ZoŽ Wanamaker in the title role'
- Fiona Mountford, Evening Standard
'Though poetry is usually a private relationship between the poet and the page and then the page and the reader, the public performance of some of it in this recreation of her own living room has a spellbinding intensity thanks to the glorious performance of Zoe Wanamaker in the title role.'
- Mark Shenton, The Stage
'[T]he evening belongs to Zoe Wanamaker as shambling, rambling, ciggy-puffing Stevie.
The play is virtually a monologue by Wanamaker with interruptions - and she never falters. She, too, has the measure of Stevieís child-like verse.'
- James George, Portsmouth News
'Wanamaker's performance was amazing; intense and funny, angry and vulnerable, the character, pig headed, funny and eccentric.'
- Ged Babey, Louder Than War
You can read highlights of other reviews of Stevie here, here and here.
In addition, new production photos, taken by Roy Tan, have been published by WestEndTheatre.com.
Tickets to Stevie, which runs until 24 May at Chichester's Minerva Theatre, are available now.
Guardian: ZoŽ is 'perfectly cast' as Stevie Smith
5 May 2014 23:08
The Guardian has today published a fantastic review of Stevie. In particular, the review emphasises that ZoŽ is 'perfectly cast' as poet Stevie Smith:
'ZoŽ Wanamaker is so perfectly cast in Hugh Whitemore's play about the life and work of the poet Stevie Smith that you don't feel so much that she's acting as simply channelling the mid-20th century poet and novelist. She transforms an evening that could be reticent, maybe even a little coy, into something more ferocious and dangerous. Sadder too. Like the man in Smith's most famous poem, Not Waving but Drowning, who swims too far out to sea so those on the shore misinterpret his wave for help as gaiety, Wanamaker's Stevie is constantly signalling her distress behind a larky demeanour.'
- Lyn Gardner, Guardian
The Guardian's praise is echoed by the West Sussex Gazette's review, which was also published today:
'It was a perfect piece of casting.
Quite apart form the challenge of delivering dialogue which has been curated from the author's poems and novels, this single-set production in the sitting room of Stevie's middle class home in Palmers Green, London, demands a piquancy from its leading lady to lift it from the humdrum to the sublime.
Ms Wanamaker injects just such a vibrancy.'
- Gary Shipton, West Sussex Gazette
Another very positive review has been published by Youth Music Theatre (of which Zoe is a patron):
'Stevieís pessimistic view of life and gritty humour is enormous fun; I couldn't think of anyone better for the job than Wanamaker.'
- Guy Conroy-Smith, Youth Music Theatre
These three articles follow several other similarly enthusiastic reviews of the play, which runs at Chichester's Minerva Theatre until 24 May. You can read highlights of those reviews here and here.
Tickets to Stevie are available now.
Site design and original text © 2002 - 2014 www.zoewanamaker.com, unless specified otherwise.
Most images used on this site are the copyright of their photographer, Ms. Wanamaker, and/or the production company of the show. Use of these images is covered under the fair use limitation in the USA, and the fair dealing limitaton in the UK.
This site is a non-commercial endeavour.