Welcome to the official website for Zoë Wanamaker!
---
ZoŽ tells 'The Story of Pantomime'
10 November 2013 16:13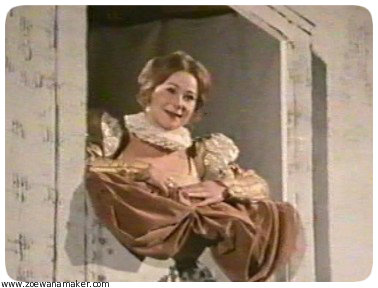 In the mid-1970s ZoŽ took part in an arts documentary, 'The Story of Pantomime'. The producer, Tony Staveacre, has kindly shared this rare image from the programme. It shows Zoe as Columbine, a comic servant, in an extract from a Commedia dell'Arte performance.
ZoŽ and her husband's sold-out Hampstead Arts Festival talk
7 November 2013 23:27
This lunchtime, in the beautiful surroundings of Hampstead's Burgh House, ZoŽ and her husband, Gawn Grainger, gave a special, sold-out talk about their work, as part of Hampstead Arts Festival.
The talk, called 'Passion Playing' (with reference to the title of ZoŽ's most recent theatrical success), was an event in the festival's 'Meeting Points' series, designed to bring together well-known individuals and evoke voices from the past.
Led by former BBC radio producer Piers Plowright (who worked with ZoŽ on 1989's comedy-drama Such Rotten Luck), the talk was styled as a meeting between past and present.
After introducing ZoŽ and Gawn to the audience, Plowright played an archive recording of ZoŽ's father, Sam Wanamaker, discussing the importance of recreating Shakespeare's Globe on London's South Bank. This enormously ambitious project, Sam emphasised during the recording, is 'right for the whole world'.
ZoŽ continued the discussion about her father's reconstruction of the Globe by explaining that the project 'dominated family life' from about 1968 onwards. Indeed, she said her parents moved to Southwark so that they could live close to the site of the theatre.
While her father focused on the tremendous task of bringing Shakespearean theatre back to London, ZoŽ was part of a generation of actors who embarked on their professional careers in the 1970s, full of enthusiasm for contemporary plays. As she recalled, at that time 'you wanted to do new plays' and become familiar with 'new writing and new ways of working'. So, ZoŽ struck a balance between performing new plays and acting in the classics.
When the reconstruction of Shakespeare's Globe opened in 1997, ZoŽ became the first person to speak on the stage when she performed the Prologue to Henry V, which invites theatregoers to unleash their imagination on the play.
Gawn remembers a remarkable moment during ZoŽ's trial run of the speech, when 'the sun hit her' and became brighter and brighter as she spoke. Afterwards, she received rapturous applause from the builders and other indivduals who were gathered at the Globe as preparations were made for its official opening.
Gawn has acted recently at the Globe, appearing as Duncan in this summer's production of Macbeth, and is aware of a 'sweet spot' near the centre of the stage, from which you can easily be heard throughout the theatre without needing to raise your voice.
In Gawn's words, Sam Wanamaker's spearheading the reconstruction of the Globe is a 'magnificent' achievement. He likened performing at this theatre to 'going back four hundred years' and 'touching hands with the players of the past'.
Nearby is another South Bank landmark, the National Theatre, where ZoŽ and Gawn have worked many times. ZoŽ described the National's Olivier Theatre as a particularly 'exciting' space in which to act. Reminiscent of an amphitheatre, the Olivier offers audience members in all parts of the house excellent views of the stage. The sound quality can also be excellent, but ZoŽ finds that actors are sometimes 'lulled into being conversational' on the stage as a result, and so she always tries to remember the importance of projection when she performs there.
In 2007, ZoŽ starred alongside Simon Russell Beale in a particularly successful production in the Olivier: Much Ado About Nothing. She and her co-star played the bickering former lovers Beatrice and Benedick, who, she noted, have surprisingly few scenes together.
While these two characters often try to conceal their true feelings from each other, ZoŽ emphasised that 'when they're telling the truth, they go into verse'. She credits fellow actor David Suchet and director John Barton with helping her to understand iambic pentameter, the metrical line commonly used in Shakespeare's plays.
With reference to Much Ado's other characters, ZoŽ finds young Hero's trajectory particularly fascinating. As she explained, 'Shakespeare's second women', the female characters who play relatively small roles in the action on-stage, are 'always the most interesting'. ZoŽ cited Othello's Bianca and Emilia as other examples. Gawn added that she gave a fantastic portrayal of the latter character in Trevor Nunn's 1989 production.
The conversation turned once more to voices from the past when Plowright played a 1911 recording of actress Ellen Terry reciting a Shakespearean speech. ZoŽ, Gawn and members of the audience contrasted acting styles from the nineteenth and early-twentieth centuries with today's performances. Actors today, Zoe emphasised, 'use the language without singing it', in order to deliver 'muscular' readings of plays, in contrast to the more formal, stylised approach to speaking on stage that was the norm several generations ago.
The contemporary approach was highlighted, ZoŽ and Gawn agreed, by the recent BBC programme, Live from the National Theatre: 50 Years on Stage, which celebrated the National's fiftieth anniversary. They pointed to the performances given by Dame Judi Dench and Dame Maggie Smith during this programme, in particular, as excellent examples of how to speak your lines in as natural a way as possible.
Plowright wondered which role from their 'wardrobe of characters' ZoŽ and Gawn would like to revisit. Gawn said that he would like to play his characters from The Recruiting Officer and A Woman Killed with Kindness again. After some deliberation, ZoŽ chose Madame Ranevskaya, The Cherry Orchard's tragic aristocrat, who she played in 2011. Such is the depth of Chekov's characterisation, 'I felt as if I only touched on the surface' of Ranevskaya,' ZoŽ commented.
Gawn loves Chekov's writing too and noted that 'even the minutest characters in his plays are worth doing'. ZoŽ added that Chekov lifted theatre to a new level, and the medium 'exploded' as a result.
For ZoŽ, theatre is a more 'organic' medium to work in than film or television. When making films, she misses the longer rehearsal periods allotted to plays. While TV programmes often have more rehearsal time than films, the schedule is still hectic. When making sitcom My Family (2000-11), for example, ZoŽ and the other actors would receive a script on a Friday, rehearse then and on Monday and Tuesday, film short segments on Wednesday, and record the rest of the episode in front of a studio audience on Thursday evening.
ZoŽ has appeared in several plays directed by Howard Davies, from Piaf in 1978 to the production of The Cherry Orchard mentioned above. Davies is, she emphasises, her favourite director. It was during Piaf that she reached a turning point: she found she was able to concentrate fully on her character, rather than worrying about, say, what her arms or hands were doing.
Other directors ZoŽ particularly enjoys working with include David Leveaux, Nicholas Hytner and Trevor Nunn.
When asked about her attitude towards her work, ZoŽ remarked, 'I'm very self-critical'. She likes to move from one medium to another, because she believes in challenging herself rather than avoiding new, potentially frightening situations.
ZoŽ emphasised that she and Gawn are very committed to acting: 'this is a career', not a path they chose with fame in mind. They want to continue working as actors for as long as possible. When My Family was being broadcast to millions of viewers each week, the amount of attention ZoŽ received in public meant that she had to avoid travelling on the London Underground. Now she is able to travel by Tube again, but notes that fame can still be difficult. 'I'm quite shy', she said; and she likes the feeling of being 'incognito'.
While Gawn learns his lines quickly, ZoŽ finds the process can be slow, partly because she is dyslexic. Sometimes they have helped each other to learn lines; at other times they have worked separately. Gawn observed that he found Passion Play such an upsetting, disturbing piece of writing that he was unable to go through ZoŽ's lines with her.
Both agree that it is important for each performance of a play to feel fresh, but acknowledge that there is no hard-and-fast rule about how that should be achieved. Gawn later pointed out that 'the audience is another actor', whose response to the play differs each night.
One audience member wondered whether stagefright could actually be turned to an actor's advantage in order to enhance his or her performance. ZoŽ explained that she believes fear does not lead to a performance-boosting adrenalin rush, and that performances would be better without it.
For ZoŽ, the high point of any performance comes if she achieves a feeling she describes as 'hovercrafting', when she is truly in sync with her character. ZoŽ remembers her mother, Charlotte, recommending that she read the book Zen in the Art of Archery, which discusses similar ideas.
As the talk was held soon after ITV's broadcast of 'Dead Man's Folly', ZoŽ's final appearance as Ariadne Oliver in Agatha Christie's Poirot, an audience member enquired about the possibility of bringing Ariadne back to the screen. ZoŽ pointed out that other stories featuring the eccentric crime novelist exist and suggested we campaign to have them filmed!
With that, 'Passion Playing' drew to a close, having covered a remarkable range of topics in just an hour and addressing past, present and future.
ZoŽ and her husband in Live from the National Theatre
3 November 2013 16:29
Last night, BBC2 broadcast Live from the National Theatre: 50 Years on Stage. This very special programme celebrates the National's history with highlights from some of the venue's greatest successes, using a combination of live performance and archive footage.
An extract from ZoŽ's production of The Cherry Orchard (2011), originally recorded for broadcast in cinemas as part of National Theatre Live, was shown towards the end of the programme, when attention turned towards the National's recent hits.
ZoŽ's husband, Gawn Grainger, appeared on-stage during the evening in a scene from black comedy The National Health, performed near the beginning of the programme.
Live from the National Theatre is available to watch on the BBC iPlayer until Saturday 9 November and is a theatrical treat. The programme will be broadcast internationally in selected cinemas, too. And in case you have not watched it yet, I would also highly recommend the special talk given by ZoŽ and her husband last month about their memories of the National Theatre.
ZoŽ's Daybreak interview and final appearance in Poirot - both available to watch online
30 October 2013 22:33
If you missed ZoŽ's appearance on Daybreak this morning, you will be pleased to hear that you can watch the interview on ITV's website.
The focus of the conversation is Zoe's final appearance as crime writer Ariadne Oliver in tonight's episode of Agatha Christie's Poirot, 'Dead Man's Folly'. As she explains during the interview, Ariadne and the famous detective, Poirot, are great friends but complete opposites!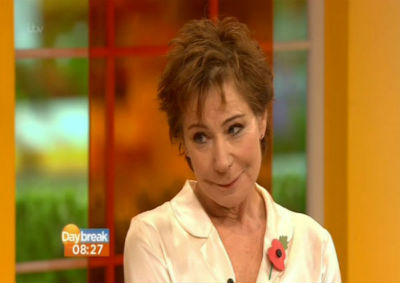 'Her mind is all over the place, which is wonderful,' remarks Zoe about her popular character. 'Agatha Christie, I think, wrote Ariadne as a sort of send up of herself, and so she has a hundred ideas in her head. Whereas Poirot is always very, very analytical, she's all over the place. And that's why they're so funny together.'
Viewers saw Ariadne and Poirot at work in 'Dead Man's Folly', an intriguing mystery broadcast on ITV1 at 8pm. The episode is now available to watch via the ITV player for about a month.
Filming of 'Dead Man's Folly' featured on ITV News
28 October 2013 23:47
The filming of ZoŽ's final episode of Poirot, 'Dead Man's Folly', at Agatha Christie's Devon holiday home, Greenway, is the focus of a report broadcast by ITV News West Country. You can watch the report and read the accompanying article on the ITV News website.
This regional news report is interspersed with clips from 'Dead Man's Folly': we see an urgent telegram from ZoŽ's Ariadne Oliver, calling her friend Poirot (played by David Suchet) to Nasse House (Greenway, in real life) in order to investigate a mystery there.
Belinda Smith from the National Trust, which owns the picturesque Greenway, is interviewed about her memories of the making of 'Dead Man's Folly' there during the summer.
As Smith comments, Greenway remained open to visitors throughout the filming and 'the actors were fantastic'. She adds that 'everyone could just come across him [David Suchet] as we could with Tom Ellis and Zoe Wanamaker and Sam Kelly - it was brilliant.'
Meanwhile, when asked on Twitter if she would ever like to star in a spin-off series focused on Ariadne, ZoŽ responded enthusiastically with this Tweet: 'Definitely. She's a marvellous character, full of contradictions. Get campaigning!'
Let's hope that ITV is inspired to create a show all about Ariadne's adventures, now that Poirot is coming to an end.
Site design and original text © 2002 - 2014 www.zoewanamaker.com, unless specified otherwise.
Most images used on this site are the copyright of their photographer, Ms. Wanamaker, and/or the production company of the show. Use of these images is covered under the fair use limitation in the USA, and the fair dealing limitaton in the UK.
This site is a non-commercial endeavour.