Welcome to the official website for Zoë Wanamaker!
---
Catch up with ZoŽ's documentaries on the iPlayer or BBC Store
3 July 2016 17:01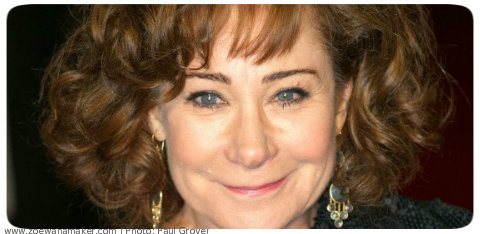 Here's a quick update about two BBC documentary series that have been narrated by ZoŽ and broadcast during the past few weeks.
Handmade: By Royal Appointment, the final episode of which was shown on BBC Four last Monday, is available to watch for a limited time on the BBC iPlayer. Alternatively, you can buy and keep either the whole series or individual episodes from the BBC Store.
Broadcast details for the last episode of Mr v Mrs: Call the Mediator have now been announced. It'll be shown on 5 July, at 9:30pm on BBC Two. The series is also available for a limited period on the iPlayer.
If you've missed any of the episodes from these fascinating series, I'd highly recommend catching up with them.
News round-up: ZoŽ narrates Mr v Mrs; catch up with Handmade; important charity work
23 June 2016 17:39
We may have said a fond farewell to Elegy, which completed its run at London's Donmar Warehouse on 18 June, but there's still plenty for ZoŽ's fans to enjoy, plus news of charity work you may like to support.
Two fascinating BBC documentaries
Three episodes of Handmade: By Royal Appointment, the craftsmanship-focused documentary series narrated by ZoŽ, have so far been broadcast. You can catch up on the BBC's website. The final programme will be shown on 27 June (BBC Four, 8:30pm).
ZoŽ is also the narrator of Mr v Mrs: Call the Mediator, BBC2's three-part documentary series about the emotionally-charged world of family mediation services. Episode one, shown earlier this week, is available online; look out for episode two on 28 June at 9:30pm. (Broadcast details for the last episode have yet to be announced.)
Fundraising for Breast Cancer Care with Linzi shoes
ZoŽ has been photographed showing her support for women's shoes retailer Linzi's fundraising campaign for Breast Cancer Care. If you buy a pair of Linzi's limited edition Breast Cancer Care pumps, available in various styles, £2 from the sale will benefit the charity.
Step out in style while helping a very good cause!
Supporting Child Rescue Nepal's vital work
ZoŽ's clearly been busy with charity work, as she's also been photographed raising awareness of Child Rescue Nepal (formerly called The Esther Benjamins Trust). As the sign ZoŽ holds in the photo emphasises, Child Rescue Nepal rescues trafficked Nepali children.
You can donate to the charity via its website, which features a message from ZoŽ alongside comments from other well-known supporters. 'I commend the work of Child Rescue Nepal in trying to keep Nepali children safe in school,' she writes.
ZoŽ narrates Handmade: By Royal Appointment on BBC Four
5 June 2016 18:53
ZoŽ is the narrator of Handmade: By Royal Appointment, a new, four-part documentary series coming to BBC Four.
Each episode will take viewers behind-the-scenes at a different company with a royal warrant. The series looks first of all at Wedgwood, the well-known maker of high-quality ornaments, etc.
Look out for episode one on TV tomorrow, 6 June, at 8:30pm.
Beautiful artwork inspired by Elegy on display at the Donmar
5 June 2016 18:27
ZoŽ and her Elegy co-stars, Barbara Flynn and Nina Sosanya, have been photographed with a beautiful artwork inspired by the powerful play, which has two weeks left to run at London's Donmar Warehouse.
The detailed painting of underwater creatures and other natural forms, entitled 'Sea Ballet', was created by talented London-based artist Hisham Echafaki. It forms part of an artistic collaboration between the Donmar and Butterfly Art News.
Both the play and the artwork explore the complexity of life, with the precision of the painting echoing the precision of the life-saving neurosurgery undergone by ZoŽ's character, Lorna.
'Sea Ballet' will be on display at the Donmar until 18 June, the date of Elegy's final performance.
News round-up: Elegy receives more excellent reviews; important World of Wizardry announcement; and lovely photos of ZoŽ
31 May 2016 01:22
Here's the latest news relevant to ZoŽ's career, including more praise for her powerful performance as a woman rebuilding her identity in Elegy, currently being staged at London's Donmar Warehouse.
More reviews of Elegy and its 'wonderful' performances
The New York Times's Matt Wolf praises 'the galvanic pairing of Barbara Flynn and ZoŽ Wanamaker' in Elegy.
In the Mail on Sunday's Event magazine, Georgina Brown describes writer Nick Payne's work as a 'potent new play'. 'Impeccable performances flesh it out superbly,' she adds.
Katherine M. Graham is similarly enthusiastic in The Morning Star: 'The performances are wonderful, with Wanamaker's Lorna brave and funny and engagingly willing to joke about death.'
'Elegy is quietly considerate and thought-provoking,' writes Neil Norman in the Daily Express. The production 'benefits enormously from this trio of superb actors,' he observes.
A very, very limited number of tickets are still available for Elegy, which has just three weeks left to run.
The text, published by Faber and Faber on 5 May, includes thought-provoking essays about the play's exploration of memory and identity.
Lovely photo from Shakespeare's Globe
Shakespeare's Globe celebrated International Museum Day, on 22 May, by sharing photos from its archive. The photos include a lovely image of ZoŽ and her father, Sam Wanamaker, from the early 1990s.
They're pictured in Gloucestershire's Forest of Dean, with a large tree destined to be used in the construction of the open-air theatre.
ZoŽ no longer able to attend World of Wizardry
Daydream Events, the organiser of the forthcoming World of Wizardry convention in Nottingham, has announced that, unfortunately, ZoŽ is now unable to attend, due to filming commitments.
In a message to attendees, ZoŽ says, 'I am sorry I cannot be with you'. She adds, 'I hope you all have a great time at the convention.'
Let's hope that another opportunity to meet ZoŽ presents itself to fans in the not-too-distant future.
On a lighter note, I'll bring you details of the new project ZoŽ is due to film as soon as they're available.
ZoŽ pictured backstage at the Oliviers
Last but not least, there's a lovely, candid photo of ZoŽ, taken backstage at last month's Olivier Awards ceremony, on the Olivier Awards website (see page three of the photo gallery).
She's pictured with Rob Brydon, with whom she presented the Best Actor and Actress in a Supporting Role in a Musical Awards.
Thanks to Karoline for bringing the photo to my attention.
Site design and original text © 2002 - 2016 www.zoewanamaker.com, unless specified otherwise.
Most images used on this site are the copyright of their photographer, Ms. Wanamaker, and/or the production company of the show. Use of these images is covered under the fair use limitation in the USA, and the fair dealing limitaton in the UK.
This site is a non-commercial endeavour.