Welcome to the official website for Zoë Wanamaker!
---
ZoŽ celebrates the 'joy' of Stevie Smith's work at London event
23 February 2016 03:47
In the run-up to her appearance at a recent event celebrating Stevie Smith's poetry, held in London, ZoŽ spoke to writer Bidisha about Smith's appeal for an article published by BBC Arts.
'She offers us a body of work that veers with unnerving regularity from baffling to acutely profound,' ZoŽ remarks in the article.
The twists and turns in Smith's writing may, to some extent, account for why the poet and novelist has often been misunderstood and her literary talent underestimated. As Bidisha points out, 'Despite her success, she is often represented as a quirky curiosity.'
ZoŽ's performance in biographical play Stevie has helped to bring about a resurgence of interest in the writer's work. As you may remember, ZoŽ recreated Smith's 1965 Cheltenham Literature Festival performance last autumn, in front of a large, enthusiastic crowd. Interviewed at the time for BBC Radio Gloucestershire, ZoŽ said of Smith: 'I think she's a forgotten woman writer, very strong and very quirky and very individual, and I think she should be celebrated.'
The other contributors to the BBC Arts article Ė academic Will May, biographer Frances Spalding and journalist Rachel Cooke Ė are also Smith enthusiasts. (In fact, May, who's edited The Collected Poems and Drawings of Stevie Smith, appeared alongside ZoŽ at the Cheltenham Literature Festival.) They joined ZoŽ on stage at the London event, which was hosted by King's Place on 15 February.
Presented by arts organisation Poet in the City and publisher Faber & Faber, the event attracted an audience of several hundred literature fans. Poet in the City's chief executive, Isobel Colchester, announced that it would celebrate 'Stevie Smith in all her diversity'.
Fittingly, the first voice the audience heard was in fact Smith's own: a recording of the poet reciting her most famous poem, 'Not Waving but Drowning'. The evening's other readings were given by ZoŽ. The first group of poems she performed included several characteristically humorous yet poignant works, most of which draw on events from Smith's life: 'The Frog Prince', 'Papa Love Baby', 'Freddy' and 'A House of Mercy'. (The latter poem, in which Smith reflects on growing up in a loving, protective 'house of female habitation' after being deserted by her father, is particularly memorable.)
Frances Spalding, the author of what's regarded as the definitive biography of Stevie Smith, emphasised that the writer made little direct comment on her own life. Even so, it's clear that the bleakness of some of Smith's poems contrasts with the 'rooted existence' (in Spalding's words) the writer enjoyed at home in Palmers Green. She feels that Smith had a gift for writing 'succinct, tragicomical and universal' poetry.
Spalding's talk was followed by some of Smith's bleakest poems. ZoŽ performed the wry yet moving 'Poor Soul, Poor Girl!' (in which a morbid debutante 'cannot imagine anything nicer / Than to be struck by lightning and killed'), 'Do Take Muriel Out', 'I'll Have Your Heart', 'Infelice', 'Pad, Pad' and 'Thoughts about the Person from Porlock'.
The evening's poems were accompanied by Smith's spidery line drawings. As Will May pointed out, the links between the drawings and poems are rarely obvious. The drawings never depict what we expect to see; instead they highlight Smith's fondness for interruptions, especially 'distractions and evasions', May emphasised.
Smith's writing is at its most mysterious and mesmerising in 'La Singe Qui Swing' (a poem, sung to the tune of 'Greensleeves', in which an ape frolics on a garden swing) and 'The River God' (the god boasts about bringing a woman down to his 'bed'). Both works were read beautifully by ZoŽ, as was 'Souvenir de Monsieur Poop', which pokes fun at the literary establishment that so often shut out Smith.
As Rachel Cooke remarked in her talk, Smith is 'always in the process of being rediscovered' and deserves a prominent, permanent position in the literary canon. Cooke said that she's admired the writer since childhood and finds Smith's 'wit, her irony' and 'taste for silliness and play' often appeals to young readers. Smith had 'pluck', determination and a talent for 'bend[ing] the ordinary world out of shape'.
ZoŽ read two poems that highlight Smith's playful side and taste for darkly comic scenarios: 'The Jungle Husband' ('Yesterday I hittapotamus / I put the measurements down for you but they got lost in the fuss'!) and 'I Remember'. She then explained that she'd been unfamiliar with Smith's poems when she first encountered Stevie, an 'extraordinary play', but quickly grew to love them. The poems' 'black humour' appeals to ZoŽ, and reading them brings her 'joy'.
ZoŽ highlighted Smith's power as a poet when she read the troubling, thought-provoking 'God the Eater'. Afterwards, she lightened the mood by performing a couple of Smith's wittiest, funniest works, 'The Galloping Cat' and 'Tenuous and Precarious'.
Those two highly entertaining readings rounded-off the Stevie Smith celebration and ensured that the audience shared in the joy ZoŽ finds in the writer's wide-ranging work.
Tickets selling fast for ZoŽ's events
7 February 2016 23:52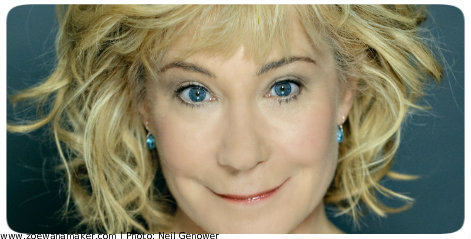 Poet in the City recently pointed out on Twitter that its Stevie Smith event, at which ZoŽ will read a selection of Smith's quirky poetry, is almost sold out. This literary event will be hosted by King's Place in London, on 15 February. Currently, a small number of tickets for balcony seats are available; the stalls are fully booked.
Tickets for Elegy, which will be staged at London's Donmar Warehouse from 21 April to 18 June, are also proving very popular. Currently, more than thirty performances of Nick Payne's brand new play, which is set to star ZoŽ, Barbara Flynn and Nina Sosanya, are sold out. The best availability appears to be for performance dates in June. Having said that, the Donmar recently announced on Twitter that it plans to release in excess of 1,000 £17.50 tickets for Elegy over the coming Mondays, which is very welcome news indeed!
What's more, do keep an eye on the Barclays Front Row ticket initiative, for which £10 tickets are released for performances of shows at the Donmar a fortnight later, in case there's an opportunity to buy tickets for Elegy that way. There's also the possibility of buying day seats in-person at the Donmar, on the day of a performance.
If you'd like to attend one or both events but haven't yet booked, it's obviously a good idea to try and do so sooner rather than later.
Good luck!
ZoŽ to star in world premiere of Elegy at Donmar Warehouse
15 January 2016 14:57
It's only two days since All On Her Own/Harlequinade ended, but, excitingly, ZoŽ's next stage production has already been announced!
ZoŽ is set to star as Lorna in the world premiere of Nick Payne's Elegy, at London's Donmar Warehouse. The play will also feature Barbara Flynn and Nina Sosanya; the director is Josie Rourke. Elegy is described by the Donmar as 'the beautiful and moving story of three women who've made the choice between love and survival'.
The news has attracted considerable attention from the press, with articles published by The Stage, Time Out, Daily Mail, BroadwayWorld.com, Official London Theatre, Whatsonstage.com, LondonTheatre.co.uk, West End Frame and others.
Elegy will run from 21 April to 18 June. Tickets are available but selling quickly, and so I'd suggest that you book soon, if possible.
ZoŽ pays tribute to Alan Rickman: 'He was a kind of colossus'
15 January 2016 14:18
ZoŽ has paid tribute in the Guardian to her late friend and colleague, Alan Rickman, who has sadly died of cancer aged 69. She praises him as 'a kind of colossus', who was 'funny, smart, kind, generous'.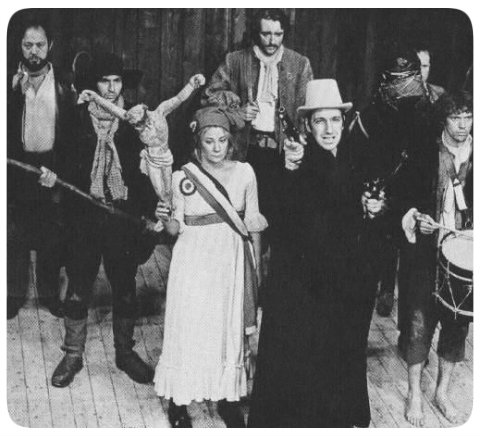 ZoŽ recalls working with the 'fearless' Rickman on the tremendously successful 2001 film, Harry Potter and the Philosopher's Stone, as well as much earlier in their careers, namely at the Royal Shakespeare Company. They both starred in the RSC's 1978 production of Captain Swing, which explored the nineteenth-century Swing Riots. The photo above shows ZoŽ, Rickman and other cast members on stage.
You can read ZoŽ's full tribute, alongside many others, on the Guardian's website.
News round-up: Final performance of Rattigan double bill, Great British Brekkie 2016 and TV Times remembers Love Hurts
13 January 2016 19:45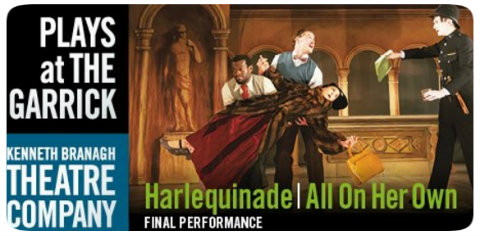 This evening, ZoŽ, Kenneth Branagh and the rest of the cast give their final performance of All On Her Own/Harlequinade. The Terence Rattigan double bill, which encompasses both drama and comedy, has been playing to delighted audiences at London's Garrick Theatre since October and earned excellent reviews.
Another successful production is celebrated in the latest issue of the TV Times (dated 16-22 January). The magazine remembers Tessa and Frank's magical wedding in Love Hurts, the hugely successful drama in which ZoŽ starred alongside Adam Faith. Hard to believe the wedding was filmed more than 20 years ago, isn't it!
Meanwhile, ZoŽ has been photographed showing her support for The Great British Brekkie 2016, a breakfast-themed fundraising event that will take place from 8-14 February. Money raised will help charity Winston's Wish to support bereaved children. If you'd like to find out more or get involved, please see The Great British Brekkie's website.
Site design and original text © 2002 - 2016 www.zoewanamaker.com, unless specified otherwise.
Most images used on this site are the copyright of their photographer, Ms. Wanamaker, and/or the production company of the show. Use of these images is covered under the fair use limitation in the USA, and the fair dealing limitaton in the UK.
This site is a non-commercial endeavour.