Welcome to the official website for Zoë Wanamaker!
---
ZoŽ dazzles at the Olivier Awards, then wins Also Recognised Award!
11 April 2016 00:30
ZoŽ and her husband, Gawn Grainger, joined other special guests from the world of theatre on the red carpet for the Olivier Awards, held at London's Royal Opera House on 3 April. Wearing a beautiful Amanda Wakeley gown and Asprey jewellery, ZoŽ was photographed for ContactMusic.com, Zimbio, and Getty Images.
An amusing moment came during an interview ZoŽ gave on the red carpet, when her friend, Judi Dench, interrupted proceedings, joking 'Don't believe a word she says!' The moment was captured on camera and has been widely reported in the media.
ZoŽ provided the voiceover for the ceremony, now in its 40th year, and also appeared on stage. She and Rob Brydon presented the Best Actor and Actress in a Supporting Role in a Musical Awards (won by David Bedella for In The Heights and Lara Pulver for Gypsy). ZoŽ, who has herself won two Oliviers (for Once in a Lifetime and Electra), was pictured with Brydon and the winners after the ceremony.
In a moving speech, Mark Gatiss, who won the Best Actor in a Supporting Role Olivier for Three Days in the Country, thanked 'the great Gawn Grainger', who appeared alongside him in the play.
After the ceremony, ZoŽ and her All My Sons co-star, Jemima Rooper, were pictured looking very glamorous.
You can catch-up with highlights from the Oliviers on the ITV Hub.
Last week also saw ZoŽ win a theatre award. On 7 April, she won Best Solo Performance in My Theatre Mates' Also Recognised Awards, having received an impressive 30% of the public vote.
The award celebrates ZoŽ's powerful portrayal of a grief-stricken and guilt-ridden widow, Rosemary, in All On Her Own. The Terence Rattigan monologue wowed audiences alongside comedy Harlequinade at London's Garrick Theatre late last year.
Congratulations to ZoŽ on her very well deserved award!
ZoŽ pictured laying Shakespeare's Globe's foundations in 1995
2 April 2016 17:57
In celebration of Museum Week (28 March Ė 3 April), an international cultural event, Shakespeare's Globe has delved into its archives and shared some very special photos with readers of its blog.
Two of the photos, which illustrate a blog article about the theatre's beginnings, show both ZoŽ and Judi Dench helping to lay the foundations almost exactly twenty-one years ago, on 29 April 1995. The other, earlier images feature ZoŽ's father, Sam Wanamaker, who spearheaded the construction of The Globe on London's South Bank.
The photos provide a fascinating glimpse into the history of what has become a world-renowned institution.
Thanks to Karoline for making me aware of the photos.
News round-up: Elegy, the Oliviers, BFI to screen Baal, meet ZoŽ at World of Wizardry and much more!
27 March 2016 21:37
There's a huge amount of news about ZoŽ's career at the moment, which makes this a very exciting time to be a fan.
Here's your bumper news round-up!
Elegy in rehearsal
Rehearsals are underway for the world premiere of Nick Payne's new play, Elegy (as the Donmar Warehouse recently tweeted). ZoŽ is set to star alongside Barbara Flynn and Nina Sosanya in the production, which explores the power of the human mind.
The hotly-anticipated play is in Culture Whisper's list of 'the best events in London this April', partly thanks to ZoŽ's 'star power' in the role of Lorna. The arts website says audiences can expect 'poetic language and an absorbing, probing narrative'.
If youíd like to watch Elegy but haven't yet booked your tickets, I'd recommend that you do so as soon as you can. Many performances of the play, which will run from 21 April to 18 June at London's Donmar, are already sold out. The best ticket availability currently appears to be for dates towards the end of May and later.
Also, do keep an eye out for the Donmar releasing £17.50 Elegy tickets at 10am (UK time) on 28 March, as part of its Front Row initiative.
People, Places and Things press night
ZoŽ and her husband, Gawn Grainger, were photographed at the press night for People, Places and Things on 23 March. The acclaimed play, which is being performed at Wyndham's Theatre in London, focuses on a young woman's experiences in rehab.
Olivier Awards' 40th anniversary
ZoŽ is among the contributors featured in a new documentary series, 40 Years of the Olivier Awards, which is being broadcast on the new Mellow Magic radio station.
Two episodes have so far been aired; in the most recent one, from 26 March, ZoŽ emphasised that today's West End theatre is a 'much more eclectic society and much more colourful platform for new plays and new work and new actors' than it was years ago. She added that 'it's much more rock 'n' roll now'.
The next episode will be broadcast on 2 April at 6pm, and you'll be able to listen to it via Mellow Magic's live stream.
The following evening, the Olivier Awards 2016 will take place at London's Royal Opera House. Look out for ZoŽ appearing at the prestigious ceremony (as reported by Playbill.com and Official London Theatre), which will be streamed live in the nearby Covent Garden Piazza from 6:30pm and also on Mellow Magic.
UK TV viewers can then watch highlights on ITV1 (10:15pm), while the full ceremony will be broadcast on 4 April (ITV3, 11pm). If you're not in the UK, you can watch the full ceremony on the Olivier Awards' YouTube channel, from 10pm (UK time) on 3 April.
Burma Campaign UK
ZoŽ is among more than a hundred female public figures who have pledged their support to the campaign to end rape and other forms of sexual violence against women in Burma. Fellow supporters include Judi Dench, Yoko Ono and Julie Walters.
If you'd like to sign the pledge too, please visit the Burma Campaign UK's website.
Baal and Danton's Death at the BFI
As part of the BFI's season celebrating director, producer and writer Alan Clarke, there's an exciting opportunity to watch two of ZoŽ's most powerful, disturbing, yet rarely broadcast TV appearances at London's BFI Southbank.
Danton's Death (1978), set during the French Revolution, will be shown on 6 April (8:40pm) and 16 April (8:40pm). Baal (1982), in which ZoŽ appears alongside David Bowie, will follow on 25 April (6:20pm) and 26 April (8:50pm). Tickets for the screenings are available from the BFI.
The programmes will then be released as part of both a Blu-ray box set of Alan Clarke's work at the BBC and DVD box set of his BBC work from 1978-89, on 23 May. Both box sets will be in Region 2 format, compatible with European players.
Make Your Mark Ė part of Art for Cure 2016
An artwork by ZoŽ will be among the pictures on display at Art for Cure 2016, an exhibition due to be held at Suffolk's Glemham Hall from 30 April to 2 May.
Other well-known figures taking part in the exhibition's Make Your Mark campaign include Eddie Izzard, Ed Sheeran and Imelda Staunton. All of the Make Your Mark artworks will be auctioned at the exhibition. Additional artworks will be provided by both nationally renowned and local artists and sculptors.
Money raised will go towards finding a cure for breast cancer and caring for patients.
World of Wizardry convention
On 6 August, ZoŽ will be a special guest at World of Wizardry in Nottingham. She'll be signing autographs and posing for photos with visitors at the convention, which is aimed at Harry Potter fans and being organised by Daydream Events.
Tickets and autograph/photograph opportunities can be purchased online.
ZoŽ nominated for Best Solo Performance in Also Recognised Awards Ė voting open now!
4 March 2016 22:07
Following her powerful portrayal of a guilt-ridden widow in All On Her Own, ZoŽ has been nominated for Best Solo Performance in the 2016 Also Recognised Awards.
ZoŽ earned considerable acclaim for her role in Terence Rattigan's monologue from theatregoers and critics alike, with the Guardian's Michael Billington praising her 'soul-baring virtuosity'. All On Her Own was performed alongside Rattigan's comedy Harlequinade, from October to January, as part of the Kenneth Branagh Theatre Company's inaugural season at London's Garrick Theatre.
Organised by MyTheatreMates.com, the Also Recognised Awards aim to celebrate aspects of theatre, on stage and off, that tend to be overlooked by more mainstream awards ceremonies. Other nominations include the Branagh Theatre season trailer for Best Show Trailer and the opening of the season as Theatre Event of the Year.
If you'd like to take part in the Also Recognised Awards, you can vote for your favourite nominees online until 25 March.
Let's keep our fingers crossed for ZoŽ!
ZoŽ discusses her heroes and being starstruck: 'talent is a very, very exciting thing'
29 February 2016 18:38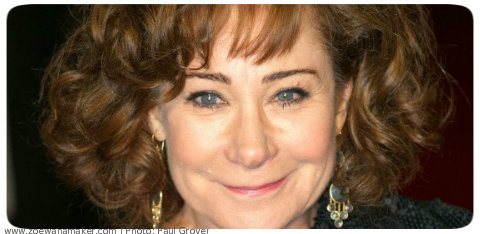 ZoŽ is the special guest on the latest edition of 20 Questions with..., a lively programme broadcast on The Wireless from Age UK, a radio station aimed at mature listeners. The interview was first aired on 27 February and will be repeated on 1 March at 6am.
Presenter Rob Jones prompts ZoŽ to consider treasured possessions, ideal dinner party guests, what the future holds and more.
'Myself!' ZoŽ jokes, when she's asked to reveal what scares her the most. She explains that her 'impulsiveness and indecisiveness' frighten her, in particular, and admits to being 'hard on myself Ė but I think it's important [to be like that]'.
ZoŽ's heroes include three late, legendary actors: Laurence Olivier and Alan Rickman (who were both 'dynamic' individuals), as well as her father, Sam Wanamaker, whose 'tenacity' amazes her. ZoŽ also admires Robert De Niro, Marlon Brando and James Dean Ė she's impressed by people who can 'stand up and transform themselves'.
As ZoŽ remarks, 'talent is a very, very exciting thing'. She emphasises that she often feels starstruck, especially in the company of brain surgeons, lawyers and judges, whose formidable intellects enable them to deal with major 'human situations'.
The workings of the mind are central to her forthcoming production of a 'new play by a brilliant writer called Nick Payne'. Elegy, which will be performed at London's Donmar Warehouse this spring, is a 'very interesting piece set in the future'. It envisages a world in which the mysteries of the human brain have all been unravelled.
Finally, ZoŽ's motto, which she mentions at the end of the interview, is one that we should all adopt: 'Seize the day!'
Site design and original text © 2002 - 2016 www.zoewanamaker.com, unless specified otherwise.
Most images used on this site are the copyright of their photographer, Ms. Wanamaker, and/or the production company of the show. Use of these images is covered under the fair use limitation in the USA, and the fair dealing limitaton in the UK.
This site is a non-commercial endeavour.