Welcome to the official website for Zoë Wanamaker!
---
More excellent reviews of 'highly ingenious' Stevie
4 May 2014 21:14
Two more excellent reviews of Stevie have been published today. Highlights are below.
'In its own quiet way, this is a highly ingenious piece, slipping seamlessly between poetry and dialogue to create a vivid impression of both the poet and the private woman. [...] Wanamaker turns on a sixpence between high spirits and sudden piercing moments of desolation. And she discovers every ounce of humour in the role'
- Charles Spencer, Telegraph
'ZoŽ Wanamaker is Stevie in a tremendous performance of constant and often emotional dialogue which contains large paragraphs of her writing [...] This is a play which will keep you fascinated, stay with you long after you have left the theatre and inspire you to read more of the work of the complex character who was Stevie Smith.'
- Sheila Connor, British Theatre Guide
Fantastic reviews of ZoŽ's 'near flawless' Stevie Smith
3 May 2014 22:35
Stevie opened last night at Chichester's Minerva Theatre to stunning reviews. Below are some of the highlights.
'The marvellous Zoe Wanamaker plays Stevie, whose poetry made her a celebrity of post- war Britain. Her performance is near flawless as the challenging Stevie Smith, musing through her life in conversations with her aunt, several gentlemen associates, but mostly the audience at the Minerva Theatre.'
- Ian Murray, Daily Echo
'ZoŽ Wanamaker gives an increasingly-winning performance as the poet nervously flutters around the house she shares with her "lion" aunt, seamlessly slipping into verse which has now sadly lapsed into obscurity.
Where Hugh Whitemore's play scores is in showing us how the poetry emanates from Stevie, and this is where Wanamaker is at her strongest: the poetry isn't an addition to Smith's life; it is her life.'
- Phil Hewitt, Chichester Observer
'Words invigorated her [Stevie Smith] as they invigorate this tribute play. Mischievous self-awareness makes her real: Wanamaker, who dwells all evening with fierce concentration within this private personality, gives precise and useful weight both to the heroine's summonses to death and to lines like "Critics get awfully cross when I write cat poems. They seem to think it's letting the side down". Bullseye! The literati came to love her, and she played up when she wanted. But she never joined their club.'
- Libby Purves, theatrecat.com
'Wanamaker's smoky voiced Smith is cantankerous, independent, depressive, suicidal, lonely and, scarred by her father's desertion, unable to commit to a man.
It is a tour de force from the actor, who restlessly prowls the set, smoking, and reliving the poet's life with all its minutiae.'
- Anne Cox, Stage Review
'To play such a complex and unconventional woman I donít think you could do better than ZoŽ Wanamaker and she more than ably fills Stevieís shoes, that immediately recognisable purr revelling in the poetry and in the eccentricities of the character.'
- Matt Merritt, Sitting in the Cheap Seats
'Driving the work [...] is Zoe Wanamaker's astonishing Stevie. On stage almost throughout, the role is massive both in terms of her character's emotional complexities (Smith suffered from depression) as well as the sheer volume of text. Wanamaker is sublime, capturing the fragility of Smith's youth, blighted by TB and from there charts her life with perception.'
- Jonathan Baz, jonathanbaz.com
Tickets for Stevie, which runs until 24 May, are currently available.
More photos of Stevie in performance
1 May 2014 22:02
In addition to the photos released by Chichester Festival Theatre yesterday, Rex Features has another great selection of pictures of ZoŽ and her co-stars performing Stevie here and here.
Let's wish cast and crew all the very best for tomorrow's press night!
First photos of ZoŽ as Stevie Smith!
30 April 2014 22:07
Photos from Stevie, the biographical play in which ZoŽ stars as poet Stevie Smith, have now been released by Chichester Festival Theatre. The photographer is Manuel Harlan.
Stevie is currently in previews at Chichester Festival Theatre's Minerva venue. The press night will be this Friday, 2 May.
Tickets for Stevie are currently available.
Stevie begins tomorrow; and Happy Birthday, Shakespeare!
23 April 2014 22:33
Following today's dress rehearsal, Stevie, the play in which ZoŽ stars as poet Stevie Smith, begins previews at Chichester's Minerva Theatre tomorrow evening.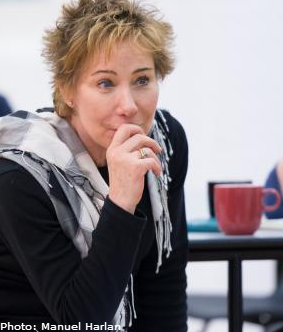 ZoŽ is pictured, above, in rehearsal for the production, which is the first in this year's prestigious Chichester Festival and will continue its run until 24 May.
Tickets for Stevie are available. They are selling fast, though, and so it is a good idea to book soon, if you would like to watch the play. Some performances have already sold out.
Let's wish ZoŽ and everyone else involved in Stevie all the very best!
The first preview of Stevie is scheduled to take place just a day after the 450th birthday of Shakespeare. To mark this very special occasion, the National Theatre has tweeted a series of videos from its archive, including a clip of ZoŽ talking about playing Beatrice alongside Simon Russell Beale's Benedick in the National's memorable 2007 production of Much Ado About Nothing.
Site design and original text © 2002 - 2014 www.zoewanamaker.com, unless specified otherwise.
Most images used on this site are the copyright of their photographer, Ms. Wanamaker, and/or the production company of the show. Use of these images is covered under the fair use limitation in the USA, and the fair dealing limitaton in the UK.
This site is a non-commercial endeavour.