Welcome to the official website for Zoë Wanamaker!
---
Photos: Clara's Song and Asthma UK Christmas carol service
2 December 2014 22:28
This week is off to a very busy but exciting start for ZoŽ.
On Sunday evening, she joined tenor Keith Lewis and pianist Melvyn Tan on-stage for the premiere of Claraís Song at Londonís Royal Academy of Arts. The trio are pictured before their beautiful musical performance, in which Zoe played German musician Clara Schumann, in a photo on Melvyn Tanís Twitter profile. Clara's Song was devised by Keith Lewis and written by ZoŽís husband, Gawn Grainger, who has since tweeted that the performance was Ďspectacularí.
This evening, Zoe gave a reading at Asthma UKís Christmas carol service, which took place at St Lukeís Church in Chelsea, London. She is pictured with the eventís other well-known supporters Ė Anton Du Beke, Patricia Hodge, Julian Fellowes, Margaret Keys and Kirsten OíBrien Ė in a photo on the charityís Twitter profile.
The rest of the week also looks busy for ZoŽ, with two more charity carol services over the next two days: the Prostate Cancer UK 'Carols by Candlelight' service (3 December; now sold out) and The Sick Childrenís Trust carol service (4 December).
Public booking opens for ZoŽ's Stevie at Hampstead
28 November 2014 23:31
Public booking opened earlier today for Stevie, in which ZoŽ will star as quirky poet Stevie Smith at London's Hampstead Theatre. This biographical drama, by Hugh Whitemore, will run from 6 March to 18 April (press night: 16 March). Tickets are priced between £10 and £35.
London arts guide Culture Whisper has published a lovely article about Stevie, praising 'the mighty Zoe Wanamaker' and recalling her success in the title role when the play was staged at Chichester's Minerva Theatre during the summer. The article is particularly enthusiastic about the 'ferocious intelligence and fragility flickering beneath the surface' of Zoe's portrayal of the poet, and suggests that Stevie's Hampstead transfer is not to be missed.
ZoŽ to be a guest on Fenella and Simon's Alternative Miss World
26 November 2014 16:34
Zoe will be among the guests on Fenella & Simon's Alternative Miss World radio programme. It is due to air this Saturday, 29 November, at 8pm UK time on Break London, an online broadcaster of TV and radio about creativity in the Capital.
The programme's title refers to actress Fenella Fielding and presenter Simon McKay. Fenella Fielding helped to judge last month's Alternative Miss World competition, held at Shakespeare's Globe, alongside Zoe and several others. The programme is bound to contain lots of insider insights into the competition.
Listen to ZoŽ 'Off the Record'!
26 November 2014 02:42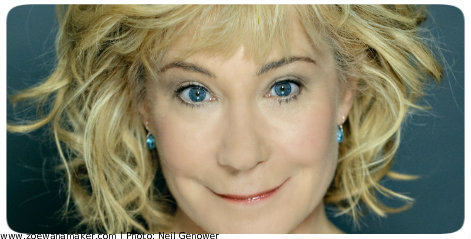 You can now listen to Zoe's 'Off the Record' interview, which was organised by The Actors Centre and recorded on 4 November in front of a lively audience at London's Theatre Royal Drury Lane.
It's a wide-ranging, fascinating talk. Enjoy!
ZoŽís hugely acclaimed Stevie transfers to Hampstead Theatre
21 November 2014 23:59
Whether you saw ZoŽ as quirky poet Stevie Smith at Chichester's Minerva Theatre earlier this year or have yet to witness her powerhouse performance, you are sure to find this news exciting: Stevie transfers to Londonís Hampstead Theatre from March.
The news was first announced late last night by the Daily Mailís entertainment columnist, Baz Bamigboye, and has been widely reported in the performing arts press today. Articles appear in The Stage, Official London Theatre, Whatsonstage.com and LondonTheatre.co.uk. You can also read the theatreís own announcement about Zoeís Ďhighly anticipated returní to its main stage, where she last performed in 1994's Dead Funny.
Zoe won rave reviews when Stevie opened the prestigious Chichester Festival 2014. In the Guardianís words, ĎZoŽ Wanamaker is so perfectly cast in Hugh Whitemore's play about the life and work of the poet Stevie Smith that you don't feel so much that she's acting as simply channelling the mid-20th century poet and novelistí. Now Zoe looks set to take audiences in the Capital by storm too.
Stevie is scheduled to run at Hampstead Theatre from 6 March to 18 April 2015. Priority booking for Friends of the theatre opened today; public booking opens on 28 November. For details and to book tickets, please see the theatreís website.
Site design and original text © 2002 - 2015 www.zoewanamaker.com, unless specified otherwise.
Most images used on this site are the copyright of their photographer, Ms. Wanamaker, and/or the production company of the show. Use of these images is covered under the fair use limitation in the USA, and the fair dealing limitaton in the UK.
This site is a non-commercial endeavour.