Welcome to the official website for Zoë Wanamaker!
---
News round-up: ZoŽ's Christmas tweet, All On Her Own/Harlequinade competition and Stevie Smith event
24 December 2015 21:46
ZoŽ's spreading Christmas cheer on Twitter with this lovely tweet!
If you're looking for a festive treat, there's still time to catch All On Her Own/Harlequinade, the Rattigan double bill starring ZoŽ, at London's Garrick Theatre. Performances resume on 28 December and continue until 13 January. Guardian members have the chance to make the experience even more special by entering a competition to win VIP tickets to the show plus five-star hotel accommodation.
Following her successful appearances in Stevie (at Chichester and Hampstead) and at Cheltenham Literature Festival, early next year ZoŽ will bring Stevie Smith's poetry to life once again. She's set to take part in Poet in the City and Faber & Faber's Stevie Smith event, which will be held at Kings Place, London, on 15 February (7-8:30pm). As Poet in the City explains, 'Smith's unique line drawings will be screened alongside live poetry readings and discussion' during the event, which will also feature Smith experts Will May, Frances Spalding and Rachel Cooke. You can buy tickets from the venue.
Finally, I wish every visitor to this website a Merry Christmas and Happy New Year! I intend to watch ZoŽ's 1977 version of Dickens's A Christmas Carol, in which she plays Belle, on Christmas Day. If you do too, it'd be lovely to know your thoughts about the programme.
ZoŽ featured in new BBC partwork, Doctor Who: The Complete History
6 December 2015 17:06
ZoŽ's second appearance as villainous plastic surgery addict Lady Cassandra is featured in issue seven of Doctor Who: The Complete History, which explores episodes including 'New Earth' (2006).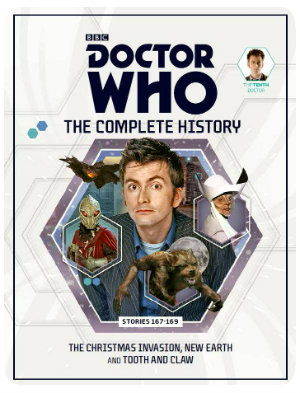 This full colour book, edited by John Ainsworth, is volume 51 in the partwork, published by the BBC. It discusses in detail the pre-production, production, post-production and broadcast history of 'New Earth', in which Cassandra memorably possesses David Tennant's Tenth Doctor and his companion, Rose (Billie Piper). The book also looks at the episode's publicity material and merchandise.
But the biggest treat for fans is undoubtedly an excellent profile of ZoŽ, whose busy work schedule meant that she had only one day on-set with the other actors to film her on-screen portrayal of Cassandra. (Her voiceovers for the character were recorded separately.)
The issue was released on 2 December and is likely to be available from UK newsagents for another week or so. ZoŽ's first episode of Doctor Who, 'The End of the World', will be examined in a forthcoming issue of the partwork (release date TBA).
'It's a magical place, the theatre,' says ZoŽ in new radio interview
5 December 2015 01:51
On Wednesday afternoon, Hospital Radio Reading broadcast a brand new interview with ZoŽ, as part of The Matthew Rolland Show.
Discussing her love of theatre at the beginning of the interview, ZoŽ recalled that she was fortunate enough to be introduced to live performances at a young age and was captivated by watching stories unfold on stage. 'It's a magical place, the theatre,' she emphasised.
ZoŽ spoke enthusiastically about her current project, performing All On Her Own and Harlequinade at London's Garrick Theatre. In this Rattigan double bill, she stars as haunted widow Rosemary and formidable actress Dame Maud. She described them as 'two contrasting characters which are really fascinating to play'.
ZoŽ clearly enjoys being part of the acting profession, not least because of the number of 'extraordinary' people with whom she has the opportunity to work. She remarked that 'so many people are so talented', and 'each person brings something wonderful to their work'. 'I've remained starstruck all of my life!' she laughed.
On a personal note, I'm extremely grateful for ZoŽ's kind words about this website, when she was asked about her fanbase. The site's been online for more than ten years, and I enjoy managing it as much now as when it was first launched during summer 2002.
You can listen to the full interview online (it begins about half an hour into the radio programme).
News round-up: Evening Standard Awards, Othello on screen, Dyslexia Action appeal and radio interview
1 December 2015 03:11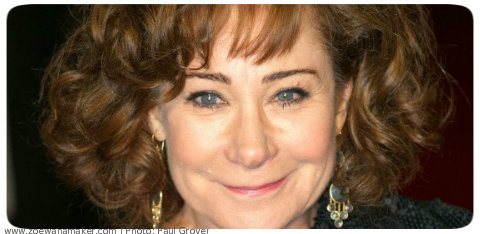 ZoŽ and her husband, Gawn Grainger, attended the Evening Standard Theatre Awards, held at London's Old Vic Theatre, on 22 November. They were photographed on the glamorous event's red carpet with Lenny Henry, as well as at the champagne reception, for BBC Radio 2, ContactMusic.com, Zimbio and Getty Images.
ZoŽ has raised awareness of charity Dyslexia Action's Christmas Appeal on her Twitter profile. You can donate online to the fundraising campaign; the money raised will help the charity (of which ZoŽ is an ambassador) to support dyslexic children. Another way to support Dyslexia Action is to buy Margaret Rooke's book, Creative, Successful, Dyslexic: 23 High Achievers Share Their Stories, in which ZoŽ discusses her own experiences of dyslexia.
This Wednesday ZoŽ will be interviewed on Hospital Radio Reading, during The Matthew Rolland Show, which starts at 5pm (UK time). You can listen live online, via the radio station's website.
London's Barbican will screen Othello (1990) on 17 January at 3pm, as part of its RSC Shakespeare on Screen film season. The highly acclaimed production was performed on stage in Stratford-upon-Avon and London, in 1989, before being filmed. In the words of the Independent, ZoŽ 'turned the forgotten role of Emilia into a spellbinding portrait of divided loyalties'. Her co-stars include Willard White, Ian McKellen and Imogen Stubbs; the director is Trevor Nunn. For tickets and more details, please see the Barbican's website.
Celebrate #LoveTheatreDay with All My Sons watchalong!
18 November 2015 17:57
Today, 18 November, is Twitter's #LoveTheatreDay 2015. As Twitter explains, the event is 'a virtual celebration of all things theatrical'.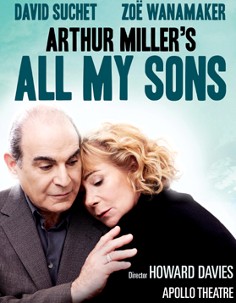 As part of this celebration, Digital Theatre will run an All My Sons 'watchalong', starting at 6pm (UK time). You can join in the conversation about the production, using the hashtag #Showtime.
There's certainly plenty to love about All My Sons! Miller's classic, heart-breaking play was staged in 2010 at London's Apollo Theatre and stars ZoŽ and David Suchet. The show received tremendous acclaim, with the Telegraph's Charles Spencer calling it 'a stunning production of a modern classic'. For her portrayal of troubled Kate Keller, ZoŽ won Best Actress in a Play in the Whatsonstage.com Awards, with Suchet winning the Best Actor in a Play award.
What's more, you can get a 25% discount on DigitalTheatre.com titles by using the code LOVE at checkout, until midnight tonight.
Site design and original text © 2002 - 2016 www.zoewanamaker.com, unless specified otherwise.
Most images used on this site are the copyright of their photographer, Ms. Wanamaker, and/or the production company of the show. Use of these images is covered under the fair use limitation in the USA, and the fair dealing limitaton in the UK.
This site is a non-commercial endeavour.