Welcome to the official website for Zoë Wanamaker!
---
ZoŽ celebrates the work of Joy Batchelor in new documentary
21 May 2014 22:53
ZoŽ is the narrator of a new mini-documentary, Ode to Joy, which marks the centenary year of the late director, animator, producer and designer, Joy Batchelor, and celebrates her work.
Joy was one half of the Halas & Batchelor Cartoons Studio, which made the UK's first animated feature film, Animal Farm, in 1954.
As ZoŽ says of Joy in the documentary, 'Despite being one of animation's most important figures, today she is one of its unsung heroines.' Zoe emphasises that 'her recognition is long overdue.'
ZoŽ interviewed about why New York is so special to her: 'I love the city for its incredible energy'
20 May 2014 21:15
ZoŽ talks about why she loves New York so much, and shares her tips about what to see and do in order to make the most of a trip there, in an interview published today by the Telegraph.
As she explains, New York is awe-inspiring: 'I was born there and I love the city for its incredible energy, architecture and people. Thereís nowhere else like it in America: it is a melting pot full of history and nostalgia; romantic but quite tough at the same time. You find yourself slightly out of breath when you first get there because it is so full-on. Americans there have a real sense of national identity.'
Listen to ZoŽ's Stevie interview with Kate Mosse
14 May 2014 23:48
As previously mentioned, after the performance of Stevie on 6 May, audience members were invited to stay in their seats for a short Q&A event with ZoŽ and bestselling author Kate Mosse.
In addition to the write-up of the discussion that appears on this website, you can now listen to it (see below), thanks to Chichester Festival's YouTube channel.
ZoŽ discusses the RSC, Stevie and what made her 'a braver actor'
14 May 2014 23:28
Not one but two interviews with ZoŽ have been published today. They explore her work on stage, both past and present.
Firstly, as part of the Guardian's 'Monologue' series in which actors discuss the art of acting, Zoe explains why performing in the Royal Shakespeare Company's 1978 production of Piaf had a tremendous effect on her career - and her confidence levels.
Of her co-star, Jane Lapotaire (pictured above, with Zoe), who played legendary singer Edith Piaf in the production, ZoŽ says, 'Jane was bravery personified. She was energetic, fearless and full of truth; she changed the way I worked because her courage was infectious. I'd felt very hidden and shy, nervous of making decisions, but Jane just put it out there from the start - right from the rehearsals period.'
Zoe and Jane Lapotaire clearly make an excellent team: you may remember that they also appeared in historical drama The Devil's Crown (also 1978) and the hugely successful Love Hurts (1992-4).
ZoŽ concludes that her experiences at the RSC made her 'a braver actor', overall. And a degree of bravery must surely have played a part in the decision to portray poet Stevie Smith in Stevie, a play in which almost all of the lines are spoken by the title character.
In the second interview, which appears in the Chichester Observer, Zoe discusses the challenges and rewards of working on the play, which runs at Chichester's Minerva Theatre until 24 May.
'What Hugh [Whitemore, the playwright] has done is brilliantly woven 90 per cent of her writing into the piece. He has segued into a poem without you realising that is what he is doing. The poems are not just plonked there. In that sense, the play is brilliantly orchestrated and beautifully written.'
She adds: 'But it is a strange piece. It is not a recital. There is no terrible conflict. But it is the story of an extraordinary but ordinary person that lives in suburbia but has this incredible brain. It is a quite a complex piece.'
Portraying Stevie Smith, a highly individual woman in a highly individual play, requires strong commitment. In Zoe's words, 'I am completely absorbed by her [...] really such a fascinating person.'
Happy Birthday to ZoŽ for 13 May!
12 May 2014 21:38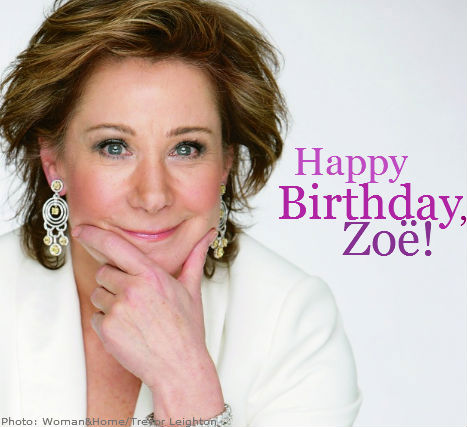 It's ZoŽ's birthday tomorrow, 13 May.
Let's wish her a very, very Happy Birthday and Many Happy Returns!
Site design and original text © 2002 - 2014 www.zoewanamaker.com, unless specified otherwise.
Most images used on this site are the copyright of their photographer, Ms. Wanamaker, and/or the production company of the show. Use of these images is covered under the fair use limitation in the USA, and the fair dealing limitaton in the UK.
This site is a non-commercial endeavour.