Welcome to the official website for Zoë Wanamaker!
---
Gay City News hails ZoŽ as 'One of the greatest, most versatile actresses alive'
19 May 2015 04:11
News and arts publication Gay City News has published a fascinating new interview with ZoŽ, hailing her as 'One of the greatest, most versatile actresses alive'. ZoŽ talks to David Noh, who remarks he has long been an admirer of hers, about her recent theatre work, her father's project to rebuild Shakespeare's Globe, and much more.
The interview took place shortly after ZoŽ arrived in New York to rehearse the musical Zorba!, which delighted theatregoers earlier this month as part of City Center's famous, hugely popular Encores! season. ZoŽ sheds light on the appeal of her character, mysterious innkeeper Hortense, describing her as 'a very delicate, extraordinary creature, passionate with no limit to her emotional availability'.
She describes Zorba! as 'a dark musical' with 'brilliant lyrics and some wonderful, delightful characterful songs, very clever'. Filled with enthusiasm for City Center's Zorba! revival, ZoŽ emphasises that she is 'working with the most wonderful people, glorious singers and actors'.
ZoŽ joined rehearsals for Zorba! just days after completing the run of another theatrical gem, Stevie Ė in which she starred as highly individual poet Stevie Smith Ė across the Atlantic, at London's Hampstead Theatre. She is very happy that this successful production has led to a resurgence of interest in Smith, commenting that 'because of the revival of this play, Smith's collected works are coming back again, as well as her first novel'.
Also in London, Shakespeare's Globe and the indoor Sam Wanamaker Playhouse are thriving. ZoŽ points out that her late father, Sam Wanamaker, who brought the theatre of Shakespeare's day back to the South Bank, felt certain the area would be reinvigorated as a result. She says that 'the whole area has exploded with new people moving in, as he predicted'.
Birthday wishes for ZoŽ!
13 May 2015 01:42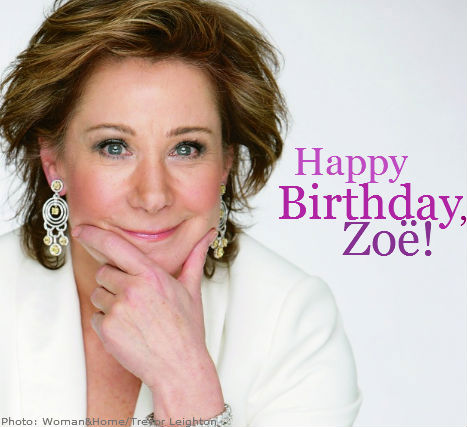 It's 13 May Ė ZoŽ's birthday!
Let's all wish her Happy Birthday and Many Happy Returns!
ZoŽ's certainly had a very busy, exciting few months, with stage productions Ė Stevie and Zorba! Ė on both sides of the Atlantic. Having done so much fantastic work on these shows, hopefully she will have the chance to sit back and relax today.
Photos: ZoŽ at New York Theatre Workshop 2015 Spring Gala
12 May 2015 18:48
Yesterday ZoŽ joined Helen Mirren, Bill Nighy and a host of other well-known theatre industry figures at the New York Theatre Workshop's 2015 Spring Gala, where they celebrated the achievements of hugely successful theatre designer Bob Crowley.
ZoŽ was photographed at the event, which was held at the elegant Edison Ballroom in New York City, for BroadwayWorld.com, the Telegraph, Playbill and Getty Images.
She looked very chic in a jacket made from fabric inspired by vintage newspapers. It was a highly appropriate choice, given that Crowley designed the memorable set for the National Theatre's 2003 production of fast-paced press-room comedy His Girl Friday, in which ZoŽ starred as feisty journalist Hildy Johnson.
Please donate to The Esther Benjamins Trust's Nepal Earthquake Appeal, following second earthquake
12 May 2015 16:19
Following today's terrible news that a second major earthquake has struck Nepal, I wanted to remind ZoŽ's fans about The Esther Benjamins Trust, a charity supported by ZoŽ and working in Nepal.
The Esther Benjamins Trust is running a Nepal Earthquake Appeal, for which donations are urgently needed. You can donate to the charity online, by cheque or text to help fund its vital relief work in Nepal Ė which includes supporting children and impoverished families, as well as carrying out search and rescue work.
You can see The Esther Benjamins Trust's work in action in the video above. In addition, a news article from the charity shows its staff in Makwanpur spearheading a relief operation, bringing aid to a remote village.
Photos: ZoŽ at closing night of Zorba!
11 May 2015 16:25
Yesterday ZoŽ and her co-stars in the musical Zorba! gave their closing night performance at New York City Center.
BroadwayWorld.com, TheaterPizzazz.com and Getty Images have great photos from the curtain call and later in the evening.
Everyone certainly looks as if they've had a wonderful time working on the show, which ran from 6-10 May, as the final production in City Center's 2015 Encores! season, celebrating American musicals.
Site design and original text © 2002 - 2015 www.zoewanamaker.com, unless specified otherwise.
Most images used on this site are the copyright of their photographer, Ms. Wanamaker, and/or the production company of the show. Use of these images is covered under the fair use limitation in the USA, and the fair dealing limitaton in the UK.
This site is a non-commercial endeavour.