Welcome to the official website for Zoë Wanamaker!
---
ZoŽ chats about the new series of Mr Selfridge on Letís Do Christmas
17 December 2014 20:38
ZoŽ was the special guest on this lunchtime's episode of ITV's culinary-themed, festive chat show, Let's Do Christmas... With Gino & Mel. She joined the presenters, chef Gino D'Acampo and Melanie Sykes, in the kitchen to help prepare seasonal dishes.
ZoŽ chatted to the duo about the eagerly anticipated next series of Mr Selfridge, in which she plays a feisty princess, Marie, who, she remarked, is always 'living on the edge'. Excitingly, Let's Do Christmas included our first look at Zoe in-character, below.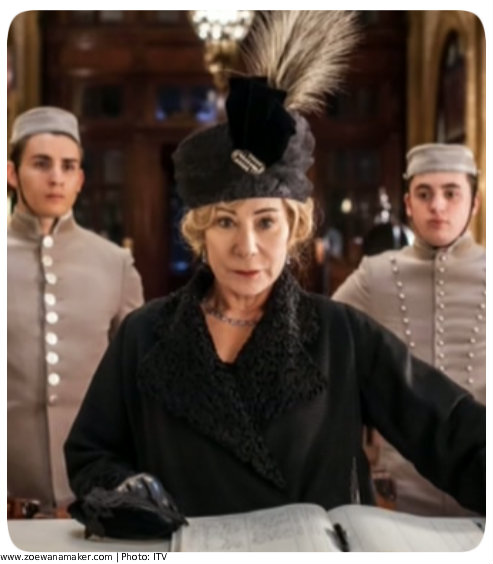 Gino and Mel presented Zoe with a lovely Christmas gift: an original theatre programme from Once in a Lifetime (1978), the RSC production for which she won her first Olivier award and in which she starred alongside David Suchet and the late Richard Griffiths, who is pictured with Zoe on the programme's cover, below. (Coincidentally, the 1988 TV version of Once in a Lifetime, in which Zoe also appears, will be shown at the BFI at the end of January).
If you missed Zoe's appearance on Letís Do Christmas or would like to see it again, youíll be pleased to know that you can watch the programme on ITVís player any time for the next thirty days.
Bid for the chance to watch Stevie and meet ZoŽ, with Youth Music Theatre UKís charity auction - ends 18 December
16 December 2014 01:52
There are now just over two days left to bid for the opportunity to watch Stevie and meet ZoŽ, with Youth Music Theatre UK's charity auction. The winner of the auction will receive two tickets to next year's eagerly anticipated transfer of Hugh Whitemore's play to Hampstead Theatre, in London, and get to chat to Zoe.
The auction is raising funds to help YMT continue its work as the UKís leading music theatre charity for young people. You have until just after 12:45pm (UK time) on 18 December to place your bids.
Good luck to all bidders!
Captcha, featuring voiceover from ZoŽ, to premiere at London Short Film Festival
15 December 2014 01:17
ZoŽ provides the voice of Rosa in a new short film, Captcha, which will receive its premiere screening in January as part of the London Short Film Festival's 'New Shorts: Futureworlds' event.
The film, described by its director, Edward Tracy, as a 'film noir thriller with a touch of romance' is set in a steampunked, 1940s London. It explores how love can be used as a weapon. Other cast members include Zoe's Mr Selfridge co-star Amy Beth Hayes, as well as Arthur Darvill, Nigel Lindsay, Danny Babington and Kayvan Novak.
Tickets are available for the screening, which will take place on 15 January at 9pm in the Hackney Picturehouse, alongside screenings of several other sci-fi film shorts.
Captcha, made by Too Tall Productions, has already won awards including Best International Film at the Sci-Fi Film Festival in Australia. The production team has announced that it could be released worldwide next year.
ZoŽ parties with Shirley Bassey
15 December 2014 00:18
ZoŽ was among the special guests at newspaper-owner Evgeny Lebedev's glamorous Christmas party in London last week. She was photographed at the event with Shirley Bassey for the Daily Mail.
Other attendees included Lindsay Lohan, Helen Mirren, Bob Geldof, Gemma Arterton and many other well-known faces.
Win tickets to Stevie and meet ZoŽ, with Youth Music Theatre UKís charity auction!
11 December 2014 17:24
ZoŽ has kindly donated a very special prize to Youth Music Theatre UK, of which she is a patron, as part of its charity fundraising auctions. The winner of Zoeís auction, which runs on eBay until 18 December, will receive two tickets to watch Stevie at Hampstead Theatre in London and have the opportunity to meet her there.
The money raised by the auction will help YMT, the UKís leading music theatre charity for young people, to continue training the next generation of talented performers, musicians, directors, writers, composers, choreographers and theatre technicians. In ZoŽ's words, ĎYMT is an organisation that really does change lives!í
This is a fantastic prize for a very worthy cause. Good luck to all bidders!
Site design and original text © 2002 - 2014 www.zoewanamaker.com, unless specified otherwise.
Most images used on this site are the copyright of their photographer, Ms. Wanamaker, and/or the production company of the show. Use of these images is covered under the fair use limitation in the USA, and the fair dealing limitaton in the UK.
This site is a non-commercial endeavour.