Welcome to the official website for Zoë Wanamaker!
---
Tickets selling fast for ZoŽ's events
7 February 2016 23:52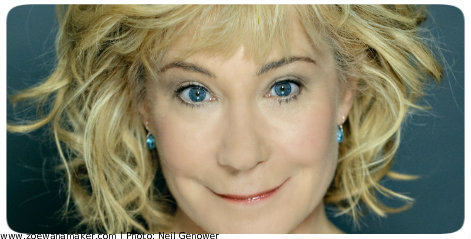 Poet in the City recently pointed out on Twitter that its Stevie Smith event, at which ZoŽ will read a selection of Smith's quirky poetry, is almost sold out. This literary event will be hosted by King's Place in London, on 15 February. Currently, a small number of tickets for balcony seats are available; the stalls are fully booked.
Tickets for Elegy, which will be staged at London's Donmar Warehouse from 21 April to 18 June, are also proving very popular. Currently, more than thirty performances of Nick Payne's brand new play, which is set to star ZoŽ, Barbara Flynn and Nina Sosanya, are sold out. The best availability appears to be for performance dates in June. Having said that, the Donmar recently announced on Twitter that it plans to release in excess of 1,000 £17.50 tickets for Elegy over the coming Mondays, which is very welcome news indeed!
What's more, do keep an eye on the Barclays Front Row ticket initiative, for which £10 tickets are released for performances of shows at the Donmar a fortnight later, in case there's an opportunity to buy tickets for Elegy that way. There's also the possibility of buying day seats in-person at the Donmar, on the day of a performance.
If you'd like to attend one or both events but haven't yet booked, it's obviously a good idea to try and do so sooner rather than later.
Good luck!
ZoŽ to star in world premiere of Elegy at Donmar Warehouse
15 January 2016 14:57
It's only two days since All On Her Own/Harlequinade ended, but, excitingly, ZoŽ's next stage production has already been announced!
ZoŽ is set to star as Lorna in the world premiere of Nick Payne's Elegy, at London's Donmar Warehouse. The play will also feature Barbara Flynn and Nina Sosanya; the director is Josie Rourke. Elegy is described by the Donmar as 'the beautiful and moving story of three women who've made the choice between love and survival'.
The news has attracted considerable attention from the press, with articles published by The Stage, Time Out, Daily Mail, BroadwayWorld.com, Official London Theatre, Whatsonstage.com, LondonTheatre.co.uk, West End Frame and others.
Elegy will run from 21 April to 18 June. Tickets are available but selling quickly, and so I'd suggest that you book soon, if possible.
ZoŽ pays tribute to Alan Rickman: 'He was a kind of colossus'
15 January 2016 14:18
ZoŽ has paid tribute in the Guardian to her late friend and colleague, Alan Rickman, who has sadly died of cancer aged 69. She praises him as 'a kind of colossus', who was 'funny, smart, kind, generous'.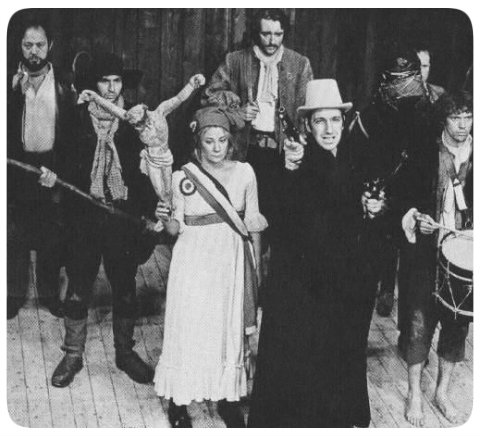 ZoŽ recalls working with the 'fearless' Rickman on the tremendously successful 2001 film, Harry Potter and the Philosopher's Stone, as well as much earlier in their careers, namely at the Royal Shakespeare Company. They both starred in the RSC's 1978 production of Captain Swing, which explored the nineteenth-century Swing Riots. The photo above shows ZoŽ, Rickman and other cast members on stage.
You can read ZoŽ's full tribute, alongside many others, on the Guardian's website.
News round-up: Final performance of Rattigan double bill, Great British Brekkie 2016 and TV Times remembers Love Hurts
13 January 2016 19:45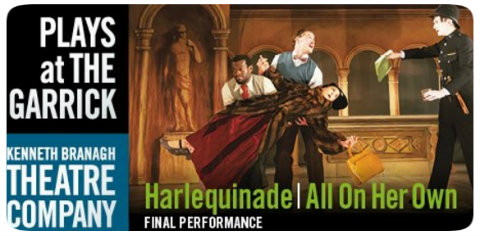 This evening, ZoŽ, Kenneth Branagh and the rest of the cast give their final performance of All On Her Own/Harlequinade. The Terence Rattigan double bill, which encompasses both drama and comedy, has been playing to delighted audiences at London's Garrick Theatre since October and earned excellent reviews.
Another successful production is celebrated in the latest issue of the TV Times (dated 16-22 January). The magazine remembers Tessa and Frank's magical wedding in Love Hurts, the hugely successful drama in which ZoŽ starred alongside Adam Faith. Hard to believe the wedding was filmed more than 20 years ago, isn't it!
Meanwhile, ZoŽ has been photographed showing her support for The Great British Brekkie 2016, a breakfast-themed fundraising event that will take place from 8-14 February. Money raised will help charity Winston's Wish to support bereaved children. If you'd like to find out more or get involved, please see The Great British Brekkie's website.
ZoŽ's work in 2015: from playing a princess and a poet to starring in the West End and on Broadway!
30 December 2015 21:13
As we prepare to celebrate New Year, let's look back at some of ZoŽ's amazing achievements in 2015. This year has been remarkably busy for ZoŽ Ė and filled with opportunities for her fans to enjoy a diverse range of performances on stage and screen.
January: Princess Marie's 'a force to be reckoned with' in Mr Selfridge!
ZoŽ burst onto our TV screens in January, playing wilful, troubled Russian aristocrat Princess Marie Wiasemsky, in the third series of hit costume drama Mr Selfridge. Good Morning Britain and Lorraine took an entertaining look behind-the-scenes. The series was watched by fans on both sides of the Atlantic, thanks to ITV and PBS.
Speaking in fascinating detail about her approach to the character, as part of ITV's production notes, ZoŽ described Princess Marie as 'a force to be reckoned with'! 'I love her one-liners. She's arrogantly funny. But she's got to be witty and sharp Ė to go through all she has and keep your sense of humour, you have to be funny.'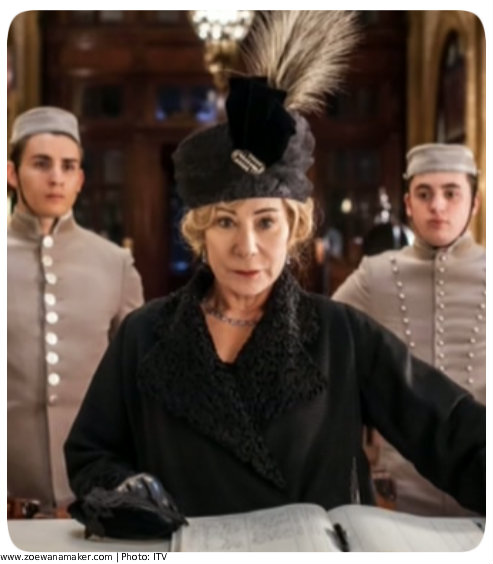 Princess Marie had fled the Bolshevik Revolution, been separated from her priceless family jewels and racked-up huge debts. Naturally, she was delighted when her son Serge married the eldest daughter of wealthy entrepreneur Harry Selfridge. Princess Marie loved spending money Ė especially other people's! Her spendthrift behaviour threatened to cause serious problems for the strained Selfridges.
Another troubled family, the Lomans, is the focus of Arthur Miller's masterpiece, Death of a Salesman, which ZoŽ rehearsed in January, in anticipation of recording the play for BBC Radio 3. She was cast as Linda Loman, alongside David Suchet as Linda's husband Willy.
February: rehearsals underway for Stevie's Hampstead transfer
February found ZoŽ rehearsing Stevie, the biographical play in which she'd soon be starring as the quirky poet Stevie Smith. The production had enjoyed great success when it opened Chichester Festival 2014; now it was transferring to London's Hampstead Theatre, where it would delight and enthrall audiences all over again.
March-April: from Hampstead to New York!
From 6 March to 18 April, Stevie was staged at Hampstead Theatre. The production marked the first time that ZoŽ had performed at the venue since 1994's black comedy, Dead Funny.
In an insightful interview published by the Guardian, ZoŽ reflected on playing Stevie Smith, commenting that the brilliant poet was 'a true original'. Another high-profile interview followed, with ZoŽ telling the Telegraph that she wanted to do justice to Stevie Smith's legacy. 'I feel she wants to be remembered. She was such a strong personality, tenacious, full of literature,' she emphasised.
As soon as Stevie's run ended, ZoŽ flew to New York in order to prepare for her first Broadway production since Awake and Sing! (2006). She rehearsed City Center's revival of Zorba!, the life-affirming, final show in the 2015 Encores! series of American musicals.
Interviewed during rehearsals, ZoŽ noted that Zorba! would be the first musical in which she'd appeared since Kiss Me Kate in 1975!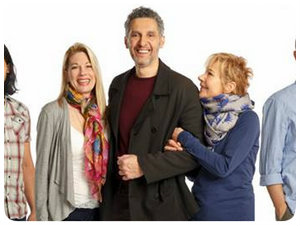 She was clearly relishing being in musical theatre again. As Zorba!'s choreographer, Josh Rhodes, commented: 'ZoŽ Wanamaker Ė she's just the dearest one in rehearsal [...] you should see her face! She just stops and giggles, and just says, ''Oh, pinch me Ė I'm in a musical!'''
May: Zorba! becomes ZoŽ's first musical in 40 years!
From 6-10 May, ZoŽ delighted Broadway audiences as the mysterious French innkeeper, Hortense, in Zorba!. The production was staged forty years after her previous appearance in a musical.
When interviewed by The Clyde Fitch Report, ZoŽ described singing and dancing in Zorba! as 'the most terrifying thing I've ever done in my life'. But there was no trace of nerves in her performance; for instance, here she is singing a humorous, touching duet, 'Goodbye, Cannavaro', with co-star John Turturro (who played Zorba).
June: in-depth interview sheds light on ZoŽ's approach to acting
In June Benjamin Maio Mackay's Talk 2 Me, an entertainment industry podcast, featured one of ZoŽ's most in-depth interviews to date. It spanned everything from drama school to starring in Zorba!
Particularly fascinating was ZoŽ's insight into preparing for a role. As she emphasised, 'I have to envelop myself in that [character's] world.'
ZoŽ's research for a part can be wide-ranging; it typically consists of reading, listening to music and looking at paintings and photos. She aims 'to collect as much information as I can' that's relevant to the character, the period in which the production is set, etc. This research helps her to bring the characters she plays to life.
If you missed the interview in June, it's certainly worth catching up with now. You can listen to it online or download it free from iTunes.
July: ZoŽ joins the Kenneth Branagh Theatre Company
In July the Kenneth Branagh Theatre Company announced that ZoŽ would star in not one but two Terence Rattigan plays: All On Her Own and Harlequinade. This double bill would form part of the company's hotly anticipated Plays at the Garrick season.
'ZoŽ Wanamaker is a brilliant comedienne and a great tragic actress too,' Branagh remarked enthusiastically in the press release.
August-September: rehearsing the Rattigan double bill
Rehearsals for All On Her Own/Harlequinade began at the end of August. The Kenneth Branagh Theatre Company publicised the Rattigan double bill with striking black-and-white cast photos.
October: celebrating Stevie Smith, Arthur Miller and Terence Rattigan
On 11 October, ZoŽ appeared at the prestigious Cheltenham Literature Festival, where she recreated Stevie Smith's poetry reading from the 1965 Festival and discussed the poet.
ZoŽ's performances of Smith's funny, sad, poignant poems demonstrated that they still have the power to entertain and engage audiences, decades after they were written. In fact ZoŽ will bring the poems to life again at an event about the poet in the New Year.
On the same day as ZoŽ entertained Cheltenham's festival-goers, BBC Radio 3 broadcast the production of Arthur Miller's Death of a Salesman that she'd recorded earlier in the year. It was part of a series of programmes celebrating Miller's centenary.
As the Radio Times noted (in its 10-16 October issue), Death of a Salesman reunited ZoŽ with David Suchet and director Howard Davies; together they were 'the ''dream team'', whose West End staging of Arthur Miller's All My Sons in 2010 was showered in awards and hailed as a landmark in British theatre.'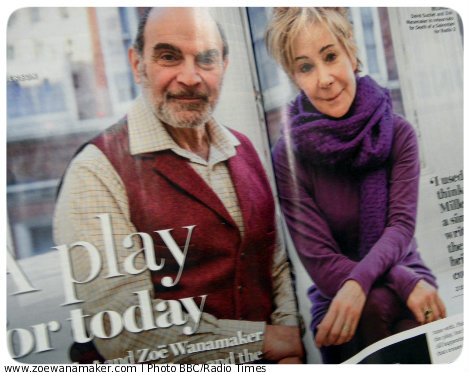 All On Her Own/Harlequinade began its run on 24 October, at the Garrick Theatre in London. ZoŽ stars as guilt-ridden widow Rosemary in the former, a monologue never seen before in the West End. In the latter, a comedy, she takes to the stage as the formidable Dame Maud, who's part of a chaotic theatre company touring Britain.
November: ZoŽ's 'soul-baring virtuosity' at the Garrick Theatre
The official, tie-in edition of All On Her Own/Harlequinade was published by Nick Hern Books in November. It features a fascinating interview with ZoŽ, in which she offers insight into the playwright's work: 'For me, Terence Rattigan is about suppressed emotion.'
Following the Rattigan double bill's press night on 7 November, ZoŽ was photographed with her husband Gawn Grainger, as well as Judi Dench and other members of the Kenneth Branagh Theatre Company, as they enjoyed the after-party in the National Gallery.
Numerous excellent reviews of All On Her Own/Harlequinade were published. Notably, the Guardian praised ZoŽ for playing All On Her Ownís Rosemary 'with a soul-baring virtuosity'. The newspaper also published a series of fantastic production photos.
Theatregoers responded hugely positively to the double bill, with many taking to Twitter in order to share their enjoyment of the show.
December: All On Her Own/Harlequinade takes ZoŽ into 2016
During December, ZoŽ has continued performing All On Her Own/Harlequinade; the double bill is being staged at the Garrick until 13 January, and so it will take her into the New Year.
Tickets are available for the show. Tickets are also available for the aforementioned Stevie Smith event, scheduled for 15 February.
2016 is shaping up to be as exciting for ZoŽ and her fans as 2015!
Site design and original text © 2002 - 2016 www.zoewanamaker.com, unless specified otherwise.
Most images used on this site are the copyright of their photographer, Ms. Wanamaker, and/or the production company of the show. Use of these images is covered under the fair use limitation in the USA, and the fair dealing limitaton in the UK.
This site is a non-commercial endeavour.