Welcome to the official website for Zoë Wanamaker!
---
Passion Play press night photos
18 May 2013 19:18
Photos of ZoŽ and her colleagues at Passion Play's recent press night appear in two publications this week:
- The Stage newspaper (16 May issue)
- ES Magazine (17 May issue, available free from Pocketmags.com)
Photo by Paul Clapp.
Win a pair of Passion Play tickets
16 May 2013 21:51
Arts and reviews website One Stop Arts is running a competition in which the prize is two top-price tickets to Passion Play. The tickets are valid for a performance of Passion Play until 30 June (excluding Fridays and Saturdays). The competition closes on 24 May. For more details, including how to enter, please see the One Stop Arts website.
BBC to repeat The Older Woman
15 May 2013 21:49
The Older Woman, a comedy-drama series starring ZoŽ and originally broadcast by the BBC in 1993, will be repeated on BBC Radio 4 Extra from next week.
In this six-part series, ZoŽ plays Jane Callaghan, the former English teacher of local journalist Roy Hitchcock (played by Martin Clunes). Roy, prone to daydreaming, is eager to win Jane's affections, despite having previously been her pupil!
The Older Woman is written by Tony Bagley. Toyah Willcox also stars, playing one of Roy's colleagues. The first episode will be broadcast on 23 May at 7am on BBC Radio 4 Extra; it will then be repeated at 5.30pm and the following day at 5.30am.
With thanks to Janet.
ZoŽ returns to Kumars at No. 42
13 May 2013 23:21
ZoŽ will appear in the new series of The Kumars at No. 42, several years after her first appearance on the comedy chat show.
Originally broadcast on the BBC from 2001-6, The Kumars at No. 42 will return to our TV screens for a brand new series on Sky1 HD. Speaking to the BBC about the show's return, The Kumars at No. 42's co-creator and star Sanjeev Bhaskar commented: 'We've got these sketches that we do in the show now'. He added that 'Hugh Jackman has done one for us. ZoŽ Wanamaker's done one for us as well.'
A broadcast date for the new series has not yet been announced, but the BBC's article notes that it is due to be shown later this year.
13 May: ZoŽ's birthday!
12 May 2013 23:31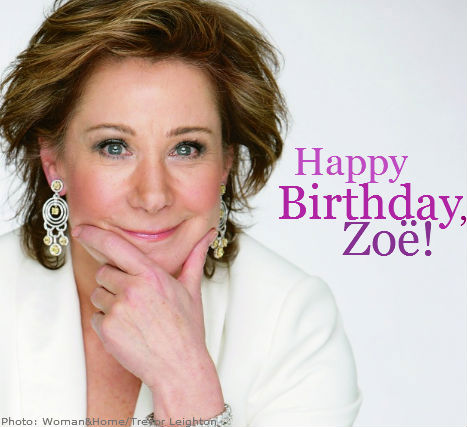 Tomorrow, 13 May, is ZoŽ's birthday. Let's wish her a very Happy Birthday and Many Happy Returns!
Site design and original text © 2002 - 2013 www.zoewanamaker.com, unless specified otherwise.
Most images used on this site are the copyright of their photographer, Ms. Wanamaker, and/or the production company of the show. Use of these images is covered under the fair use limitation in the USA, and the fair dealing limitaton in the UK.
This site is a non-commercial endeavour.