Welcome to the official website for Zoë Wanamaker!
---
Stevie begins tomorrow; and Happy Birthday, Shakespeare!
23 April 2014 22:33
Following today's dress rehearsal, Stevie, the play in which ZoŽ stars as poet Stevie Smith, begins previews at Chichester's Minerva Theatre tomorrow evening.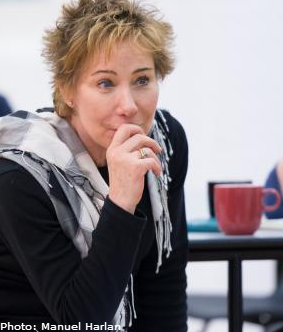 ZoŽ is pictured, above, in rehearsal for the production, which is the first in this year's prestigious Chichester Festival and will continue its run until 24 May.
Tickets for Stevie are available. They are selling fast, though, and so it is a good idea to book soon, if you would like to watch the play. Some performances have already sold out.
Let's wish ZoŽ and everyone else involved in Stevie all the very best!
The first preview of Stevie is scheduled to take place just a day after the 450th birthday of Shakespeare. To mark this very special occasion, the National Theatre has tweeted a series of videos from its archive, including a clip of ZoŽ talking about playing Beatrice alongside Simon Russell Beale's Benedick in the National's memorable 2007 production of Much Ado About Nothing.
ZoŽ joins cast of ITV's Mr Selfridge as a Russian princess
21 April 2014 17:23
Very exciting news today: ITV has officially announced that ZoŽ will join the cast of its lavish costume drama, Mr Selfridge, as a trouble-making Russian Princess, Marie de Bolotoff.
The third series of Mr Selfridge, the hit drama inspired by the life of Harry Gordon Selfridge, the charismatic American businessman and founder of the well known Selfridges department store on London's Oxford Street, begins filming soon in the city. It will be set in 1919.
Princess Marie's son, Serge, will marry Selfridgeís eldest daughter, Rosalie, in the opening episode.
The announcement has received a lot of attention in the press, including articles by The Huffington Post, the Mirror, Digital Spy, Entertainment Focus and Unreality TV.
The broadcast dates for the ten episodes in the third series have not yet been announced.
More details to follow...
Stevie's director praises ZoŽ: 'I admire her very much'
19 April 2014 00:40
With the first performance of Stevie, starring ZoŽ as poet Stevie Smith, less than a week away, the production's director, Christopher Morahan, has been interviewed about the play and its star.
Speaking to The Argus newspaper, he praised Zoe: 'When I was asked to direct this, I was delighted and flattered she wanted to work with me. I admire her very much.'
They previously worked together on Channel 4's 1997 adaptation of Anthony Powell's A Dance to the Music of Time cycle of novels, in which Zoe played Audrey Maclintick.
Morahan added: 'ZoŽ had such a small scene in A Dance to the Music of Time, but I thought she was utterly memorable.'
Stevie begins a month-long run at the Minerva Theatre, Chichester, on 24 April, as the first production in the Chichester Festival 2014. You can buy tickets and see rehearsal photos on the theatre's website.
Ten days to go until Stevie begins!
14 April 2014 22:49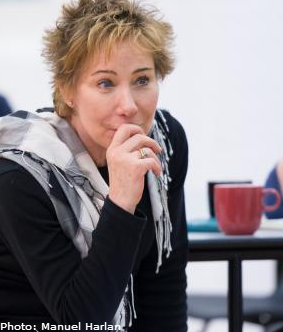 Performances of Stevie, Hugh Whitemore's biographical play in which ZoŽ stars as the poet Stevie Smith, begin in just ten days' time at the Minerva Theatre, Chichester. It is the first production in the Chichester Festival 2014 and runs from 24 April to 24 May.
Appearing alongside ZoŽ are Lynda Baron (who plays Stevie Smith's Aunt) and Chris Larkin (The Man). The production is directed by Christopher Morahan.
As the countdown to the first performance begins, and in case anyone has missed the news updates over the past few weeks or so, I thought it would be helpful to point out that you can read Zoe's thoughts on beginning rehearsals for Stevie last month, enjoy rehearsal photos (such as the one above), and buy tickets.
There are a couple of talks taking place after selected performances of Stevie that may be of particular interest to ZoŽ's fans.
- 'Post-Show Late with Kate: ZoŽ Wanamaker' (6 May): ZoŽ will chat to author Kate Mosse about the production and her performance in it.
- 'Post-show talk: Stevie' (19 May): cast and crew members will discuss the production.
Each talk mentioned above is free to holders of tickets for the specified performance date. Simply stay in your seat after the show.
Two other events that may also be of interest:
- The Stevie Project (22 April - 17 May): A weekly theatre project, focused on the poetry of Stevie Smith and led by drama practitioner Kim Hope, which will culminate in the following event.
- The Poetry of Stevie Smith (17 May): Stevie Smith's poems will be introduced by Dr William May, author of Stevie Smith and Authorship, and performed by community actors.
I hope that all of Zoe's fans who attend a performance of Stevie and any of the related events have a lovely time.
BFI to screen The Widowing of Mrs Holroyd in May
11 April 2014 00:30
As part of its celebration of Edwardian drama on television, the BFI Southbank in London will show the BBC's 1995 adaptation of The Widowing of Mrs Holroyd by D.H. Lawrence on 27 May at 6:10pm.
The drama, which charts the breakdown of the relationship between drunken pit-worker Charles Holroyd (played by Colin Firth) and his embittered wife, Lizzie, stars Zoe in the title role. It is due to be followed by a Q&A with Zoe (work permitting), designed to offer viewers insight into the adaptation.
Tickets to the screening and Q&A are on sale now. As only a very limited number are available, I recommend booking early, if you would like to attend.
Site design and original text © 2002 - 2014 www.zoewanamaker.com, unless specified otherwise.
Most images used on this site are the copyright of their photographer, Ms. Wanamaker, and/or the production company of the show. Use of these images is covered under the fair use limitation in the USA, and the fair dealing limitaton in the UK.
This site is a non-commercial endeavour.