Welcome to the official website for Zoë Wanamaker!
---
Listen to ZoŽ 'Off the Record'!
26 November 2014 02:42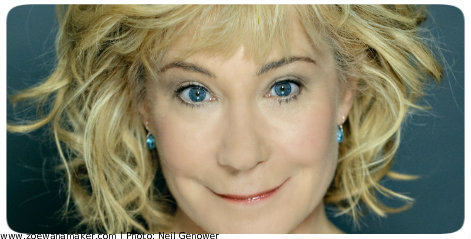 You can now listen to Zoe's 'Off the Record' interview, which was organised by The Actors Centre and recorded on 4 November in front of a lively audience at London's Theatre Royal Drury Lane.
It's a wide-ranging, fascinating talk. Enjoy!
ZoŽís hugely acclaimed Stevie transfers to Hampstead Theatre
21 November 2014 23:59
Whether you saw ZoŽ as quirky poet Stevie Smith at the Chichester Festival Theatre earlier this year or have yet to witness her powerhouse performance, you are sure to find this news exciting: Stevie transfers to Londonís Hampstead Theatre from March.
The news was first announced late last night by the Daily Mailís entertainment columnist, Baz Bamigboye, and has been widely reported in the performing arts press today. Articles appear in The Stage, Official London Theatre, Whatsonstage.com and LondonTheatre.co.uk. You can also read the theatreís own announcement about Zoeís Ďhighly anticipated returní to its main stage, where she last performed in 1994's Dead Funny.
Zoe won rave reviews when Stevie opened the prestigious Chichester Festival 2014. In the Guardianís words, ĎZoŽ Wanamaker is so perfectly cast in Hugh Whitemore's play about the life and work of the poet Stevie Smith that you don't feel so much that she's acting as simply channelling the mid-20th century poet and novelistí. Now Zoe looks set to take audiences in the Capital by storm too.
Stevie is scheduled to run at Hampstead Theatre from 6 March to 18 April 2015. Priority booking for Friends of the theatre opened today; public booking opens on 28 November. For details and to book tickets, please see the theatreís website.
ZoŽ to give one-off performance of Claraís Song, written by Gawn Grainger Ė tickets available
21 November 2014 23:21
ZoŽ is set to play the nineteenth-century German musician and composer, Clara Schumann, when Claraís Song premieres at London's Royal Academy of Arts on 30 November. This one-off performance will celebrate the music of Schubert, Schumann and Brahms.
Clara's Song has been devised by tenor Keith Lewis and written by Zoeís husband, Gawn Grainger. Zoe will provide the spoken word; Keith Lewis will perform several songs; and classical pianist Melvyn Tan will provide musical accompaniment.
For details and to book tickets, see the RAís website.
News round-up: Letís Do Christmas, Alternative Miss World, The River, Christmas concerts and more!
21 November 2014 22:34
The past month or so has generated a whirlwind of news, events and other activities, hence this bumper news round-up!
ZoŽ will appear in an episode of ITVís Let's Do Christmas... With Gino & Mel. Presented by chef Gino D'Acampo and Melanie Sykes, the daytime series will offer TV viewers culinary tips for the festive season, while a range of famous faces lend a hand in the kitchen. Letís Do Christmas... will be broadcast on weekday lunchtimes from 8 December. More details about Zoeís episode to follow.
ZoŽís fans have plenty of opportunity to enjoy some festive cheer while supporting good causes this Christmastime. Iíve previously mentioned that Zoe is due to be a speaker at The Sick Childrenís Trust carol service (4 December; St Marylebone Parish Church). She is now also due to speak at the Asthma UK carol concert (2 December; St Lukeís Church, Chelsea) and the Prostate Cancer UK 'Carols by Candlelight' service (3 December; St Paul's Church, Knightsbridge). Tickets for each of these London events are currently available.
ZoŽís other charity work includes presenting and narrating an awareness film about Leuka, the Leukaemia research charity, and its work. As Leuka explains, this moving film Ďshares the compelling stories of two patients and their loved onesí. It looks at new treatments as well as highlighting the importance of more research.
Last Sunday, ZoŽ was a special guest at The Riverís opening night on Broadway. Other special guests included Anna Wintour, Ivanka Trump and Donna Karan. The drama, by Jez Butterworth, focuses on a new coupleís moonlight visit to a fishing cabin. It is directed by Ian Rickson, and stars Hugh Jackman, Cush Jumbo and Laura Donnelly. For details and photos, see BroadwayWorld, Playbill and TheaterMania.
Earlier this month, ZoŽ was interviewed by fellow actor Paul Clayton as part of The Actors Centreís ĎOff the Recordí series of talks, which are designed to help and inspire the next generation of performers. The event, hosted by the Theatre Royal Drury Lane in London, was a sell-out success. Zoe and Paul were photographed behind-the-scenes shortly before it began. More details to follow.
A couple of days before that, Zoe attended the British Guild of Travel Writers awards dinner, held at The Savoy in London. Shakespeareís Globeís Sam Wanamaker Playhouse was highly commended in the Best UK Tourism Project category. You can see a photo of Zoe accepting this honour, courtesy of the BGTWís Twitter profile.
Going back further, to mid-October, ZoŽ helped to judge The Alternative Miss World 2014 competition, the brainchild of English artist and sculptor Andrew Logan. This spectacular, neon-themed show, which celebrated transformation and self-expression instead of conventional beauty, took place at a packed Shakespeareís Globe. Among Zoeís fellow judges were Fenella Fielding, Daniel Lismore, Zandra Rhodes, Suggs and more. Zoe is pictured alongside Daniel Lismore and Suggs on Twitter. The winner was Miss Zero + (real name Sasha Frolova), who wore a show-stopping latex outfit. For insider insights and photos, see The Globeís blog, David McAlmontís article for Beige Magazine and Nicola Middletonís article for This is Cabaret.
Last but not least is the news that Zoe has lent her voice to food brand Bistoís Together Project advert.
Bisto says the initiative is intended to go a step further than bringing people together round the dinner table Ė it aims Ďto bring even more people together, whatever the barriersí. If youíd like to be in with the chance of Bisto helping to bring you together with someone, you can submit your story through the projectís website.
Thanks to Janet for her help.
New screenshot collection
30 October 2014 23:10
A large new collection of screenshots from some of Zoe's TV roles, including Love Hurts and My Family, is available to view online, thanks to River Song, a digital and screenshot artist.
You can view all of the images on Facebook.
With thanks to River Song for the link.
Site design and original text © 2002 - 2014 www.zoewanamaker.com, unless specified otherwise.
Most images used on this site are the copyright of their photographer, Ms. Wanamaker, and/or the production company of the show. Use of these images is covered under the fair use limitation in the USA, and the fair dealing limitaton in the UK.
This site is a non-commercial endeavour.