'Wanamaker is brilliant' – Constellations reviews and production photos
3 July 2021 17:40
Constellations' press night was held on 1 July at London's Vaudeville Theatre, with Zoë and Peter Capaldi taking to the stage after Sheila Atim and Ivanno Jeremiah (the first two of four casts). As you're probably aware by now, Nick Payne's dazzling 'multiverse' play centres on quantum physicist Marianne and beekeeper Roland. The audience watches multiple versions of the couple's relationship as the story shifts from one universe to another then another then another...
To celebrate the West End opening of Constellations, the Donmar Warehouse (which is staging the show at the Vaudeville) released several beautiful production photos by Marc Brenner (who also took fantastic photos of the cast in rehearsal). They suggest an emotive production filled with intimacy, poignancy and humorous moments. The complexity of the scientific ideas underpinning the story is balanced by the simplicity of the set and costumes.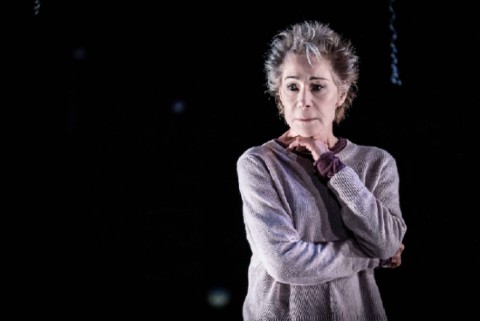 These are my favourite of the Constellations production photos, and you can find others (and larger versions) on the Donmar's Twitter thread, BroadwayWorld UK, London Theatre Direct and WhatsOnStage. Plus, Getty Images has photos of Zoë alongside Peter Capaldi and Michael Longhurst, the play's director.
Zoë and Peter Capaldi spoke to London's Evening Standard newspaper about the importance of bringing plays back to West End audiences following months of theatre closures. 'Theatre is an experience and a shared event, and I think people are really starved of that,' Zoë said.
The need for theatre was humorously highlighted by one of the press night's famous attendees, broadcaster Victoria Coren Mitchell. 'It was so exciting to see a play after so long, like seeing a unicorn,' she quipped.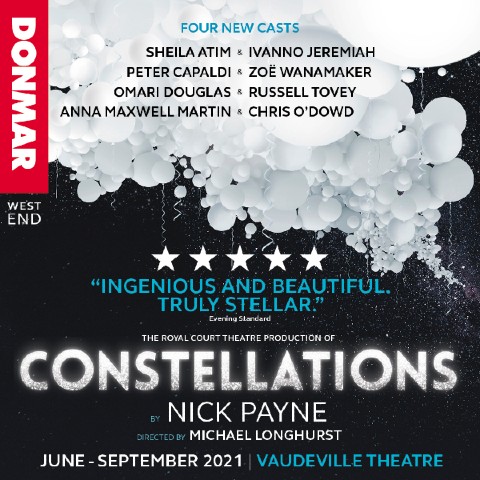 Constellations has received a steady stream of enthusiastic reviews since press night – here are the highlights.
'Wanamaker is brilliant; needy, intelligent, neurotic and desperate for control. As she confronts her own mortality, Wanamaker shows a huge range of emotion, from desperation to quiet acceptance. Capaldi is quieter and more reactive; observing Marianne, often keeping his distance and using a single gesture or word to change the course of a scene.' – Aliya Al-Hassan, BroadwayWorld UK, *****
'In Payne's hauntingly beautiful two-hander, Marianne and Roland meet at a Barbeque and start a relationship. Or maybe they don't. Perhaps that relationship works out, or perhaps it doesn't. Much like Marianne's field of study, this narrative isn't linear. Each scene is replayed multiple times, exploring the different outcomes that each decision (or non-decision) could lead to. [...] [Constellations is] a theatrical experience that is out of this world' – Greg Stewart, Theatre Weekly, *****
'[Constellations] feels alive with ideas, action and fizz, but is balanced with stillness and depth. Changes of scenes (and time-frames) are sometimes indicated simply by a tonal inflection or change of stance [...] [Zoë and Peter Capaldi] bring a meditative quality' – Arifa Akbar, Guardian, ****
'Yesterday's double opening showed the play works as well with young actors, charming Ivanno Jeremiah and the sublime Sheila Atim, as it does with serio-comic veterans Peter Capaldi and Zoe Wanamaker. [...] This is a short, sharp, smart hit of first-class drama, that humanises the randomness of the universe.' – Nick Curtis, Evening Standard, **** (contains plot spoilers)
'It's a play that asks ''what if?'' a hundred times over – while we may ask ourselves that question on a regular basis, we can only ever make our choices once, so it's fascinating to observe all the different plausible outcomes of the multiverse unfold. [...] 'Peter Capaldi and Zoe Wanamaker are both superb in their respective roles' – Chris Selman, Gay Times, ****
'Instead of just portraying characters, they became them [...] Capaldi, dressed in his Shoreditch boho best, was particularly good at conveying male befuddlement. Nobody does exasperated intensity as well as Wanamaker.' – Clive Davis, The Times
'Constellations is short, (bitter)sweet, and brisk; it runs for just 70 minutes. But it packs more of a couple's lifetime into those 70 minutes than many a longer play [...] A play that is an experiment in theatrical form itself becomes a vibrant expression of it.' – Mark Shenton, ShentonStage (contains plot spoilers)
'Constellations is a play told in fractures. Scenes crack apart and remake themselves constantly, a series of possible versions of the romance of Marianne (quantum theory enthusiast) and Roland (bee enthusiast) [...] Sheila Atim and Ivanno Jeremiah burst onstage for the first press performance, followed by Zoe Wanamaker and Peter Capaldi at a more sedate, though no less moving, pace.' – Laura De Lisle, TheArtsDesk.com (contains plot spoilers)
Zoë and Peter Capaldi are set to perform Constellations until 24 July. Tickets to the play are available from Nimax Theatres (which owns the Vaudeville) – but do book asap, if possible, as the run has almost sold out.
Site design and original text © 2002 - 2023 www.zoewanamaker.com, unless specified otherwise.
Most images used on this site are the copyright of their photographer, Ms. Wanamaker, and/or the production company of the show. Use of these images is covered under the fair use limitation in the USA, and the fair dealing limitaton in the UK.
This site is a non-commercial endeavour.