< Back to TV menu
Spy Trap - 'Sale of Work'
(1973)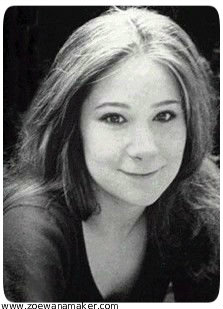 'Sale of Work' is episode seven in the fifteen-part, second series of drama Spy Trap, which is a BBC production. The episode was first broadcast on Tuesday 23 October 1973 (BBC1, 8:15-9pm).
The image is a publicity photo of Zoë, taken around the time the programme was broadcast. (I have been unable to find a photo of her in the programme itself.)
Overview
Spy Trap focuses on the escapades of a group of spies at 'the Department', a (fictional) espionage agency that has been tasked by the British government with protecting national security. 'There's a ruthlessness about this intelligence series,' the Daily Express remarked, 'which gives it a certain edge.'
Zoe has a small role as Muriel in the episode 'Sale of Work', in which the spies investigate suspicious events connected to the art world. The Express explained the premise: 'Barbara Baker (Ann Castle) is a civil servant of unblemished reputation, but since she fell for a suave art critic who travels behind the Iron Curtain, who knows what changes may have come over her?' Commander Ryan, who leads the Department, is investigating a breach of security when he learns of Barbara's romantic attachment. Is she the source of the leak?
Sadly, it is difficult to say more than this about 'Sale of Work' because no copies of the episode are known to have survived, and it appears to have received little press coverage. Appropriately enough for a programme about spies, 'Sale of Work' seems destined to remain an enigma.
Cast
Commander Ryan ... Paul Daneman
Major Sullivan ... Tom Adams
Lieutenant Saunders ... Prentis Hancock
Barbara Baker ... Ann Castle
Freda Gutteridge ... Susan Littler
Nigel Stewart ... William Squire
Sharon Lunghi ... Kate O\'Mara
Mike Gutteridge ... Matthew Long
Carson ... Michael Gwynn
Janice ... Jenny Quayle
Muriel ... Zoe Wanamaker
Pascoe ... Robert Gary

Crew
Writer: Bill Barron
Director: Julia Smith
Producer: Morris Barry
Designer: Stanley Morris
Script Editor: Simon Masters
Series devised by Robert Barr
Notes
In 1973 Zoe made four appearances on TV: 'Sale of Work' was preceded by The Eagle Has Landed, Between the Wars: 'The Silver Mask' and Lorna and Ted. That is more appearances than during any other year of the decade, except for 1978, when she also appeared in four TV programmes.
In press coverage of the series Spy Trap is sometimes written as SpyTrap.
Merchandise
Unfortunately, 'Sale of Work' is not available on DVD or in any other format. Like most of the other episodes of Spy Trap, it is missing from the TV archives.
Related links
Action TV Online: Spy Trap series details
Site design and original text © 2002 - 2023 www.zoewanamaker.com, unless specified otherwise.
Most images used on this site are the copyright of their photographer, Ms. Wanamaker, and/or the production company of the show. Use of these images is covered under the fair use limitation in the USA, and the fair dealing limitaton in the UK.
This site is a non-commercial endeavour.