< Back to Stage menu
Awake and Sing!
(2006)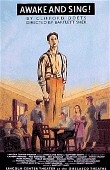 A play by Clifford Odets, performed at the the Belasco Theater, New York: 17 April (previews began 23 March) - 11 June 2006.
Overview
During the Depression, a Jewish immigrant family struggles to survive in the Bronx. Three generations of the Bergers and their lodger, the mysterious Moe Axelrod, live cramped together in an austere apartment.
Matriarch Bessie devotes her formidable energies to maintaining her relatives' security, even if that means restricting their freedoms. She knows, perhaps better than any of the others, how daily toil can frustrate dreams and ambitions. Her weak-willed husband, Myron, offers little comfort.
The couple's pretty daughter, Hennie, has caught Moe's eye and harbours a guilty secret that, once revealed, will ensure the Bergers can never forget the harsh realities of their situation.
Against this grim backdrop, will son Ralph find even a glimmer of hope?
Cast
Moe Axelrod ... Mark Ruffalo
Bessie Berger ... ZoŽ Wanamaker
Hennie Berger ... Lauren Ambrose
Myron Berger ... Jonathan Hadary
Ralph Berger ... Pablo Schreiber
Sam Feinschreiber ... Richard Topol
Jacob ... Ben Gazzara
Schlosser ... Peter Kybart
Uncle Morty ... Ned Eisenberg

Crew
Director: Bartlett Sher
Set Designer: Michael Yeargan
Lighting Designer: Christopher Akerlind
Sound Designers: Peter John Still; Marc Salzberg
Costume Designer: Catherine Zuber
Stage Manager: Robert Bennett
Casting Director: Daniel Swee
General Press Agent: Philip Rinaldi
Development Director: Hattie K. Jutagir
Marketing Director: Linda Mason Ross
General Manager: Adam Siegel
Production Manager: Jeff Hamlin
Notes
ZoŽ drew on her family's Jewish immigrant past when performing Awake and Sing! 'This play means a lot to me', she remarked at the time. 'For me, it's my heritage. It's where I come from'. She added that 'Bessie is a bit like my grandmother', making a new life in the New World (see 'Broadway Buzz' interview).
Moreover, ZoŽ's parents studied acting under the guidance of Lee Strasberg, an original member of the Group Theatre, which first produced Awake and Sing! The play is widely regarded as Clifford Odets's greatest work; the production in which Zoe starred was performed to celebrate the 100th anniversary of the playwright's birth and took place at the same theatre - the Belasco - at which the work premiered during the 1930s.
ZoŽ gave further insight into the way in which she is 'connecting with [her] past' through Awake and Sing! during the American Theatre Wing's Downstage Center interview, as well as during her interview on WNYC radio (scroll down the webpage to find it). While still starring on Broadway, she returned to the American Theatre Wing to discuss stagecraft in more general terms, as part of panel discussion 'Actors on Performing'.
With her husband Gawn Grainger, ZoŽ and her Awake and Sing! colleagues celebrated at the opening night After Party. Photos from the event can be seen on Zimibio, Patrick McMullan Company, FilmMagic, and Broadway.com.
The cast impressed theatregoers and critics alike, winning Outstanding Ensemble at the Drama Desk Awards in 2006. Zoe and her colleagues were photographed at the award nominees' cocktail reception by Broadway.com, Broadway World, and Playbill. They also appear in Broadway World's photo coverage of the awards ceremony itself.
As was the case with her Broadway appearances in Piaf (1981), Loot (1986), and Electra (1998), ZoŽ received a Tony Award nomination for Awake and Sing! Her performance as Bessie led to her being shortlisted for Best Featured Actress in a Play in 2006; she was pictured at the nominees' press call by Broadway World. Awake and Sing! received a further seven Tony nominations, winning Best Revival of a Play and Best Costume Design of a Play.
Zoe was among a number of British actors on the American stage whose talents were recognised by the 2006 Tony judges, leading the Guardian to declare that 'British Talent Grabs Limelight in Tony Nominations'. When considering reasons for the British success, the Observer's Matt Wolff cited the 'expertise honed over time that a nominee like Awake and Sing! star Zoe Wanamaker brings to her work' as one of the most important factors.
The Tony nomination must have been particularly special for ZoŽ, as a performer raised in England, returning to the place of her birth to star in Awake and Sing!, and for the first time playing an American role in front of an American audience.
Press coverage
News
'Gazzara and Wanamaker to Headline Awake and Sing! Revival at Belasco' - Broadway.com
'Lauren Ambrose, Ben Gazzara, Zoe Wanamaker to Star in Lincoln Center's Awake and Sing!' - Playbill
'Cast announced for Awake and Sing!' - Monsters and Critics
'Photo Flash: Awake and Sing! in Previews' - Broadway World
'Awake and Sing! Opens Today' - Monsters and Critics
'Brits compete for Broadwayís Tony Awards' - The Stage
Reviews
Awake and Sing! is 'heaven in three acts', enthused Broadway World's Michael Dale. 'ZoŽ Wanamaker gives one of the Broadway season's finest performances' as the Berger family matriarch, he added. In this 'outstandingly cast revival', Zoe is 'especially memorable', agreed Elyse Sommer in CurtainUp. She plays Bessie 'with captivating flintiness', remarked Charles Isherwood in the New York Times. As Jerry Tallmer wrote expressively in the Downtown Express, her 'performance [is] as solid as a Rodin sculpture with warm blood running in its veins'. The Seattle Times's Misha Berson was particularly impressed to see Bessie 'portrayed in many shades of fury and grief by the great Wanamaker'. Simon Saltzman, writing for US1, concluded that 'Wanamaker is perfection' in the role. Numerous other positive reviews include: Howard Kissel in NY Daily News, Elysa Gardner in USA Today, Fran Heller in Cleveland Jewish News, Everett Evans in the Houston Chronicle, Matt Palm in the Orlando Sentinel, Anne Marie Welsh for the Union-Tribune, David Cote in Time Out, The Playgoer blog, and Russell Bouthiller for Broadway Beat. Roma Torre's review for NY1 News includes video clips of the production.
Merchandise
Waiting for Lefty and Other Plays: Awake and Sing!, Till the Day I Die, Paradise Lost, Golden Boy, and Rocket to the Moon by Clifford Odets
Related links
Awake and Sing! production photos and director's commentary - New York Times
Awake and Sing! production photos and information - Lincoln Center Theater (the play's producers)
Awake and Sing! production photos - Playbill
Awake and Sing! production information - IBDB
Site design and original text © 2002 - 2022 www.zoewanamaker.com, unless specified otherwise.
Most images used on this site are the copyright of their photographer, Ms. Wanamaker, and/or the production company of the show. Use of these images is covered under the fair use limitation in the USA, and the fair dealing limitaton in the UK.
This site is a non-commercial endeavour.