Bid for Zoƫ's All My Sons poster in Mousetrap charity auction
19 May 2022 14:55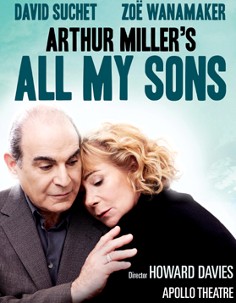 Zoƫ has donated a fantastic signed piece of memorabilia to Mousetrap Theatre Projects, of which she's long been a patron, to help the charity raise vital funds to continue making theatre more accessible to young people. (She described Mousetrap as 'the most wonderful charity' during a Q&A session at a fundraising event several years ago.) The item, a poster given to Zoe when she starred in the 2010 West End revival of Arthur Miller's All My Sons - lauded by the Telegraph as 'a stunning production of a modern classic' - is among the amazing lots you can bid for in Mousetrap's 25th Anniversary Gala Auction.
The beautiful framed poster features Zoƫ and her All My Sons co-star David Suchet, best known as TV's Hercule Poirot. Suchet has signed it and dedicated a heartfelt message to Zoe, as have the rest of the cast. Zoe has autographed the back of the frame to make the item even more special.
If you'd like to be in with the chance of owning this incredible piece of theatre history, you can bid online until 25 May, knowing that you're helping one of Zoƫ's favourite charities.
And if you missed All My Sons at the theatre or want to refresh your memory of this multi-layered, compelling play about grief and secrets, head over to Digital Theatre, where you can watch it online.
Site design and original text © 2002 - 2023 www.zoewanamaker.com, unless specified otherwise.
Most images used on this site are the copyright of their photographer, Ms. Wanamaker, and/or the production company of the show. Use of these images is covered under the fair use limitation in the USA, and the fair dealing limitaton in the UK.
This site is a non-commercial endeavour.