Constellations Ė now streaming until the end of January!
8 January 2022 03:37
Last summer, ZoŽ and Peter Capaldi brought Nick Payneís Constellations to dazzling life in Londonís West End. The Donmar Warehouse's acclaimed production, which also starred three other casts, has since been named one of the top ten shows of 2021 by Theatre Weekly.
ĎExceptional performances from Sheila Atim and Ivanno Jeremiah, Peter Capaldi and ZoŽ Wanamaker, Omari Douglas and Russell Tovey, and Anna Maxwell Martin and Chris OíDowd made this one of the must-see theatre events of the year,í says the magazine.
The Stage and WOS Awards nominations
The actors, director Michael Longhurst and the rest of the talented team behind this revival of Constellations are celebrating other accolades too.
- The show has been nominated for Innovation of the Year in The Stage Awards 2022, thanks to its multi-cast format. (Weíll find out if itís been chosen as the winner of the award on 31 January.)
- Constellations has also earned a nomination for Best Play Revival in the 22nd Annual WhatsOnStage Awards. You have until 21 January to vote for your favourites in the latter.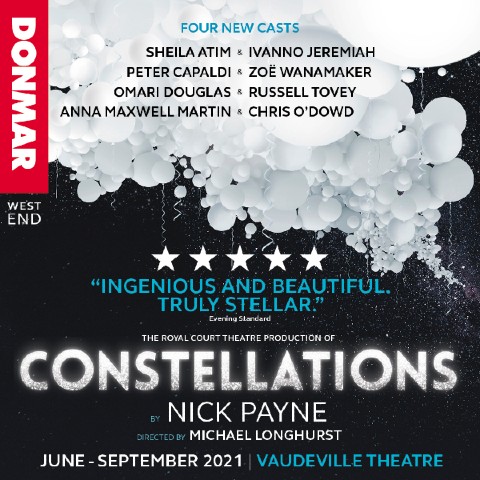 Another chance to watch 5* Constellations
What better way to celebrate Constellationsí success than by watching ZoŽ as quirky quantum physicist Marianne fall in (or out of or back in) love with Peter Capaldiís awestruck beekeeper, Roland?
The production was filmed during its run at the Vaudeville Theatre (where it broke box-office records) and originally made available to stream late last year via the Donmar On Demand website. Now, Iím thrilled to say the Donmar has made Constellations available to stream again worldwide until 31 January Ė with 50% off the price! You can rent one version for 24 hours or all four for 14 days (i.e. the same play performed by the four different pairs of actors Ė a chance to compare, contrast and marvel).
The Reviews Hub gives ZoŽ and Peter Capaldi's filmed version of Constellations a five-star rating and highlights the endearing Ďmature playfulnessí she and her co-star bring to their portrayal of Marianne and Roland. ĎCapaldi is sometimes quick to explode, but so too is he funny and tender. Wanamaker can be self-protective and spiky but also sweetly mischievous. Itís a delightful pairing that makes much of the bittersweet tone of the piece,' the review concludes.
This utterly original play presents multiple versions of the charactersí relationship. Itís a story full of possibilities Ė and rewards multiple viewings. So whether you watched Constellations live, streamed it last year or will stream it this January, youíre sure to enjoy your journey through the multiverse...
Site design and original text © 2002 - 2022 www.zoewanamaker.com, unless specified otherwise.
Most images used on this site are the copyright of their photographer, Ms. Wanamaker, and/or the production company of the show. Use of these images is covered under the fair use limitation in the USA, and the fair dealing limitaton in the UK.
This site is a non-commercial endeavour.