Three new BBC radio collections featuring ZoŽ
7 November 2021 23:54
The BBC has joined forces with publisher Penguin to release three collections of archive radio programmes featuring ZoŽ.
This is particularly exciting news because the recordings are rare (to the best of my knowledge, some were previously only available from the British Library) and encompass a diverse range of genres.
Plus, who doesnít like listening to ZoŽís fantastic voice?!
Such Rotten Luck: Series 1 & 2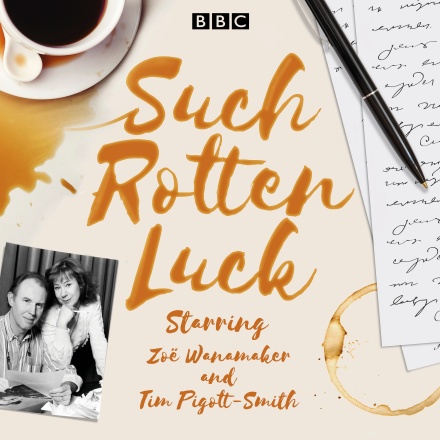 Such Rotten Luck: Series 1 & 2 includes all 12 episodes of Ronald Haymanís witty, wonderfully bizarre Radio 4 comedy-drama, starring ZoŽ and Tim Pigott-Smith. The directors were Piers Plowright and Paul Schlesinger.
Originally broadcast in 1989 and 1991, Such Rotten Luck chronicles the ups and downs of a struggling, second-class writer, Woodhouse, whoís prone to flights of fancy, and his pragmatic, increasingly exasperated wife, Gila. (As a second-class writer myself, I have to admit that the programme rings painfully true!)
Woodhouse tries his hand at everything from penning the life story of an obscure German novelist to song-writing sessions with sidekick Seamus (played by Stephen Rea). By the second series, Woodhouse and his wife are preparing for parenthood, but his head is still in the clouds Ė and Gilaís patience is wearing thin...
Although Such Rotten Luck is occasionally repeated on Radio 4 Extra (it was most recently broadcast in 2020), this is the first time itís been available to buy. The collection has a suggested price of £13. You can listen to a clip from the start of episode one via Audible.
David Hare: A BBC Radio Drama Collection
One of Britainís leading playwrights is celebrated with David Hare: A BBC Radio Drama Collection, which features full-cast productions of eight of his plays.
Among them is Radio 3ís 1987 version of The Bay at Nice, directed by Richard Wortley. ZoŽ and Irene Worth play two Russian women: the unfulfilled wife of a bureaucrat, Sophia Yepileva, and her formidable mother, Valentina Nrovka, respectively.
ZoŽ and her co-star had first performed the play at Londonís National Theatre the previous year. It takes place in 1956 at Leningrad Art Museum, where the assistant curator has asked Valentina to authenticate a painting with the same title as the play itself. Could the picture be the work of Matisse, the legendary artist Valentina met during her carefree days in Paris?
Valentina eventually exchanged her bohemian lifestyle for the communist regime. Now Sophia must decide whether to give up her material comforts for love.
David Hare: A BBC Radio Drama Collection will be released on 25 November. The suggested price is £13.
Patricia Highsmith: The BBC Radio Collection
Patricia Highsmith (1921-1995) was an American author with a reputation for crafting taut psychological thrillers, including Strangers on a Train. Patricia Highsmith: The BBC Radio Collection is billed by Penguin as Ď[t]he definitive collection of dramatisations and readings of Patricia Highsmithís finest fictioní.
It includes ZoŽís reading of an abridged, ten-part version of Carol, the authorís tender yet unsettling 1952 lesbian romance novel also known as The Price of Salt. The programme was first broadcast in 1991, shortly after the novel had been reissued, and aired as part of Radio 4ís popular A Book at Bedtime series.
ĎNineteen-year-old Therese is an aspiring stage designer. Carol is older, sophisticated, beautiful and married. When they meet by chance in a crowded store at Christmas, their passionate love affair begins,í explained the Radio Times back in 1991.
Patricia Highsmith: The BBC Radio Collection will be released on 27 January. The suggested price is £16.
Where to buy these audio downloads
You can buy (or pre-order) the collections mentioned above from Hive, Kobo, Audible and Amazon. Please bear in mind theyíre audio downloads rather than CDs.
Happy listening!
Site design and original text © 2002 - 2022 www.zoewanamaker.com, unless specified otherwise.
Most images used on this site are the copyright of their photographer, Ms. Wanamaker, and/or the production company of the show. Use of these images is covered under the fair use limitation in the USA, and the fair dealing limitaton in the UK.
This site is a non-commercial endeavour.