Watch Constellations at home – streaming now
4 November 2021 01:40
Journey through the multiverse without even having to leave your home – Constellations is available to watch on demand worldwide until 29 November, thanks to the Donmar Warehouse's new streaming service.
Watch Zoë and Peter Capaldi take to the stage at London's Vaudeville Theatre (where the play broke box office records this summer) as quantum physicist Marianne and beekeeper Roland and explore multiple, compelling versions of the characters' relationship. You can rent the production for 24 hours for just £15.
Alternatively, explore multiple versions of Nick Payne's dazzling multiverse play by renting all four casts' productions of Constellations, all of which were directed by Michael Longhurst and seen at the Vaudeville. That means you'll be able to watch Zoë and Peter Capaldi, Sheila Atim and Ivanno Jeremiah, Omari Douglas and Russell Tovey, as well as Anna Maxwell Martin and Chris O'Dowd. This option costs more – £40 – but gives you 14 days' access.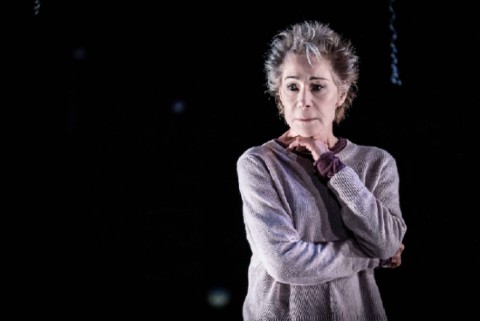 The fact that anyone can now enjoy Constellations digitally when so many fans were unable to come to the theatre in person due to Covid-related travel restrictions is certainly something to celebrate.
And if you were lucky enough to see the play performed live, why not take a trip back to the multiverse by watching it on demand too? That's what I'm hoping to do, not least because hearing the actors speak the dialogue softly rather than projecting their voices to audiences in the theatre will surely bring a whole new dimension to this multiverse play.
Fans of Zoë and her co-star are full of praise for the acting, the production and the way it's been filmed for the Donmar On Demand service.
'I just watched Constellations, Peter Capaldi and Zoe Wanamaker are absolutely fantastic' – @Tempus_Fugit0
'Okay, so I watched #Constellations like... 4 times in my 24 hours period and it hits so hard! @ZoeWanamaker and #PeterCapaldi are just sooo good and the camera work is top notch. Thank you @DonmarWarehouse for releasing this gem.' – @StrangeSeaWolf
'#Constellations was wonderful. #PeterCapaldi and #ZoëWanamaker were magical and heartbreaking together.' – @AmandaDebaser
Don't miss out – Constellations on demand is only available until 29 November.
Site design and original text © 2002 - 2022 www.zoewanamaker.com, unless specified otherwise.
Most images used on this site are the copyright of their photographer, Ms. Wanamaker, and/or the production company of the show. Use of these images is covered under the fair use limitation in the USA, and the fair dealing limitaton in the UK.
This site is a non-commercial endeavour.