Interviews galore – Zoë's thoughts on Britannia and more
1 October 2021 21:15
Having done battle with my scanner (how can it be offline if the little blinky light is blinking?!), I'm pleased to present a round-up of recent interviews.
Woman's Weekly cover star
Here's Zoë on the cover of Woman's Weekly (31 August 2021 issue). The magazine describes her as 'a poster girl for staying young at heart'. Lovely – and true!
Less than lovely was the British weather when Zoë filmed Britannia series three (which is currently available to stream via Sky and other platforms around the world) in 2020. 'We had the worst winter ever [...] outside in the mud and rain and snow and ice,' she tells the magazine.
But not even those harsh conditions could stop Zoe from enjoying her work on the epic historical drama and spending time with her co-stars, who include Eleanor Worthington-Cox and Julian Rhind-Tutt. As she makes clear, 'the doing of it is always wonderful'.
Click on the images to see larger versions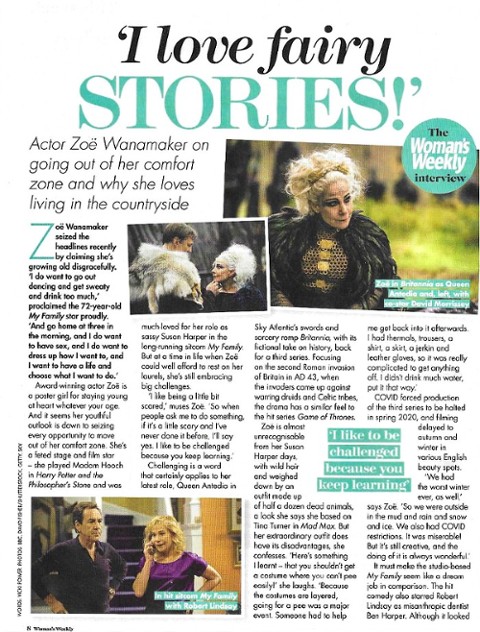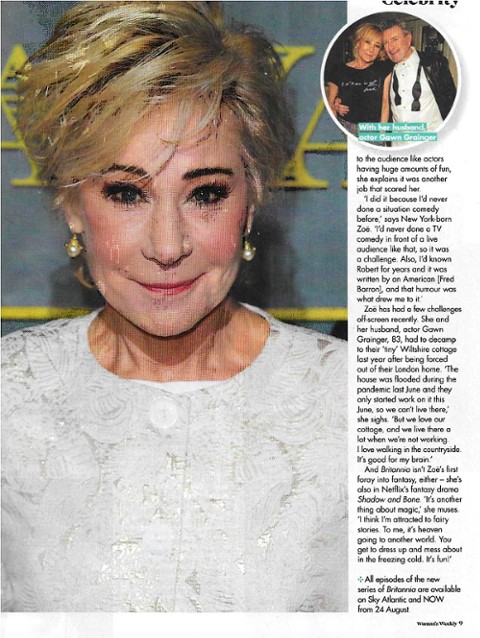 Insights about Queen Antedia in Yours
'Zoë rules Britannia!' declares Yours magazine (24 August – 6 September 2021 issue). Quite right too!
'I think I'm attracted to mystical stories such as Britannia and roles that scare me a bit. To me it's heaven, going to another world,' Zoë explains.
Her formidable character, Queen Antedia, is never short of insults, much to the enjoyment of fans. 'There's more to her than her colourful language and being hell-bent on revenge, though. She has a backstory and, in this series, we get to see her more vulnerable side. Yes, she's very angry but there's got to be a three-dimensional person there,' Zoë asserts.
Antedia's character development is surely one of the key reasons why the third season is so compelling.
Click on the images to see larger versions
Chatting about Constellations in Good Housekeeping
Zoë was interviewed for the August 2021 issue of Good Housekeeping magazine shortly before starring in the dazzling West End show Constellations with Peter Capaldi.
Her enthusiasm is clear: 'The play is intense, it is funny and touching, it's all you could want in a piece of work.' She adds that she 'was really terrified by it' – if you saw the production, you'll know this love story across the multiverse doesn't shy away from complexity!
The fact Zoë rose to the challenge of performing Constellations suggests, as the magazine points out, she's 'inherited the same determination as her father [Sam Wanamaker], who famously spent years raising funds to build Shakespeare's Globe in Southwark, yards from the site of the original theatre'. 'It's a monument to one man's incredible belief,' Zoë emphasises.
Click on the images to see larger versions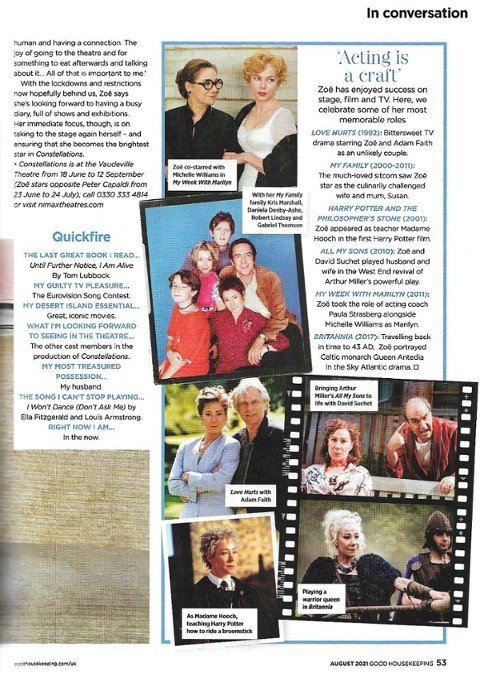 Childhood TV favourites in the Guardian
Zoë has spoken to the Guardian about the kind of TV shows she enjoyed as a child – the interview is part of the newspaper's 'Watched with Mother' section.
With her mum, Zoë watched the hugely popular 1950s US sitcoms I Love Lucy (starring Lucille Ball) and The Phil Silvers Show. 'It was such a delight to watch these shows with her and hear her giggle,' she recalls.
'Watching them was like getting an insight into my parents' backgrounds and into where I came from [...] I suppose it was a kind of Jewish American humour and that was what I was brought up on,' Zoë explains.
These classic series made a big impression on her and helped to shape her career. 'The quickness of [the actors'] wit really influenced me as a child and it meant I knew I wanted to act from a very young age'.
Zoë found echoes of her childhood TV favourites in the sitcom she herself starred in, My Family, which was the brainchild of the US writer and producer Fred Barron. In Zoe's words, 'the humour seemed to hark back to this type of naughty yet somehow gentle comedy'.
This is a great little interview – and it's wonderful to see so much love for Zoë in the comments section :)
Back to 1994 for a Big Breakfast
In addition to all these recent interviews, a gem from the TV archives has turned up on YouTube. Let's take a trip back to 1994, when Zoë was a special guest on Channel 4's bright and breezy The Big Breakfast. Although it's a pity the start of the interview is missing from the recording, the video is still a fantastic watch.
Looking very relaxed, she talks to Paula Yates about Love Hurts – the TV drama's last series aired that year and saw Tessa and Frank becoming parents. ('Are babies easy to work with?' asks Yates. 'No!' jokes Zoe.)
Zoë also discusses entertaining – and shocking – theatregoers in Dead Funny, an acclaimed, darkly comic play about British attitudes towards sex and marriage. 'We get at least a couple of people walking out in the first ten minutes of the show,' she smiles.
Site design and original text © 2002 - 2022 www.zoewanamaker.com, unless specified otherwise.
Most images used on this site are the copyright of their photographer, Ms. Wanamaker, and/or the production company of the show. Use of these images is covered under the fair use limitation in the USA, and the fair dealing limitaton in the UK.
This site is a non-commercial endeavour.