News round-up: Donmar to stream Constellations (soon!), ZoŽ to appear at BFI Prime Suspect event, and more
16 September 2021 05:14
Watch Constellations online worldwide
If youíre one of the many ZoŽ Wanamaker and Peter Capaldi fans who were unable to travel to London for Constellations this summer, you probably fear youíve missed out on an amazing experience. But fear not Ė you can still journey through the multiverse! And if you were fortunate enough to watch Constellations live, get ready to relive it!
The Donmar has announced that its revival of Nick Payneís hit play was filmed and will be available to stream worldwide in October via the theatreís brand new On Demand service.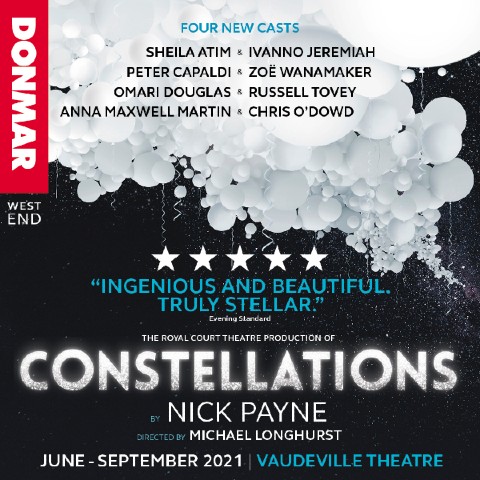 The release date hasn't been confirmed yet. But what we do know is that viewers worldwide will be able to rent Constellations, in which ZoŽ plays a quantum physicist and Peter Capaldi a beekeeper who fall in love (or donít Ė the play explores multiple versions of their relationship), for £15 and enjoy 24 hoursí access. Alternatively, rent all four productions (the other casts are: Sheila Atim and Ivanno Jeremiah; Omari Douglas and Russell Tovey; Anna Maxwell Martin and Chris OíDowd) for £40 and receive extended access.
The latter option will give you the chance to compare and contrast, as youíll see four pairs of actorsí interpretations of the same text. Whatís more, audio-described and captioned versions will be available.
This fantastic news comes hot on the heels of the playís final performance, which took place on 12 September with Anna Maxwell Martin and Chris OíDowd. At the end of the night, all the actors (with the exception of Ivanno Jeremiah) appeared on stage together for the first time and received rapturous applause. See if you can spot ZoŽ and Peter Capaldi in the Donmarís short video. There are some great photos from Constellationsí grand finale on Twitter and Getty Images.
BFI celebrates 30 years of Prime Suspect
Can you believe itís now 30 years since Prime Suspect I was first broadcast? The ground-breaking, award-winning drama paved the way for gritty, female-led detective series.
ZoŽ gives an unforgettable performance as Moyra Henson, the tough-talking partner of George Marlow. Heís a seemingly ordinary bloke who Helen Mirrenís DCI Jane Tennison suspects has committed a series of horrific murders. She just needs to prove it, and Moyra isnít budging an inch...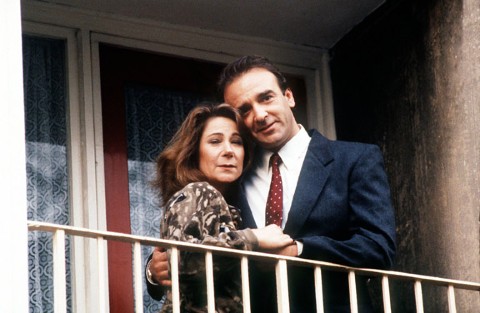 To celebrate Prime Suspectís 30th anniversary, the British Film Institute in London will be screening the first series in full then hosting a 90-minute Q&A event this Sunday, 19 September. For the Q&A, ZoŽ will join the showís trailblazing creator, Lynda La Plante, and John Bowe (who played Marlow) on stage. Interviewing them will be film and TV expert Matthew Sweet.
For details and to book tickets, visit the BFI website.
My Family is back on BBC One
From one TV favourite to another Ė and this one wonít give you nightmares! My Family series two has made a welcome return to BBC One, 20 years after it originally entertained UK viewers. Catch it on Tuesdays at 8:30 pm. Plus, all eleven series are still available on the iPlayer.
Fundraising campaign for Afghan women
In the light of recent events in Afghanistan, ZoŽís PA, Vanessa, has asked me to highlight an urgent fundraising campaign organised by ZoŽís friend, Baroness Helena Kennedy, who heads the International Bar Associationís Human Rights Institute.
Baroness Kennedyís campaign aims to raise £20,000 to support female judges, lawyers, womenís rights activists, human rights defenders and their families seeking to resettle from Afghanistan. Donations will fund food, shelter, transportation, visa costs and resettlement assistance.
At the time of writing, the campaign has just crossed the halfway mark in relation to its fundraising target. If youíd like to support it, you can donate on GoFundMe.
Site design and original text © 2002 - 2022 www.zoewanamaker.com, unless specified otherwise.
Most images used on this site are the copyright of their photographer, Ms. Wanamaker, and/or the production company of the show. Use of these images is covered under the fair use limitation in the USA, and the fair dealing limitaton in the UK.
This site is a non-commercial endeavour.