Queen Antedia rules Britannia series 3 – streaming worldwide
7 September 2021 02:27
The highly anticipated third series of Britannia is now available to stream. You can watch all eight eye-popping episodes on Sky or NOW in the UK, as well as on many other streaming services worldwide. Check out the trailer for the kooky, gory historical epic above for a taste of the wild ride season three will take you on... The Financial Times sums it up in one word: 'Genius.'
Having binged all of the new episodes in just two days, I must say that Britannia III packs a phenomenal punch. You'll be gripped from the get-go. And you know what else is phenomenal? Zoë's performance as Antedia, the deposed queen of the Regni tribe, who was last seen caged and being sold at auction in series two.
Antedia makes her series three debut in the second episode. I wonÂ't give too much away in case you havenÂ't seen it, but sheÂ's soon plotting to win back her freedom. Revenge is most definitely on the cards.
As Zoë explains on MemorableTV.com:
'Antedia was a killer, at the top of her game, but she's been betrayed in every way so she's got a journey ahead of her. She feels like she's been let down by the gods, and those she trusted and put her faith in. Now she's trying to find her way back.'
AntediaÂ's alliance with the chosen one
The warrior queen has a trick or two to teach young Cait (who, as ancient Britain's 'chosen one', often has the weight of the world on her shoulders), played brilliantly by Eleanor Worthington-Cox. Zoe says of her co-star, 'She's extraordinary. She was working every day, and she's so young. Her journey from the first series to now is fascinating.' She adds: 'Antedia sees a lot of herself in Cait, and she's also without a tribe, and she's found a soulmate on another trajectory.'
Antedia and Cait are a dangerous duo, capable of pulling the wool over even the Roman invaders' eyes. Their scenes together are my favourites in the whole season – sparking and fizzing with verve and energy. But it's not all fun and high jinks: there's a seemingly impossible mission to try and complete. 'Are we all going to die? The thought had crossed my mind,' Antedia says ominously, as you'll see in the trailer.
Multi-layered portrayal of Queen Antedia
What's more, season three gives the former Regni leader a great deal more character development than the previous seasons. 'Well, there's got to be something more to her than swearing!' Zoë quips. 'There's got to be a three-dimensional person there.'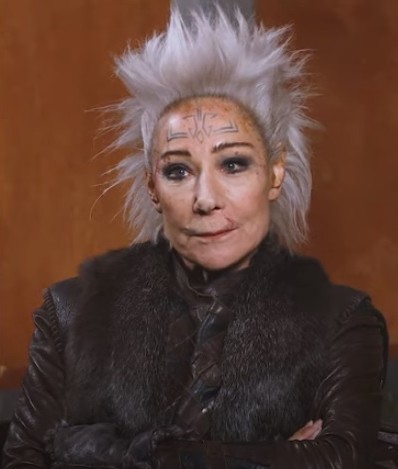 Her multi-layered portrayal of Antedia has captured the attention of plenty of season threeÂ's viewers, as highlighted by this selection of comments on Twitter.
'Zoe Wanamaker especially is incredible' – @faceofboe
'@ZoeWanamaker is just awesome' – @Estelley77
'@ZoeWanamaker by far one of, if not the star of the show for me!' – @denisegregory10
Behind the scenes of Britannia III
Check out the dialogue teasers from SpoilerTV.com and see if you can guess who says, 'Hello, pretty boy,' and which returning character she's talking to!
BritanniaÂ's third season is a tremendous achievement, not least because so much of the filming took place during the pandemic and in harsh weather. For behind-the-scenes insights, take a look at the making of Britannia season three video just released by Sky.
Britannia series three on DVD
If you'd like a physical copy of the new episodes, you'll be pleased to hear that Britannia series three will be released on Region 2 DVD, though the release date hasn't yet been announced. I'm hoping the DVD might include an extended version of the 'making of' video.
As Zoë remarks in that video, 'There's nothing like it.' Britannia III has a magic all of its own.