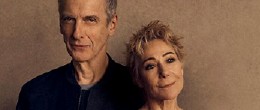 West End hit Constellations, starring ZoŽ as quantum physicist Marianne and Peter Capaldi as beekeper Roland, is available to watch online. You can rent it half-price from Donmar On Demand until 31 January.
ZoŽ plays Baghra, a stern teacher, in this major new fantasy series based on Leigh Bardugoís bestselling Grishaverse novels. Streaming now on Netflix.
The third series of Sky Atlantic's epic drama about the Romans invading ancient Britain stars ZoŽ as vengeful Queen Antedia. Streaming now on Sky, NOW and other services.
Shadow and Bone: new clip featuring ZoŽ, online premiere event and first reviews
22 April 2021 14:17
In anticipation of tomorrow's release of the Netflix Shadow and Bone fantasy series, we're being treated to another compelling look at formidable Baghra's training sessions with Alina. Head over to Twitter, where spoken and written word app Scribd has shared the exclusive video, featuring Zoe and Jessie Mei Li.
For even more Shadow and Bone content, you can watch the Sneak Peak Premiere Event on YouTube. It starts at midnight tonight (UK time) and will be broadcast simultaneously in other countries too. The event will feature cast members, behind-the-scenes moments, exclusive clips and a 10-minute preview of episode one.
The epic show has already garnered a number of encouraging reviews. For example, Variety emphasises that Shadow and Bone 'creates a smart, immersive world', and Den of Geek says it 'brings the magic'.
The Hollywood Reporter's review, while less enamoured with the series overall, remarks that Jessie Mei Li enjoys 'great scenes with ZoŽ Wanamaker as her strict tutor, and having an actress of Wanamaker's stature even in a minor role offers a big boost of credibility to the entire series'.
Roll on 23 April!
Site design and original text © 2002 - 2022 www.zoewanamaker.com, unless specified otherwise.
Most images used on this site are the copyright of their photographer, Ms. Wanamaker, and/or the production company of the show. Use of these images is covered under the fair use limitation in the USA, and the fair dealing limitaton in the UK.
This site is a non-commercial endeavour.