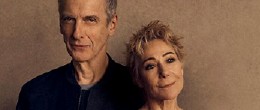 West End hit Constellations, starring ZoŽ as quantum physicist Marianne and Peter Capaldi as beekeper Roland, is available to watch online. You can rent it half-price from Donmar On Demand until 31 January.
ZoŽ plays Baghra, a stern teacher, in this major new fantasy series based on Leigh Bardugoís bestselling Grishaverse novels. Streaming now on Netflix.
The third series of Sky Atlantic's epic drama about the Romans invading ancient Britain stars ZoŽ as vengeful Queen Antedia. Streaming now on Sky, NOW and other services.
BBC Radio 2 interview: ZoŽ and Peter Capaldi to discuss Constellations on 23 April
21 April 2021 19:01
Set your alarm clocks for Friday morning, folks!
ZoŽ and her Constellations co-star, Peter Capaldi, will be special guests on the 23 April edition of BBC Radio 2ís Zoe Ball Breakfast Show. Theyíll chat about preparing for this summerís West End revival of Nick Payneís cosmology-inspired, smash-hit play (for which tickets are on sale from Nimax Theatres).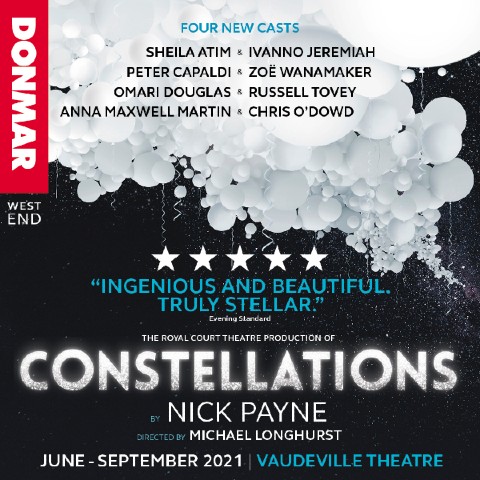 So thatís ZoŽ-with-dots-over-the-Ďeí being interviewed by Zoe-without-dots-over-the-Ďeí at some point between 6:30 and 9:30 am (the exact time isnít specified in the programme information, so weíll just have to play it by ear).
Incidentally, the Netflix Shadow and Bone fantasy series ZoŽ filmed just over 12 months ago will be released on Friday. Perhaps thatíll be discussed too.
If you miss the interview or want to listen again, itíll be available on the BBC website shortly after it airs.
Thanks to @Tempus_Fugit0, via Twitter, for the link to the programme information.
Site design and original text © 2002 - 2022 www.zoewanamaker.com, unless specified otherwise.
Most images used on this site are the copyright of their photographer, Ms. Wanamaker, and/or the production company of the show. Use of these images is covered under the fair use limitation in the USA, and the fair dealing limitaton in the UK.
This site is a non-commercial endeavour.