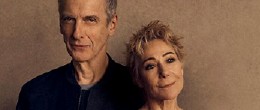 West End hit Constellations, starring Zoë as quantum physicist Marianne and Peter Capaldi as beekeper Roland, is available to watch online. You can rent it half-price from Donmar On Demand until 31 January.
Zoë plays Baghra, a stern teacher, in this major new fantasy series based on Leigh Bardugo's bestselling Grishaverse novels. Streaming now on Netflix.
The third series of Sky Atlantic's epic drama about the Romans invading ancient Britain stars Zoë as vengeful Queen Antedia. Streaming now on Sky, NOW and other services.
News round-up: BBC and Independent interview Zoë; reasons to be a fan; special event for drama students
21 April 2021 18:40
Zoë's insights into Prince Philip's Globe patronage
On the eve of Prince Philip's funeral, Zoë appeared on a special BBC One programme, HRH The Duke of Edinburgh Remembered, to discuss his decades-long involvement with Shakespeare's Globe as royal patron.
Speaking to presenter Huw Edwards, Zoë shed light on Prince Philip's friendship with her dad, who founded the extraordinary theatre on London's South Bank. 'I think the reason Sam Wanamaker, my father, got on so well with him is because they were tenacious people'.
Like its founder, Prince Philip 'was very, very passionate about the Globe,' Zoë emphasised.
As a result, the Queen's late husband certainly wasn't a patron in name only. In Zoe's words, 'he was always enthusiastic and always there'.
The brief interview, which begins about 49 minutes into the programme, is available on the BBC iPlayer.
Zoë discusses 'extraordinary' arts in the Independent
'The sciences and the arts are the lifeblood of a country,' Zoë emphasises in an excellent interview with the Independent newspaper, published on 18 April.
With live performances thin on the ground for much of the pandemic, the arts sector has really struggled (hence Zoë's support for the Theatre Artists Fund). Thankfully, there are plans to reopen venues, with Zoe herself set to star in Constellations in the West End.
'She lights up when we discuss theatre's return', the interviewer, Isobel Lewis (who has said on Twitter that speaking to Zoë 'was a joy'), points out. For Zoë, the arts are 'extraordinary' and should be celebrated.
The interview covers much more besides, from appearing in Netflix's 'intriguing' Shadow and Bone fantasy series to having the courage to speak out 'if something's not comfortable' when you're working.
You can read it in full on the Independent's website.
BBC America's 10 Reasons to Celebrate Zoë
In anticipation of Zoë appearing in the Netflix Shadow and Bone fantasy series being released on 23 April, BBC America has drawn up a rather wonderful list 'to celebrate this award-winning and prolific actress'.
'10 Reasons We're Huge Fans of Zoë Wanamaker' highlights some of her most famous TV shows (My Family, Agatha Christie's Poirot, Doctor Who, Killing Eve), acclaimed stage work (such as The Cherry Orchard), the fact her father, Sam Wanamaker, founded Shakespeare's Globe, and more.
One of my favourite reasons in the article is that 'She has a magnificent actor's voice'. Absolutely!
Zoë offers advice to Central drama students
As you may know, Zoë trained at the Central School of Speech and Drama in London, graduating in 1970.
On 14 April, she was invited to take part in a special online event for the Class of 2020 and 2021, as part of Central's support programme for emerging graduates.
Zoë discussed her career on stage and screen, answered students' questions and offered advice. No doubt her input is particularly welcome at the moment; this is clearly a very challenging time for drama students and the acting industry in general.
As the event was run exclusively for Central's emerging graduates, there's no video or transcript available to the public. However, Central's blog features a lovely message from Zoë to the students who were involved:
'It was a pleasure to speak with Central's students and graduates, look back on my time at Central in 1970, and offer some words of advice to help them address some of the new challenges being faced in 2021, and beyond. I have no doubt that they'll go far!'
In his own message, Central's Dr Joshua Abrams highlights Zoë's 'fabulous storytelling' and emphasises that everyone was 'utterly charmed by her presence'.
With thanks to @Lost_In_Films_ for the heads-up about the TV interview
Site design and original text © 2002 - 2022 www.zoewanamaker.com, unless specified otherwise.
Most images used on this site are the copyright of their photographer, Ms. Wanamaker, and/or the production company of the show. Use of these images is covered under the fair use limitation in the USA, and the fair dealing limitaton in the UK.
This site is a non-commercial endeavour.