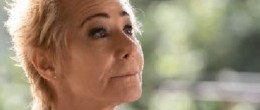 ZoŽ plays the enigmatic Watt in this sci-fi series about an alien, Faraday, who comes to Earth on a mission to save his home planet. Streaming now on Showtime (US).
ZoŽ plays Baghra, a stern teacher, in this major new fantasy series based on Leigh Bardugoís bestselling Grishaverse novels. Series one is streaming now on Netflix and series two recently wrapped.
The third series of Sky Atlantic's epic drama about the Romans invading ancient Britain stars ZoŽ as vengeful Queen Antedia. Streaming now on Sky, NOW and other services.
Shadow and Bone author Leigh Bardugo praises ZoŽ's 'exceptional' performance
14 April 2021 10:02
There are fewer than ten days left to wait until the Netflix Shadow and Bone adaptation is released. Recent comments by Leigh Bardugo, who wrote the hugely successful Grishaverse fantasy novels the series is based on, are bound to make you even more excited to stream it.
In an interview published by the Daily Mail, the best-selling author discusses her excitement at seeing key cast members work together. 'I think [Ben Barnes'] chemistry with Jessie [Mei Li, as the mysterious Darkling and mapmaker heroine Alina Starkov, respectively] and with many of the actors is just off the charts, and I can't tell you how much I loved watching him and ZoŽ [Wanamaker], who plays Baghra.'
Bardugo adds: 'Their scenes are some of my favourite, because it's just these two exceptional actors who are constantly pushing each other.'
Thankfully, we only need to wait until 23 April to see ZoŽ in action alongside her co-stars. In the meantime, we can enjoy the epic trailer.
Site design and original text © 2002 - 2022 www.zoewanamaker.com, unless specified otherwise.
Most images used on this site are the copyright of their photographer, Ms. Wanamaker, and/or the production company of the show. Use of these images is covered under the fair use limitation in the USA, and the fair dealing limitaton in the UK.
This site is a non-commercial endeavour.