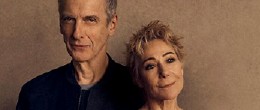 West End hit Constellations, starring ZoŽ as quantum physicist Marianne and Peter Capaldi as beekeper Roland, is available to watch online. You can rent it half-price from Donmar On Demand until 31 January.
ZoŽ plays Baghra, a stern teacher, in this major new fantasy series based on Leigh Bardugoís bestselling Grishaverse novels. Streaming now on Netflix.
The third series of Sky Atlantic's epic drama about the Romans invading ancient Britain stars ZoŽ as vengeful Queen Antedia. Streaming now on Sky, NOW and other services.
ZoŽ supports Theatre Artists Fund to help struggling freelancers
20 March 2021 00:29
16 March 2021 marked exactly a year since the UK's theatres, including Shakespeare's Globe, were forced to close due to the pandemic. They're not expected to re-open until late spring or summer.
A survey by the Society of London Theatre and UK Theatre Association reveals that venues have lost millions of pounds and freelance workers in the theatre industry are struggling to support themselves.
With the industry in crisis, ZoŽ has joined a host of other well-known actors, including Helen Mirren, Ian McKellen, Cate Blanchett, Michaela Coel and Hugh Jackman, in highlighting the plight of freelancers and raising awareness of the Theatre Artists Fund, which provides emergency financial aid. As you can see from Zoe's photo, they're using the hashtags #TheatreArtistsFund, #FirstInLastOut (theatre workers were first into lockdown and will be among the last able to return to work) and #16March or #March16 to spread the word.
You can apply for support (current deadline: 30 March) or donate to the Theatre Artists Fund on the organisation's website.
Site design and original text © 2002 - 2022 www.zoewanamaker.com, unless specified otherwise.
Most images used on this site are the copyright of their photographer, Ms. Wanamaker, and/or the production company of the show. Use of these images is covered under the fair use limitation in the USA, and the fair dealing limitaton in the UK.
This site is a non-commercial endeavour.