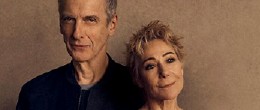 The Donmar has re-released the digital version of Nick Payne's multiverse play, starring ZoŽ and Peter Capaldi as a quantum physicist and beekeeper, following its Oliviers success. Streaming on Donmar On Demand until 25 May.
ZoŽ plays Baghra, a stern teacher, in this major new fantasy series based on Leigh Bardugoís bestselling Grishaverse novels. Series one is streaming now on Netflix and series two is in production.
The third series of Sky Atlantic's epic drama about the Romans invading ancient Britain stars ZoŽ as vengeful Queen Antedia. Streaming now on Sky, NOW and other services.
BFI screens The Eagle Has Landed, one of ZoŽ's earliest TV appearances
15 February 2017 01:05
On 13 February, an audience at London's BFI Southbank was treated to the first public screening of The Eagle Has Landed since the programme's original broadcast in 1973. In this innovative satire, which brings the wonders of space exploration down to earth with a bang, a very young ZoŽ made her fourth TV appearance. She played dippy hippy Alice, a victim of a sinister plan by two astronauts who take over her home after presenting a variety show on the moon.
The Eagle Has Landed is undeniably Ė and deliberately Ė bizarre. It's also sharp, witty and compelling, thanks to brilliant performances and David Edgar's savagely funny script (his first for TV). ZoŽ's Alice, with tousled hair, lilac eyeshadow and a boho frock, can't tear herself away from the spectacle of The Apollo 18 Moon Show on her family's black-and-white TV. 'This is really very heavy,' she says in her hippy drawl, voice flat and eyes, almost unblinking, fixed on the screen.
Their wits dulled by the inane variety show, the young woman and her family seem powerless to resist as they themselves become the next part of the evening's entertainment. Now Alice is gazing through her big round glasses at two unexpected visitors Ė the astronauts Ė who are intent on carrying out the horrifying final act of their mission in her home. Sadly, she's not clear-sighted enough to grasp the implications of the astronauts' plan before it's too late.
The Eagle Has Landed presents a vision of space travel, by turns humorous and nightmarish, in which politicians, the military and powerful corporations collude against an unsuspecting public. It's darkly comic and hugely thought-provoking as a result.
Before the screening, the script editor, Jonathan Powell, spoke briefly to the audience about his memories of making the programme. It was commissioned for ITV's Late Night Theatre platform, which focused on 'new voices, unheard-of themes'. The Eagle Has Landed fitted the bill perfectly and was 'good fun' to film.
The screening is part of the BFI's second Forgotten Dramas season, which has been curated by a team of academics from Royal Holloway, University of London, who are working on a project called the History of Forgotten Television Drama in the UK. The project's blog, Forgotten Television Drama, discusses The Eagle Has Landed.
If you'd like to know more about what happens, you might find my summary of the programme helpful. I tried to cram in as much detail as possible in light of the fact that many fans won't have had the chance to see this neglected programme. Its sets and special effects may look dated, but The Eagle Has Landed remains a powerful show and an important piece of work in the early stage of ZoŽ's career.
Site design and original text © 2002 - 2022 www.zoewanamaker.com, unless specified otherwise.
Most images used on this site are the copyright of their photographer, Ms. Wanamaker, and/or the production company of the show. Use of these images is covered under the fair use limitation in the USA, and the fair dealing limitaton in the UK.
This site is a non-commercial endeavour.