Zoƫ featured in new BBC partwork, Doctor Who: The Complete History
6 December 2015 17:06
Zoƫ's second appearance as villainous plastic surgery addict Lady Cassandra is featured in issue seven of Doctor Who: The Complete History, which explores episodes including 'New Earth' (2006).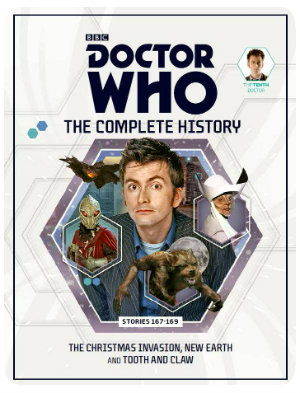 This full colour book, edited by John Ainsworth, is volume 51 in the partwork, published by the BBC. It discusses in detail the pre-production, production, post-production and broadcast history of 'New Earth', in which Cassandra memorably possesses David Tennant's Tenth Doctor and his companion, Rose (Billie Piper). The book also looks at the episode's publicity material and merchandise.
But the biggest treat for fans is undoubtedly an excellent profile of Zoƫ, whose busy work schedule meant that she had only one day on-set with the other actors to film her on-screen portrayal of Cassandra. (Her voiceovers for the character were recorded separately.)
The issue was released on 2 December and is likely to be available from UK newsagents for another week or so. Zoƫ's first episode of Doctor Who, 'The End of the World', will be examined in a forthcoming issue of the partwork (release date TBA).
Site design and original text © 2002 - 2023 www.zoewanamaker.com, unless specified otherwise.
Most images used on this site are the copyright of their photographer, Ms. Wanamaker, and/or the production company of the show. Use of these images is covered under the fair use limitation in the USA, and the fair dealing limitaton in the UK.
This site is a non-commercial endeavour.